chris - Fotolia
Super Micro storage server refresh homes in on NVMe flash
Product revamp includes new BigTwin SuperServer and launch of 1U Petascale line. Super Micro storage servers are optimized for EDSFF NVMe SSDs and Intel Optane DC Persistent Memory.
Super Micro Computer Inc. is going small on its BigTwin storage server.
The San Jose, Calif., vendor this week rolled out a new model of its flagship BigTwin SuperServer optimized for Enterprise and Data Center SSD Form Factor (EDSFF) NVMe flash storage. The Super Micro storage server supports 10 EDSFF 1U Short (E1.S) SSDs and two M.2 boot drives.
In addition to BigTwin, Super Micro introduced 1U Petascale Systems, a capacity-optimized tier designed to handle high ingest rates. BigTwin and Petascale hardware utilize second-generation Intel Xeon Scalable processors and support Intel Optane DC Persistent Memory to be programmed as memory or storage expansion.
More drives per chassis
The latest BigTwin is an adjunct to earlier SuperServer models that scale to 12 NVMe NAND SSDs. Four BigTwin ES.1 nodes fit in the 2U BigTwin chassis. The E1.S chassis 24 has slots for dual in-line memory modules for up to 6 TB of memory per node. Drive access is at the front of the machine.
Most of the Super Micro storage business comes by way of OEM deals with software-defined storage and hyper-converged infrastructure vendors. Enterprise customers also can buy Super Micro storage products as reference architecture for Red Hat Ceph Storage, NexentaStor, VMware Virtual SAN and WekaIO.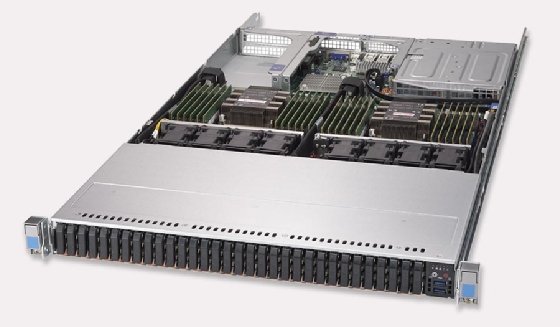 Jim Sangster, a Super Micro senior director of product marketing, said enterprises are looking to take advantage of the performance advantages of running NVMe SSDs on commodity boxes. SAS and SATA will remain widely used in the near future, but NVMe flash is becoming mainstream as a way to juice up performance at an acceptable price point. Rising demand for machine learning-driven AI computing at the edge has helped to fuel adoption.
"One of the [limitations] about NVMe has been a price premium. If we go back in time, all-flash had a price premium as well, but the payback was performance and latency. In 2019, the price for NVMe is getting to the point where it doesn't make sense to be using the older technologies" for many use cases, Sangster said.
The Super Micro Petascale series includes three 1U systems that can accommodate 32 EDSFF SSDs. The base model supports E1.L long drives and contains processors and memory. Customers can optimize capacity by adding a similar JBOF (just a bunch of flash) Petascale system that provides individual SSD power cycling and supports up to eight hosts.
The Petascale E1.S server allows 32 E1.S 1U short drives in a 30-inch chassis, supporting up to eight hosts. Super Micro said the shorter chassis allows high-end processors to run without liquid cooling. Sangster said Petascale is designed to meet the need for dense storage and low power utilization.
Put 42 of these in a large-scale rack and you can start seeing the compounding effect of this technology. You start [performing] deduplication and other storage techniques at the software layer, and you start to see a staggering amount of capacity in one rack unit," Sangster said.
All the Super Micro storage servers are available now through resellers or directly from Super Micro.