peshkova - Fotolia
DDN storage expands, buys Western Digital's IntelliFlash
Western Digital makes an abrupt exit from the storage systems business, while DataDirect Networks continues its storage portfolio growth with IntelliFlash platform.
The IntelliFlash all-flash storage platform has switched owners, with Western Digital Corporation selling off the all-flash storage line to DataDirect Networks.
With the move, Western Digital signaled its intention to exit the storage systems business while DataDirect Networks (DDN) continued its recent storage lineup expansion.
The IntelliFlash portfolio includes flash SAS and NVMe chassis and its accompanying software stack. The vendors said they expect the transaction to be finalized by the close of 2019. Financial terms were not disclosed.
IntelliFlash would become the fourth addition to the DDN storage product added to its portfolio in 15 months. Western Digital said it no longer plans to sell storage systems, marking a change in course from its aggressive run of flash acquisitions in recent years.
DDN storage has historically been aimed at high-performance computing environments such as research labs and academia, but the vendor has made a string of enterprise storage acquisitions since mid-2018.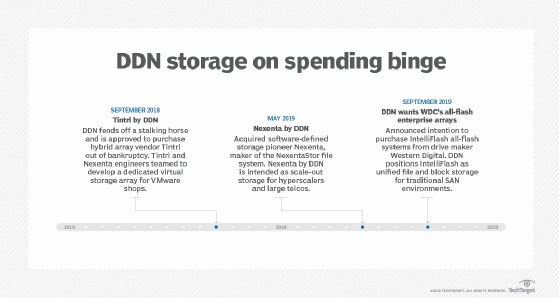 Western Digital's storage challenge
Western Digital is a major supplier of hard disk and flash drives. The vendor closed its fiscal year in June with revenue of $16.6 billion, down 19% from June 2018. The company had tried to add storage systems in an effort to boost margins.
The IntelliFlash chassis was developed by SanDisk Corp., which Western Digital acquired in 2015. In 2017, Western Digital purchased storage systems startup Tegile Systems, which had launched systems based on IntelliFlash arrays. SanDisk also was an institutional investor in Tegile. IBM also branded IntelliFlash as its DeepFlash 150 system, but has stopped selling that product.
DDN-owned Nexenta also has connections to the IntelliFlash arrays. Nexenta and SanDisk once partnered on reference architecture that combined NexentaStor storage software running on IntelliFlash arrays.
Western Digital said it also is seeking a buyer for its ActiveScale object storage line, based on Amplidata technology it acquired in 2015. Western Digital will hold on to its OpenFlex NVMe-oF-connected hardware devices, allowing third-party software to create pools of composable infrastructure.
Although storage systems offers higher margins, drive makers like Western Digital historically have struggled to gain a toehold selling storage to data centers, 451 Research storage analyst Tim Stammers said. Western Digital drive competitor Seagate also acquired storage systems companies, and then sold them off after disappointing sales.
"Western Digital has been attempting to do this for a long, long while, but it looks like it wasn't happening. Otherwise, they wouldn't have abandoned this effort," Stammers said.
It's like a tire maker trying to build and sell a car: Would you buy one? Would the automakers continue to use those tires on their own cars?

Tim StammersStorage analyst, 451 Research
"It's like a tire maker trying to build and sell a car: Would you buy one? Would the automakers continue to use those tires on their own cars? It's the same thing with drive makers trying to sell storage systems," Stammers said.
Western Digital plans to push into fabric-attached Ethernet networking gear that supports disaggregated storage. The vendor recently acquired venture-funded Kazan Networks, a maker of application-specific integrated circuits and NVMe-oF adapters.
"We determined that the best way to address the data-centric needs of our customers was to optimize our portfolio around platforms and fabric-attached technologies," a Western Digital spokesman said.
DDN in buying mode
DDN storage expanded with the 2018 acquisition of Tintri, which provides a file system written specifically to support storage in heavily virtualized environments. It added Nexenta software-defined storage in 2019.
Those moves came on the heels of DDN last year buying the code and customer list from Intel for the Lustre parallel file system, which provides scale-out capabilities for DDN's ExaScaler and GridScaler storage arrays.
The addition of IntelliFlash adds unified NAS and SAN to the DDN storage portfolio said Kurt Kuckein, a senior director of marketing at DDN.
"Tintri gave us storage designed specifically for virtualized workloads, and Nexenta gave us flexible software-defined storage services. What we didn't have was flash-based, high-performance file and block storage" to support transactional databases, Kuckein said.
Kuckein declined to say if DDN is interested in Western Digital's ActiveScale object system. DDN already sells object storage via its Web Object Scale WOS appliances.
DDN also said it will increase its purchases of Western Digital disk and SSDs under an expanded multiyear sourcing contract.