How 6 new midrange storage arrays from top vendors stack up
Leading storage vendors have recently released midrange all-flash arrays that provide the scalability, high performance and high reliability of enterprise-class offerings.
The midrange storage appliance ecosystem is gradually transitioning toward all-flash and the adoption of NVMe technology. This market is growing fast, with the release of several new storage arrays in the past year. These include platforms from top storage vendors Dell EMC, Hewlett Packard Enterprise, Hitachi Vantara, IBM, NetApp and Pure Storage.
Storage array vendors continue to use a mix of commodity enclosures with a 2U form factor that support either 24 or 25 NVMe drives. These offerings typically expand using SAS rather than NVMe. This isn't surprising in a cost-conscious market. But there are still plenty of custom NVMe-based designs -- notably from HPE, Hitachi Vantara and Pure Storage.
The use of NVMe, storage class memory (SCM) and flash means most midrange array users will have way more performance than they could ever use. There's also a trend toward simplified management. This is exemplified by the newest entrant to the market -- Dell EMC PowerStore -- which doesn't offer user-configurable RAID choices.
Storage vendors have instead focused on host-based features. There's slow but increasing support for NVMe-oF and universal adoption of management through APIs and command-line interfaces. This includes support for container storage interfaces and virtual volumes for virtualization. Snapshots, replication and data reduction are all now table stakes.
Vendors are offering more purchasing options, ranging from pure consumption to capital acquisition. These programs provide midsize organizations with periodic hardware refreshes.
The most striking observation is that the midrange is becoming the new enterprise-class. Vendor offerings now provide scalability, high performance and high reliability. In fact, all the midrange all-flash arrays we examined are suitable for all but the most mission-critical of applications.
Let's examine the architecture, features and purchasing options of these six new midrange storage arrays and see how they compare.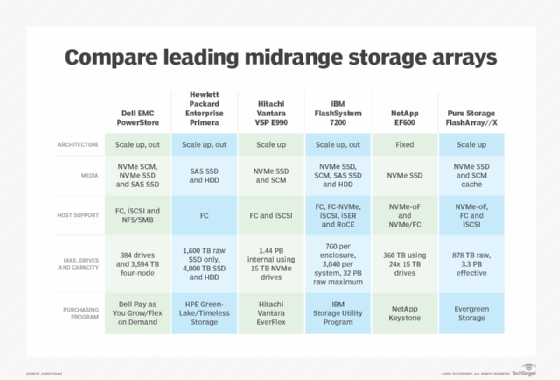 Dell EMC PowerStore
Dell EMC in May introduced PowerStore, a scale-out and scale-up all-flash NVMe storage array. PowerStoreT appliances consist of a 2U chassis with two controller nodes and up to 25 NVMe NAND flash or Intel Optane SCM drives. Three 25-bay SAS enclosures can extend a single node up to 96 drives, providing up to three tiers of storage -- Intel Optane SCM NVMe, NAND flash NVMe and NAND flash SAS.
The PowerStore family of appliances offers five controller models: 1000, 3000, 5000, 7000 and 9000. These scale performance from 4x Intel Xeon 32-core 1.8 GHz processors with 384 GB of system memory up to 4x Intel Xeon 112 core 2.1 GHz and 2,560 GB processors. SSD capacities range from 1.92 TB to 15.36 TB. Optane drives are 375 GB or 750 GB. PowerStore systems can also scale out, with up to four federated nodes in a single cluster.
Organizations can run local applications with the PowerStore X family using the AppsOn feature, which virtualizes the storage controllers under an embedded ESXi hypervisor. Performance and scalability are the same as PowerStore T, with half of CPU and dynamic RAM resources dedicated to applications and half to storage. PowerStore supports iSCSI, NFS and server message block over Ethernet -- 10 or 25 (gigabit Ethernet) GbE -- or Fibre Channel (FC) -- either 16 or 32 Gb. Internal RAID protection offers either RAID-5 4+1 or RAID-5 8+1 configurations. The RAID configuration is determined by the drive count at system build time.
Dell offers a range of flexible purchase options, including Pay as You Grow and Flex on Demand metered consumption.
Hewlett Packard Enterprise Primera
HPE launched Primera at Discover 2019. This new midrange storage platform uses intellectual property and takes its inspiration from the HPE 3PAR family of products but isn't a direct replacement or upgrade for them. Primera has three configuration options and two family groups. The A models are all-flash, and HPE describes the C models as converged, but they're essentially flash or HDD hybrids.
The most striking observation is that the midrange is becoming the new enterprise-class. Vendor offerings now provide scalability, high performance and high reliability.
The Primera A630 and C630 24-drive, 2U dual node processors each have a single CPU and a system maximum of 16 host ports, which can be either 16 Gb or 32 Gb FC. There are also two built-in 10 GbE ports. The base chassis supports 24 SFF SAS 2.5-inch drives with eight drives providing NVMe and SAS dual connectivity. Organizations can add up to five additional SAS disk enclosures to the A630, or nine enclosures to the C630. The total supported drive count is either 144 SSDs or 240 HDDs.
The 650 model offers either two or four controllers, with dual processors per node. Port connectivity increases to 48 ports with 16 Gb or 32 Gb FC, while drive count increases to 384 SSDs or 576 HDDs. The A650 supports up to 14 enclosures and the C650 supports up to 22 enclosures. The 670 model increases drive scalability to 576 SSDs and 960 HDDs -- 22 enclosures for the A670 and 38 enclosures for the C670.
HPE stresses Primera's simplicity of installation with a 100% availability guarantee. RAID-6 is the only internal protection mechanism. Although the platform still uses application-specific integrated circuit technology, much of the internal code has been written with a microservices architecture that enables better internal scaling, resiliency and in-place upgrades. Primera doesn't support NVMe drives or NVMe-oF as a front-end protocol.
HPE offers flexible consumption models through its GreenLake and Timeless Storage programs.
Hitachi Vantara Virtual Storage Platform E990
The VSP E990 is the newest of Hitachi Vantara's Virtual Storage Platform appliances. All VSP systems use the storage virtualization operating system, which provides a unified look and feel to the management of a range of disparate hardware offerings. The E990 is an all-flash NVMe-based dual controller appliance. It scales to 1.44 PB of internal capacity using 15 TB NVMe SSDs or 287 PB of capacity using external storage virtualization.
The VSP E990 has a 4U chassis with dual controllers, supporting up to 80 FC -- 16 Gb or 32 Gb -- or 40 iSCSI 10 GbE connections. Hitachi claims the system will deliver up to 5.8 million IOPS and 30 GBps of bandwidth. Midsize enterprises can connect as many as four disk shelves to a controller enclosure, providing up to 96 NVMe drives. It's worth noting that the drives are all NVMe-connected, rather than a mix of NVMe and SAS, like some other vendors offer.
The VSP E990's internal protection options include RAID-6, RAID-5 and RAID-1, each with multiple configurations. Hitachi provides a 4:1 sight unseen data reduction guarantee, but it excludes certain data types. The Hitachi Ops Center manages all VSP products, including the E990.
Hitachi offers a range of consumption models, from as-a-service to capital acquisition through its newly announced EverFlex program.
IBM FlashSystem 7200
The IBM FlashSystem 7200 is based on a 2U enclosure with up to 24 NVMe flash drives. The platform uses IBM Spectrum Virtualize software to drive four eight-core processors and up to 1,536 Gb of system memory per enclosure. The FlashSystem 7200 can cluster as many as four enclosures together in a single system. Base enclosures support NVMe drives, with the option to increase both SSD and HDD capacity through SAS expansion enclosures.
The FlashSystem 7200 supports a wide range of drive types and capacities. This includes IBM proprietary FlashCore modules up to 38.4 TB with hardware compression, SCM drives up to 1.6 TB, NVMe SSDs up to 15.36 GB, SAS SSDs up to 30.72 TB and SAS HDDs up to 14 TB.
Front-end host support includes 16 or 32 Gb Fibre Channel and Fibre Channel-NVMe and up to 25 GbE iSCSI, iSCSI Extensions for RDMA (iSER) and RDMA over Converged Ethernet (RoCE). IBM claims latency figures as low as 70 microseconds (µs) with up to 2.3 million IOPS and 35 GBps throughput.
IBM offers a range of flexible consumption models through its Storage Utility Program.
NetApp All Flash Array EF600
The NetApp EF600 is the one of the few midrange storage arrays profiled here that offers end-to-end support for NVMe. That includes NVMe-oF for 100 or 200 Gb InfiniBand, 100 or 200 Gb RoCE and 32 Gb FC-NVMe. The platform also supports traditional 32 Gb Fibre Channel. E-series products offer a simplified experience with block support at high throughput and low latency, and the EF600 is no exception. NetApp claims sub-100µs response times and up to 44 GBps of throughput for sequential reads.
A single 2U EF600 consists of two controllers with either 32 GB or 128 GB of system memory per controller. A single appliance supports up to 24 SFF NVMe drives, with capacities from 1.9 TB to 15.3 TB. Maximum raw capacity is 360 TB. Unlike most of the other platforms discussed here, the EF600 doesn't offer any shelf expansion options. Internal protection includes RAID 0, 1, 5, 6 and dynamic disk pools. Each controller supports either a Fibre Channel, InfiniBand or RoCE host interface card. Both controllers must use the same interface.
The vendor provides flexible consumption models through the NetApp Keystone program.
Pure Storage FlashArray//X
Pure Storage now offers generation three of the FlashArray//X family of appliances. Platforms range from the entry-level //X10 at 22 TB of raw capacity, up to the //X90 with 878 TB of raw capacity and 3.3 PB effective capacity after data reduction and RAID overhead.
FlashArray uses a custom hardware design based on DirectFlash modules. These hardware components provide 18.3 TB of NVMe-connected flash storage that abstracts the flash translation layer into software. A single FlashArray//X provides physical expansion of FlashArray modules with NVMe-oF-connected DirectFlash shelves.
Front-end host connectivity offers up to 40 GbE, 25 or 50 Gb NVMe or RoCE, or 16 or 32 Gb Fibre Channel. Pure Storage recently expanded its FlashArray family with DirectMemory modules. DirectMemory cache accelerates read I/O through its use of Intel Optane SCM, delivering I/O latency as low as 150 µs.
FlashArray//X is one of the most full-featured all-flash platforms examined in our analysis, with extensive data replication and host-integration options. Pure Storage offers flexible consumption and support models through its Evergreen Storage program.