everythingpossible - Fotolia
AI-infused HPE Primera storage array debuts, HPE 3PAR still in the mix
While HPE Primera, which includes HPE InfoSight AI and machine learning tech, will be available to order in August, the company says 3PAR will continue to be enhanced and updated.
LAS VEGAS -- Hewlett Packard Enterprise revamped its HPE 3PAR storage system architecture into a new AI-infused Primera array designed to simplify installation, upgrades and management; guarantee data availability; and accelerate the performance of mission-critical workloads.
The introduction of HPE Primera, which customers can begin ordering in August, will not render the popular 3PAR array obsolete, according to HPE executives.
Milan Shetti, general manager of storage and big data at HPE, pledged at HPE Discover that the company would continue to enhance, update and support 3PAR for "five to seven years, easily." But, clearly, Primera represents the HPE storage architecture of the future for mission-critical applications.
A key component of the Primera storage array is HPE's InfoSight artificial intelligence and machine learning technology, which can predict and prevent system disruptions and ease management. HPE acquired InfoSight in 2017 through its $1.2 billion purchase of Nimble and soon extended its predictive analytics reach across its storage and compute portfolio, as well as containers and VMware, Microsoft and kernel-based virtual machines.
What's new with Primera is HPE took the predictive models from the cloud and embedded them into the system to enable real-time actions, like a self-driving car, said Sandeep Singh, vice president of storage marketing at HPE.
David Floyer, CTO at Wikibon, added that, "The integration of AIOps [artificial intelligence operations] into the platform is essential. The only way that you can start to manage a high-availability, mission-critical platform is to take an end-to-end view and reduce the complexity so that the operations people are focusing on the whole platform. Storage then is an integrated portion of that. The challenge for HPE is how to integrate the next level up the stack with databases and specific applications."
HPE takes on Dell EMC's PowerMax
With it projected third-quarter release, HPE Primera will sit at the top of the vendor's internally developed storage system portfolio from a price perspective and take competitive aim at Dell EMC's high-end PowerMax array. Rounding out the "go-forward, lead-with" storage products will be Nimble Storage, for small- and medium-sized enterprises and departmental offices, and hyper-converged SimpliVity, among customers that prioritize simplicity, Singh said.
In parallel, HPE 3PAR will continue to target the same types of mission-critical database workloads as Primera. The 3PAR product will also offer customers support for features that Primera won't offer out of the gate, such as Fibre Channel-based replication and VMware VVOLs. But the new Primera array's underlying hardware and software changes should give customers several key advantages in the long run.
The integration of AIOps into the platform is essential.

David FloyerCTO, Wikibon
For instance, the refactored services-centric OS will enable users to nondisruptively upgrade HPE Primera software in about five minutes, rather than spending hours with 3PAR, between the preplanning and controller reboot. Customers should also be able to install Primera in 20 minutes, compared with hours with 3PAR, and they can provision storage in seconds, according to HPE.
"The software piece of 3PAR was built in a much more monolithic fashion," said Ram Gopichandran, director of HPE 3PAR product portfolio management. "You have the base OS running in kernel, and it does a whole lot of functions. It manages I/O, manages data layouts, data services such as snapshots and so on. As time went by, we added more advanced data services, resulting in a lot of interdependent data services and a complex software stack. We had a comprehensive set of data services, but updating any specific one independently became nearly impossible."
Gopichandran said HPE tended to collect all the data service updates and release them in one package, because the customer was going to have to plan the long process of doing an OS upgrade. With Primera's modularized OS and decoupled data services, customers will be able to self-install each update on an independent basis, with no impact to other services and no need to reboot a node. They'll also gain more regular access to new features, Gopichandran said.
Asante, a healthcare provider in southern Oregon and northern California, recently spent about six weeks upgrading its nine 3PAR arrays, so Primera's "seamless upgrades" sounded especially appealing to Michael York, a systems engineer at the organization. Other capabilities York said he envisions would be potentially helpful include Primera's self-setup and self-tuning capabilities, as well as InfoSight predictive analytics to spot potential problems before they materialize. York said Asante will strongly consider Primera to help consolidate its storage environment.
Hardware changes
On the Primera hardware side, HPE borrowed from and improved on the 3PAR architecture with the addition of more custom-built microchips to facilitate the massively parallel transfer of data over a dedicated, high-speed PCI Express bus.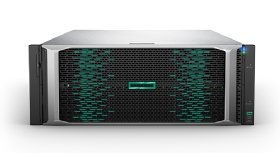 "Think of it as being on a freeway and having multiple parallel lanes without any lane that is blocked," Singh said.
The HPE Primera array is designed for use with ultralow-latency NVMe-based flash, as well as emerging memory technologies, such as 3D XPoint, although neither will be available with the product's initial release in the third quarter. The first Primera models will ship with 12 Gbps SAS solid-state drives, ranging in capacity from 1.92 TB to 15.36 TB, with triple-level cell 3D NAND flash.
HPE designed Primera as an all-flash array, but the company also plans to offer converged flash controllers and drive enclosures for data archival purposes with 10,000 rpm and 7,200 rpm SAS hard disk drives. Target use cases for the converged flash models include video surveillance and medical imaging.
HPE plans to sell three all-flash Primera models, distinguished by performance and configuration: the Next Gen A630, with two nodes and 24 drives in two rack units, and the Next Gen A650 and Next Gen A670, each with four nodes and 48 drives in 4U.
Primera comes with a 100% availability guarantee, compared with 3PAR's six nines of availability. In order to qualify, a customer must keep Primera connected with InfoSight. HPE will support nondisruptive online migrations for 3PAR customers who want to move to the new Primera system.
HPE will offer a new service called Timeless Storage for Primera customers to get automatic controller refreshes every three years, all-inclusive software and storage guarantees for data reduction and availability. Customers who prefer to deploy Primera as a service and pay only for what they use can opt for HPE's GreenLake offering.