DrHitch - Fotolia
3PAR customers face adjustment with new HPE Primera array
Hewlett Packard Enterprise storage customers say they like many of the Primera storage array's new capabilities, but will miss some 3PAR features that are going away.
LAS VEGAS -- Many Hewlett Packard Enterprise customers discovered last week that the upgrade from 3PAR to its successor, the newly unveiled HPE Primera storage array, will bring more change than they expected.
HPE embedded predictive models from its InfoSight artificial intelligence engine to enable Primera to operate with more automation than a traditional storage system. But any 3PAR StoreServ customers who haven't enabled InfoSight will need to turn it on if they want to get the 100% data availability guarantee that HPE is promising.
Existing 3PAR customers also will find that HPE made the operating system modular and decoupled the data services with Primera to simplify management and reduce the time needed to install and update programs from hours to minutes. Additionally, HPE overhauled the 3PAR hardware to facilitate the massively parallel transfer of data over dedicated PCI Express lanes to take advantage of the latest ultrafast NVMe-based flash and storage class memory technologies in the new Primera array.
Beyond the flashy features, many 3PAR customers will find that Primera will not support some of their favorite capabilities. For instance, HPE Primera will not include the Adaptive Optimization technology that 3PAR uses to tier data between hard disk drives and more expensive solid-state drives. Primera also takes much of the control over system setup and tuning out of users' hands.
HPE Primera limits tuning options
"When they told us about this new system, they said they were going to support their older systems, as well. But they're taking a lot of the configurability away from 3PAR in the new Primera," said John Ormeroid, a storage engineer at Ohio State Medical Center.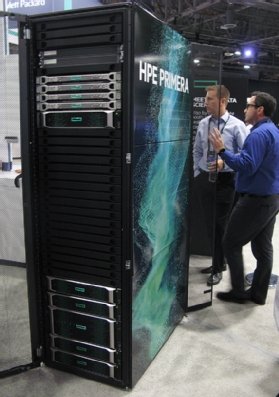 "You can basically only get RAID 6 and DeCo [deduplication-compression] or no DeCo," he added. "They really limit the options, so you can't configure yourself into a corner and make it a poor-performing setup."
But Ormeroid said he would like the flexibility to configure and tune the storage system to suit his organization's needs. Although the medical center uses RAID 6 with 3PAR, he said there might be a use case where he would consider different RAID settings.
Ram Gopichandran, a director of product management for 3PAR and Primera at HPE, said the mantra behind the 3PAR redesign was "to do the right thing" so customers would not have to figure it out on their own.
"You can't please everybody," Gopichandran said. "But, as long as you know you are doing the right thing for the customer, I guess you have an unhappy, but safe customer. If you know RAID 6 gives the maximum protection to the customer, why even offer RAID 1 and RAID 5?"
HPE Primera beta tester reports benefits
Beta tester Chris Folkerd, director of enterprise technology at UKFast, a business-to-business hosting company, said the new HPE Primera array required an initial adjustment period. But the choices the array is making are "always the right choices" based on his team's benchmarking.
"I'm an engineer. I like to tweak and tinker and play with arrays. And this has actually been quite different to get used to, because it doesn't have all that functionality [and] does it all itself," Folkerd said. "Honestly, it's taken a bit of getting used to, but it works really, really well. It's offloaded a lot of the time we have to spend maintaining the array. And, often, it's making [the decisions] a little better than the engineers themselves would be, which has made it a lot easier for me to use my staff to do other things."
Folkerd said processes such as tiering and disk tuning often required his team to make ongoing adjustments. Now that HPE Primera does the work for them, they no longer have to worry about it, he said.
No tiers on Primera
Although many 3PAR customers view HPE Primera as a step in the right direction, some will miss features that HPE is eliminating. BlueShore Financial, based in Vancouver, B.C., has used hybrid 3PAR arrays for more than nine years and tiered data between HDDs and SSDs because applications have differing performance needs, noted Ryan Burgess, the company's manager of technology infrastructure. BlueShore has saved money by reserving SSDs for its most demanding workloads.
Burgess said his concern about the lack of tiering in Primera would ultimately hinge on pricing, which HPE has yet to disclose. He said BlueShore's Microsoft SQL Server databases compress well on 3PAR, and VMware virtual systems tend to get good deduplication and compression results. Data reduction could help to mitigate the higher cost of more expensive flash storage. BlueShore currently has about 285 TB of 3PAR storage, including high-end 10000 and 8000 models.
"Given that compression and deduplication both require flash SSDs, the workloads we put on the Primera to start will be fine without tiering. But HPE will need to make sure we size this system properly," Burgess said.
BlueShore also has data that does not compress or deduplicate well, so Burgess said he would watch for HPE to launch full configuration rules and options to see if there might be additional ways to address tiering, even if it's manual.
Primera SSD and HDD models
HPE plans to sell all-flash and all-HDD models when Primera becomes available in the third quarter, but customers will not be able to tier data between them. HPE expects customers will buy the all-HDD models for special use cases, such as video surveillance, medical imaging and online archives, according to Gopichandran. Those workloads generally do not require higher-performance SSDs.
"With the cost advantages we are getting with SSDs and the lack of investments on HDDs by the HDD vendors, the right thing to do is to move to a more segregated architecture, where you have an all-flash platform and, if you want HDDs, you have a completely distinct tier," Gopichandran said.
Jason Schmitz, a senior systems engineer at Vestmark, based in Wakefield, Mass., said his company likely would have gone all-flash earlier if the price of SSDs had been lower. Vestmark, which makes stock modeling software for the financial industry, currently has more than 20 mostly hybrid 3PAR systems and a few Nimble Storage arrays. Schmitz said he views the new HPE Primera as "basically a better version of 3PAR," with helpful features from HPE's Nimble Storage, such as automatic rebalancing of the SAN with the addition of disks.
"It feels like 3PAR's been around for so long with the same architecture. Going back the last seven or eight years, I don't see much difference. The chassis are the same. The back ends are the same. It's time for a change," Schmitz said.
Like many 3PAR customers, TE Connectivity experienced challenges using deduplication in the past, according to Dennis Evans, an IT manager at the company. He said HPE addressed the issues with patches, but with 3PAR running in kernel space, users had to reboot the node with the update. TE Connectivity typically scheduled updates on evenings or weekends in case a problem arose.
"Those types of things are going to be behind us. If there's a patch or an enhancement, you can apply that easily and quickly, with no downtime," Evans said. "Since it doesn't touch the kernel, you can make that patch 24 hours a day. And the ability to back it out if there is an issue is something that I'm really looking forward to."
TE Connectivity, which makes connectivity and sensor products for harsh environments, uses a mixture of HPE 3PAR 7200, 7450, 8450, 9450 and 20450 arrays. For the last three years, TE has acquired only all-flash 3PAR arrays through HPE's GreenLake consumption-based model, paying only for what it uses. Evans said he expects the company will shift everything to Primera within three to five years.
"I'm impressed with the things that I've seen. We're getting the best of both worlds," Evans said. "I love what 3PAR has provided for us, and I see the benefits of what they're bringing over from Nimble, with InfoSight and a lot of other things."
Vancity Savings Credit Union has three 3PAR 7000 series arrays with about 300 TB of data. HPE's InfoSight predictive analytics helps the company avoid having to hire "an army of storage admins" to keep tabs on the systems 24 hours a day, said Jeff Newton, director of infrastructure and operations at the Vancouver-based company.
"Nobody wants to manage infrastructure these days. We want to minimize that. We want to consolidate and simplify," Newton said. "Fiddling with an array arguably has zero business value. Our business customers aren't coming to us saying, 'What RAID are you running?' They just care about the availability and the safety of their data."