benedetti68 - Fotolia
HPE 3PAR vets launch cloud-defined storage startup Nebulon
Nebulon Cloud-Defined Storage is on-premises-based, using controllers on PCI cards inside servers and AI-driven cloud management for application owners.
The crew that helped make 3PAR successful is back, launching a server-based storage startup for application owners.
Nebulon came out of stealth today with Cloud-Defined Storage -- a combination of PCI cards that go in server slots and serve as storage controllers -- and cloud-based data management. The startup, based in Fremont, Calif., will go to market with OEM partners Hewlett Packard Enterprise (HPE) and Supermicro.
Nebulon founders Dave Scott (executive chairman), Siamak Nazari (CEO), Craig Nunes (COO) and Sean Etaati (CTO) were early 3PAR employees who also joined Hewlett Packard after it acquired 3PAR for $2.35 billion in 2010. Scott led HP's storage group as SVP and general manager before stepping down in 2015.
3PAR, which pioneered thin provisioning in storage arrays, grew from a startup in 1999 to a public company in 2007. It became part of HP three years later after HP won a bidding war against rival Dell. Hewlett Packard Enterprise still sells 3PAR StoreServ arrays.
At Nebulon, the 3PAR and HP veterans are trying to take out array-based storage. Their platform consists of services processing units (SPUs) -- PCI cards that replace RAID cards or host bus adapters and act as storage controllers -- and a Nebulon ON cloud-based storage control plane. The setup allows its customers to run application servers with no storage software installed.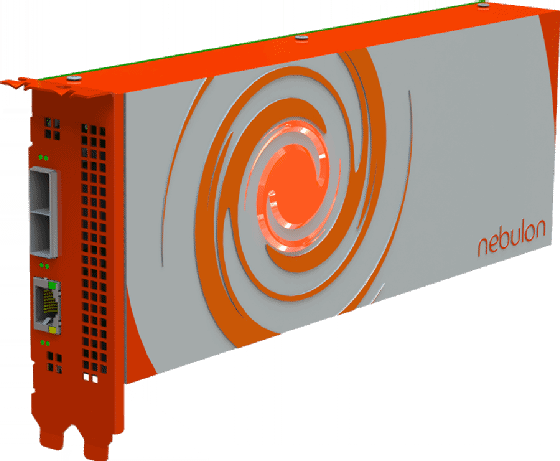 Nebulon COO Nunes said Cloud-Defined Storage is designed to allow application owners to manage and provision storage without the help of a storage admin.
"We've made it so application owners can consume enterprise class assets without having a PhD in storage," Nunes said.
Nunes said the platform is designed for servers running VMware or containers, and NoSQL or traditional clustered databases.
Each SPU includes two 25-Gb Ethernet ports that let the SPUs communicate across an application cluster, forming the data plane. SPUs connect to flash drives just as a RAID card would. Another 1-Gb Ethernet port connects to Nebulon ON in the cloud.
The SPUs send storage, servers and application metrics back to Nebulon ON, which performs AI-based analytics for storage, networking and applications. Nebulon will store and analyze the data in AWS and Google Cloud Platform public clouds using AI for predictive maintenance and troubleshooting. Nebulon customers can use server resources for each application in a cluster through one management console.
The SPUs run data services such as deduplication and compression, erasure coding, encryption, snapshots and mirroring. They can install in any 2u 24-drive server. You can cluster servers into what Nebulon calls nPods, with up to 32 servers and over 1 PB of all-flash capacity in each cluster.
"Think of it as an array controller re-factored into a PCI card in the server," Nunes said. "It can either provision local storage for something like MongoDB, or it can provide shared storage by communicating with SPUs in other application servers in an nPod cluster. You can have an nPod for Mongo, an nPod for VMware, and so on."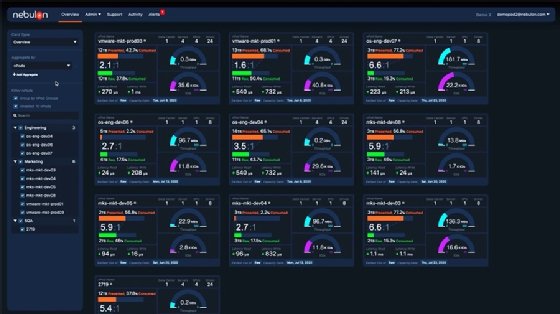 Scott Sinclair, Enterprise Strategy Group senior analyst, gives Nebulon credit for taking a new approach to enterprise storage.
"It's different. It's not just another box, another array or even another software package," Sinclair said. "Nebulon is on the right path, but like anything else that's new, we'll have to see, how well does it scale, what does the customer experience look like? These are the questions we have with any new storage provider."
Another HPE acquisition, Nimble Storage, helped make cloud-managed storage popular with its InfoSight platform that HPE has integrated into all of its storage and servers. But Nunes said Nebulon's management capabilities are more similar to cloud-managed capabilities developed by Meraki, which Cisco acquired in 2012 and uses to manage networking switches.
"We're not just bringing monitoring, we're doing centralized management in the cloud so instead of just finding the fire, you can put it out," he said. "Traditional cloud management programs tell you there's a problem, but then you have your local administrator trying to take action separately."
Nebulon will not sell SPUs separately for customers to install inside servers. Cloud-Defined Storage will come integrated in servers sold by HPE and Supermicro. Nunes said he expects another major server to partner by time the startup goes GA around October.
Nebulon claims its storage costs considerably less than storage arrays, but it hasn't revealed pricing yet. Nunes said the server OEM partners will set prices closer to GA. He did say customers will buy subscriptions for SPUs and the cloud management service.
Sinclair said he expects Nebulon to attract companies looking for alternatives to traditional storage in its early days.
"There always seems to be a subset of IT organizations that are really open and excited to try the new storage technologies out there right away," Sinclair said. "They'll see this as an alternative to a traditional flash array. Even people looking at software-defined storage that is not part of a hyper-converged infrastructure package may try Nebulon."
Nunes said Nebulon has more than 50 employees, mostly engineers. He said the startup has taken no venture capital yet and isn't disclosing how much funding it has, but Crunchbase lists Nebulon funding at $18.3 million.