boscorelli - Fotolia
Hitachi Vantara rekindles romance with enterprise storage
After retreating in recent years, Hitachi Vantara steps back into enterprise data center market NVMe storage aimed at the low range of the high-end systems market.
Hitachi Vantara has taken another step to reestablish greater presence in enterprise storage.
The Santa Clara, Calif., vendor expanded its flagship Virtual Storage Platform (VSP) with the E990 midmarket array. To keep pace with its peers, new EverFlex by Hitachi Vantara provides consumption pricing.
VSP E990 is an enterprise version of a storage system that Hitachi Vantara has sold mostly to heavy industry in recent years. The vendor said it is shipping the E990 array after sampling with customers for several months.
Hitachi Data Systems changed its name to Hitachi Vantara in 2017 following a corporate reshuffling by its Tokyo-based parent, Hitachi Limited. At that time, the Hitachi storage scaled back on enterprises to concentrate on specialized storage systems for large industrial users. The technology giant renewed its data center focus in October when it brought out the all-flash VSP 5000 model.
Aiming at the midrange
The VSP E990 includes a 4U controller chassis and up to four storage shelves with 360 TB of raw storage per shelf. There is no storage in the 4U controller. Two controllers are supported in the E990.
The controllers do not have dedicated caching. The E990 devotes 1 TB of global cache for the system. Hitachi guarantees data reduction of 4-to-1. It claims customers can virtualize up to 16.6 PB of usable storage from other vendors.
Hitachi added faster processing and a PCIe back end to enable NVMe flash performance. Hitachi first added NVMe to the VSP 5000 array launched in October. As with competitors, the NVMe architecture allows VSP arrays to adopt storage class memory and NVMe-oF architecture.
"We recognize that not all customers are looking for NVMe, but a lot of the market is moving that way," said Colin Gallagher, a vice president of Hitachi's digital infrastructure portfolio marketing.
Hitachi Vantara positions the E990 as midrange storage, although its product material shows it going head to head with Dell EMC PowerMax 2000, IBM FlashSystem 7200 and Pure Storage FlashArray//X90 products. Those are smaller versions of the respective vendors' high-end SAN arrays.
Hitachi E990 arrays will also compete with Dell EMC Unity, HPE Nimble Storage and IBM Storwize models.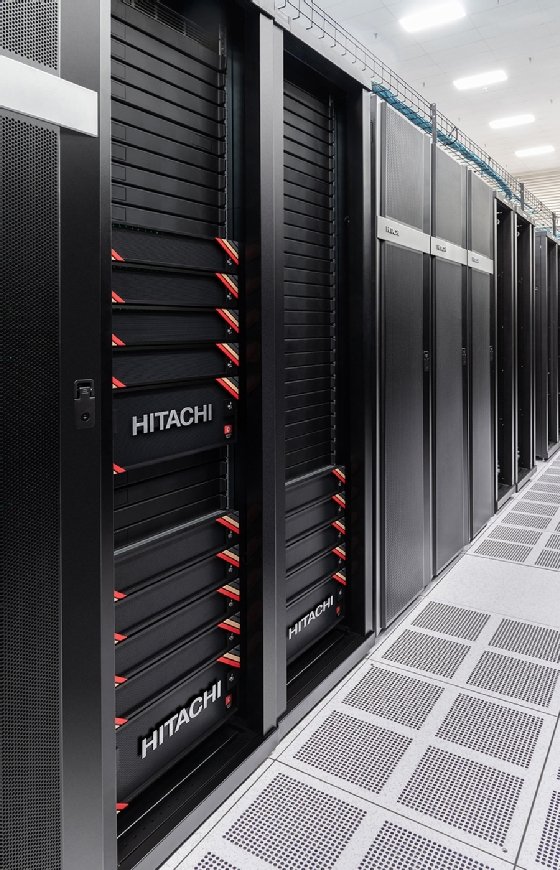 Eric Burgener, a research vice president at IDC, said Hitachi has done well selling storage systems that range from $250,000 on up. He said the VSP E990 delivers strong price and performance, although it is in the upper price range for midrange storage. Hitachi Vantara did not disclose product pricing.
"It should give existing Hitachi customers a reason to look at its midrange storage and entice new customers to compare it against the usual [midrange] competitors Dell EMC, HPE and IBM," Burgener said.
Hitachi's Adaptive Data Reduction feature uses AI and machine learning to analyze incoming data and determine whether to apply inline or post-process deduplication. Data reduction ratios can be tricky for customers to verify. Vendors typically have required a workload evaluation on a given array before writing a guarantee. Hitachi Vantara's "no questions asked" 4-to-1 guarantee for any workload is a strong feature for midrange enterprises, Burgener said.
AI tools and cloud pricing
Hitachi Ops Center AI software, first introduced on VSP 5000, is part of the E990 software bundle. The software analyzes telemetry data from all storage and can automate management of third-party storage infrastructure. Hitachi-only features in AIOps center include data protection on VSP arrays.
EverFlex pricing offers a range of cloudlike pricing models. EverFlex Purchase and EverFlex Lease provide fixed pricing, with the former an upfront cost and the latter paid monthly. EverFlex Consumption is aimed at customers that need to purchase a set service level. Two options are available: Utility, which is managed by the customer, and as-a-service administration by Hitachi.