alphaspirit - Fotolia
Storage class memory makes its way into the enterprise
The number of SCM products and use cases is growing. Find out which vendors have SSD and memory offerings and how they're being used in various products.
Today's workloads are putting unprecedented demands on memory and storage resources, leaving IT to scramble for innovative approaches to increase IOPS and reduce latency. One promising technology is storage class memory, a non-volatile memory technology that's nearly as fast as dynamic RAM but can retain data even if power is lost, just like an SSD.
Storage class memory, or SCM, is a new tier in the memory/storage hierarchy, sitting between SSDs and dynamic RAM (DRAM) to better support latency-sensitive applications. Because of its DRAM-like capabilities, SCM is often referred to as persistent memory, or PMEM. An SCM device, in its truest sense, connects directly to the server's memory and is byte-addressable, similar to DRAM. At the same time, an SCM device can persist data and support block-level access, like a NAND drive, resulting in more possible use cases.
With SCM, less data needs to move between storage and memory, improving application performance, especially as more data is processed. SCM also benefits system paging or swapping operations in which data is written to a disk drive when memory becomes too full. In this scenario, the SCM device is used as secondary memory rather than the disk drive.
SCM use cases
SCM is typically seen as an adjunct to traditional memory and storage, rather than a substitution. That said, other applications might benefit from SCM technologies. For example, SCM modules could be used in place of DRAM modules, even if SCM is not quite as fast. This approach could be beneficial during restarts when systems must be up and running as fast as possible.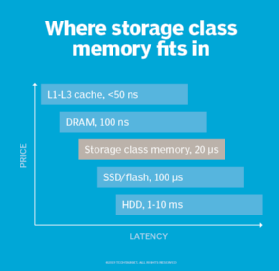 SCM also makes it possible to build SSDs that are faster than today's NAND drives. They could be used on their own or in a hybrid configuration with NAND SSDs, optimizing workload performance, while lowering storage costs. Another option would be to use SCM as a caching layer for an all-flash array, rather than using pricier DRAM.
Regardless of the scenario, SCM use typically revolves around the technology sitting between memory and storage. In this way, applications can access large data sets through system memory but not pay the DRAM price. This approach makes storage class memory well suited to workloads that require low latency, high durability and optimal performance, such as AI, analytics, high-performance computing and real-time transactional processing.
SCM media and products
3D XPoint is the most visible SCM technology. It incorporates a cross-point architecture that uses electrical currents to change the state of the underlying material, providing a foundation for data storage that's faster and more durable than NAND flash.
Intel has led the way with 3D XPoint technology, developing several products that fall under the Intel Optane brand. The company's Optane DC SSD line has capacities ranging from 100 GB to 1.5 TB. They're byte and block addressable and can be deployed to any system that accepts PCIe-based SSDs.
Intel also has a line of Optane DC persistent memory modules (PMMs), which come closer to the original storage class memory vision. The PMMs plug into standard dual in-line memory module slots, with capacities ranging from 128 GB to 512 GB per module. Most of today's DRAM modules top out at 128 GB. The Optane PMMs can persist data, protecting against data loss in the event of a restart or power loss.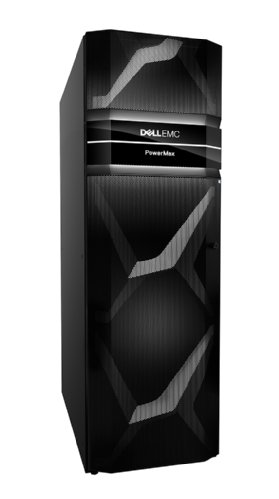 A range of products are available using Intel's Optane SSDs and PMMs. For example, Dell EMC's PowerMax storage incorporates Optane technology, making it the first array to ship with SCM as persistent storage. The PowerMax can deliver up to 15 million IOPS, 350 GB per second bandwidth and predictable read response times of under 100 microseconds, according to Dell EMC.
Pure Storage has also integrated Optane technologies in its FlashArray storage, and Hewitt Packard Enterprise (HPE) has announced it will offer Optane-based persistent memory in several systems, including Proliant, Synergy and Apollo Gen10 servers.
Meantime, Micron Technology has come out with its own 3D XPoint-based SSDs. Like the Optane SSDs, the Micron SSD fits into a PCIe slot, offering better performance than a typical NAND. Micron claims the drive is three times faster than NAND, and its latency is 11 times lower, supporting up to 2.5 million IOPS and 9 GBps read/write bandwidth.
Kioxia (formerly Toshiba Memory) is another company joining the SCM race. The company's new memory, XL-Flash, is available in 128 Gb die packages (2-die, 4-die and 8 die). XL-Flash is based on Kioxia's BiCS Flash 3D memory technology and uses a 16-plane architecture for more efficient parallelism. According to Kioxia, XL-Flash delivers a read latency of less than 5 microseconds and is 10 times faster than triple-layer cell NAND. Initially, Kioxia is deploying XL-Flash in an SSD format, but it plans to expand to the DRAM bus.
Samsung's Z-SSD is another storage product with SCM tendencies. Although Samsung doesn't bill it as SCM technology, the industry is rife with comparisons between the Samsung SSDs and those based on Optane and XL-Flash. Samsung also refers to its product as a "new tier of storage with the highest throughput and lowest latency on the market today."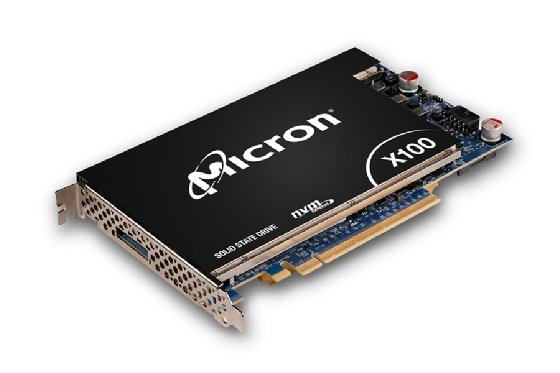 The future of storage class memory
The SCM industry is young and dynamic. Although 3D XPoint has been the most visible, vendors are also working with technologies such as resistive RAM and phase-change memory. However, the distinction between technologies isn't clear cut. For example, 3D XPoint is sometimes referred to as a resistive RAM technology and sometimes as a phase-change memory technology. Even so, that doesn't diminish the importance of the SCM movement.
Much of what's happening is being driven by Intel's Octane SSDs and PMMs, as evidenced by vendors such as HPE, Dell EMC and Pure Storage. What remains uncertain is the degree to which developers will embrace the technology, particularly the PMMs. To get the full benefit from these modules, they must modify their applications; it remains to be seen which organizations will to commit to doing that.
At the same time, SCM is up against other emerging technologies, such as computational storage, which incorporates processing capabilities directly into the storage system to remove I/O bottlenecks and reduce application latency. Nevertheless, we're likely to see more vendors developing SCM products and incorporating them into their own products. In such a dynamic environment, the future is open and anything is possible.
Dig Deeper on Flash memory and storage