Definition
Hitachi Vantara (formerly Hitachi Data Systems or HDS)
Hitachi Vantara is a data storage systems provider, previously known as Hitachi Data Systems (HDS). Headquartered in Santa Clara, Calif., Hitachi Vantara is a wholly owned subsidiary of Hitachi Ltd. and part of the company's Information Systems & Telecommunications Division.
Hitachi Vantara mainly offers storage solutions for enterprises and midsize organizations, but also offers other hardware, software, data analytics and consultation services for many areas of information technology (IT) and businesses.
The vendor's offerings, designed to provide end-to-end coverage of big data and its applications, include converged infrastructure and cloud infrastructure , data storage, data protection, servers, software for machine learning , social collaboration, cloud and storage management, and IT knowledge and analytics.
Company history
Hitachi Data Systems was founded in 1989 when Hitachi Ltd. and Electronic Data Systems (EDS) acquired National Advanced Systems from National Semiconductor.
In 1999, Hitachi bought out EDS, and Hitachi Data Systems became a wholly owned subsidiary of Hitachi.
In September 2017, Hitachi Vantara -- a company that combines the operations of Hitachi Data Systems, Hitachi Insight Group and Pentaho -- was formed.
Hitachi Vantara claims more than 6,300 customers in more than 100 countries, including more than half of Fortune 100 companies. The vendor's flash and virtual storage platforms and integrated storage systems compete against Dell EMC, Hewlett Packard Enterprise and IBM in the storage array market for open systems and mainframes.
Major products
Hitachi Vantara has a number of products on the storage market, in fields such as Internet of Things (IoT), big data analytics, data protection, cloud storage and converged systems.
The Hitachi Virtual Storage Platform F Series uses Hitachi's Storage Virtualization Operating System to deliver high-speed data transfers. The VSP F Series is an all-flash platform that also includes quality of service functionality, data replication and deduplication. The VSP G series is Hitachi Vantara's hybrid flash platform.
The Hitachi Unified Compute Platform HC Series is a hyper-converged storage platform. Including VMware vSphere and vSAN virtualization, the HC series is a scale-out, enterprise-ready platform for virtual and containerized applications. The CI Series is the Converged edition of the Hitachi Unified Compute Platform.
Lumada is a software platform aimed at IoT. It can run on a private or public cloud, as well as locally on a user's system. Lumada aims to facilitate IoT services to remote facilities, as well as reduce costs and increase availability from a single database.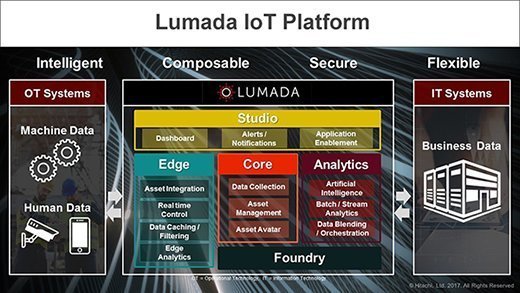 Pentaho Data Integration and Analytics is aimed at big data. Reports and analytics can be accessed remotely, and once a user gains access to data, it can be processed and consumed anywhere. Pentaho supports Hadoop, Spark, NoSQL data stores and analytic databases. The Lumada IoT platform uses Pentaho data orchestration, visualization and analytics software.
Hitachi Data Instance Director is a unified data protection platform that manages and simplifies copy data management. The scalable platform uses snapshot and replication technologies to meet recovery objectives in growing businesses.
Hitachi Virtual Infrastructure Integrator manages and protects VMware vSphere environments, providing local and remote data protection. Automated and instant backups help reduce the risk of data loss, and maintain business continuity.
Hitachi Data Protection Suite is powered by Commvault and can automatically migrate data to secondary storage while maintaining transparent user access. The Data Protection Suite integrates data backup and recovery, and includes point-in-time replication, archiving and storage resource management under one user interface.
Hitachi Content Intelligence can catalog, transform and augment data to help identify data value. Content Intelligence seeks to make relevant data more accessible, as well as keep it secure and easy to manage.
Hitachi Content Platform granularly manages data and supports mixed workloads using object storage in the private, public and hybrid cloud. HCP can be used on large amounts of unstructured data and uses metadata for analysis and search.
Hitachi NAS platform is a gateway for file storage that is optimized for Microsoft, VMware and Oracle data center workloads.
Recent major acquisitions
In 2007, Hitachi Data Systems acquired object storage startup Archivas. Before the acquisition, HDS resold Archivas software as part of the Hitachi Content Archive Platform -- the forerunner of HCP.
In 2011, network-attached storage vendor BlueArc was purchased for $600 million. HDS sold BlueArc storage as Hitachi NAS before the acquisition, and still sells the platform.
In 2012, Shoden Data Systems, which provides data storage and protection technologies, was acquired. Shoden has operations based in South Africa, Nigeria, Ghana, Kenya and the United Kingdom. Cofio Software, which provides unified data protection and is based out of California, was also acquired in 2012.
In 2014, Hitachi Data Systems acquired Sepaton, a data deduplication vendor in Marlborough, Mass. The following year, the vendor acquired oXya, a New-Jersey-based SAP HANA service provider.
In 2015, Hitachi Data Systems made one of its more significant recent acquisitions when it purchased Pentaho. Acquiring the big data analytics and IoT platform vendor marked a move toward emerging technologies. Pentaho also plays a key role in Hitachi Vantara's Social Innovation business, which emphasizes using IT innovation to resolve global societal issues in fields such as agriculture, medicine and analytics.
This was last updated in
March 2018
Continue Reading About Hitachi Vantara (formerly Hitachi Data Systems or HDS)