Make remote SAN management work in the age of coronavirus
SANs usually aren't configured to allow remote management. Find out what storage admins can do during the COVID-19 crisis to ensure their organization's SAN can be managed remotely.
When an organization's workforce needs to go remote, such as during the current coronavirus crisis, storage administrators must be ready to work from home, too. After all, businesses are continuing to operate and need their storage admins to manage SAN storage as they would in the office.
The tricky thing about managing a SAN remotely is that many organizations have intentionally configured their networks to prevent the remote management of storage resources. For instance, rules set for firewalls may block internet-based management traffic. Likewise, SAN management traffic may be limited to an isolated physical or software-defined network segment.
Establishing an IP path to the management interface is an obvious first step to ensuring remote management capabilities. The specifics of how this is configured will vary depending on an organization's infrastructure. In some cases, it may be enough to simply create an IP route to the organization's existing SAN management server. In other cases, you may find that your existing management tools either can't be or aren't licensed to be used remotely, and you must deploy some new tools.
Storage management tools can help
There are several third-party tools available for managing a SAN. Because they vary in price and capabilities, you will need to determine which capabilities will be most useful to you. At a minimum, you'll want to be able to monitor your SAN's health, but capabilities such as storage capacity planning and problem diagnostics could also be useful.
Regardless of which tool you choose, be sure that it's remotely accessible and that there's an IP path between the server where the tool is running and the SAN resources it's managing. Remember, a tool can't manage what it can't see. As such, your Fibre Channel switches, SAN initiators and other resources must be discoverable over an IP network.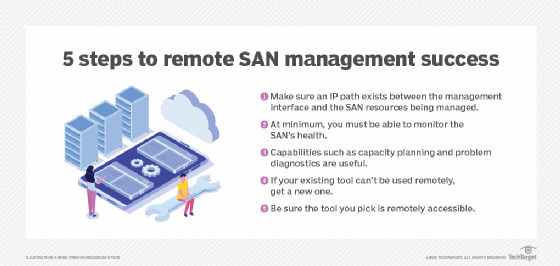 Examples of third-party tools
Of the third-party SAN management tools available, here is a sampling of some that could be useful during the current COVID-19 crisis.
SolarWinds Storage Resource Monitor. Like many of the other SolarWinds products, Storage Resource Monitor is designed for multivendor environments. It provides a single pane-of-glass interface that can be used to collectively manage all your storage resources, regardless of the vendor.
SolarWinds Storage Resource Monitor focuses primarily on storage performance and capacity monitoring. It can generate alerts related to issues such as a LUN that's running low on disk space or that's suffering a performance bottleneck. This tool also exposes the entire infrastructure stack, which makes troubleshooting easier.
IntelliMagic Vision for SAN. Another tool that can be used for remote SAN management is IntelliMagic Vision for SAN. This tool examines SAN performance metrics to help administrators quickly resolve problems. It also identifies hidden risks that could result in a service disruption.
Establishing an IP path to the management interface is an obvious first step to ensuring remote management capabilities.
IntelliMagic Vision for SAN is designed to be storage-vendor neutral, though it's best suited for use in organizations that use VMware hypervisors in conjunction with their SAN storage. This is because it provides deep insight into both the storage layer and the VMware virtualization layer, and end-to-end storage performance metrics across all the layers of the infrastructure.
EG Innovations Infrastructure Monitoring. Unlike SolarWinds Storage Resource Monitor and IntelliMagic Vision for SAN, EG Innovations Infrastructure Monitoring doesn't focus solely on SAN storage. Rather, it's an infrastructure-level monitoring device that includes extensive storage monitoring capabilities.
EG Innovations has designed its infrastructure monitoring tool to work with SAN and NAS hardware from vendors such as Dell EMC, Hewlett Packard Enterprise, Hitachi and NetApp. The software tracks storage performance and capacity across hardware devices and alerts administrators to issues. EG Innovations also provides diagnostic capabilities that help administrators determine whether slowdowns can be attributed to a storage problem or to something else.
Making remote storage admin work
Working remotely can be challenging, especially for storage admins. The key to successful SAN management while away from the office is to put the right tools in place and ensure they're remotely accessible. And doing this sooner rather than later makes sense, given how fast everything can change when a crisis hits.