Definition
EG Innovations
What is EG Innovations?
EG Innovations is an end-user experience and infrastructure monitoring software vendor best known for its EG Enterprise product. The Singapore-based company was founded in 2001 by Srinivas Ramanathan, the current CEO, and it launched EG Enterprise within its first two years.
With EG Enterprise, IT can access data regarding end-user experience, cloud processing speed, VDI resource usage, database and server performance, and more.
Use cases
EG Innovations' customizable suite allows IT to monitor and manage cloud deployments, physical desktops and virtual desktops. With EG Enterprise, IT gets performance information and root cause analysis for back-end cloud and VDI components. IT administrators can pick and choose which functions and monitoring services they need.
Customers work with EG Innovations to determine their needs and build an offering specific to each situation. For example, an IT department might want to manage its Citrix Cloud workloads or track physical desktop performance. EG Innovations can identify which tools within the EG Enterprise suite -- such as virtual application monitoring and cloud monitoring -- would help IT perform these tasks and only charge the organization for what it needs.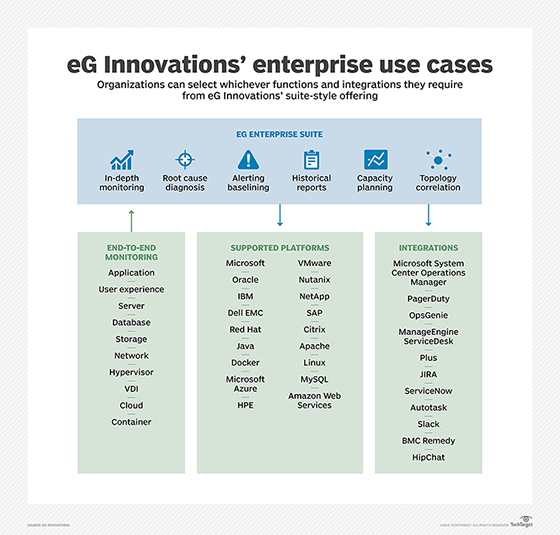 Key offerings
IT can monitor all of its infrastructure components from a single console through EG Enterprise's network topology diagram, which tracks the path of resources and network interactions. IT professionals can also manually monitor endpoints, including physical or virtual desktops, in a similar fashion. They can enable EG Enterprise to automatically monitor the desktops' performance and notify them about any underperforming sessions.
One of EG Enterprise's main selling points is the simple path it provides IT for identifying a user issue and solving it through the platform's automatic diagnostics and root cause analysis integration. IT professionals can also use EG Enterprise's capacity planning analytics to find any areas in their infrastructure where they may be dedicating too many or too few resources.
In 2018, EG Innovations released version 6.3 of EG Enterprise, which added new metrics that, for example, show how Group Policy Object processing speed is affecting logon times, or the effect Microsoft Outlook add-ons have on the application's performance. Version 6.3 also featured new service provider integrations, such as monitoring for 31 additional Amazon Web Services.
Version 7 of EG Enterprise was released in 2020, adding simulated and real user experience monitoring, automated diagnosis and new dashboard and visualization features.
The latest version of EG Innovations' management suite, EG Enterprise v7.2, introduced a number of enhancements, including new AIOps features, automation capabilities and monitoring support for API gateways, messaging servers and various middleware components.
Competitors include Ivanti, Xangati, Lakeside Software and SolarWinds. These vendors also offer monitoring suites for various purposes such as virtual and physical desktops as well as cloud workspaces. Ivanti's Performance Manager helps IT adjust CPU allocation in real time, for instance, and Xangati is best known for its network monitoring and device management. Lakeside Software's SysTrack has a search function that helps IT navigate the program using natural language, among other features. SolarWinds has been popular for its cybersecurity metrics that improve real-time threat intelligence, although the company was also infamously affected by a supply chain breach on its Orion IT performance monitoring system.
This was last updated in
February 2023
Continue Reading About EG Innovations
Dig Deeper on UX and performance monitoring and management