Monitor VDI with these top tools
VDI monitoring helps IT pros get to the bottom of end-user experience issues. Understand what to monitor, and review some of the top VDI tools on the market.
When it comes to fixing anything, the first step is to understand the source of the problem.
That is exactly what virtual desktop infrastructure (VDI) monitoring tools are designed to do. They give IT professionals insight into the inner workings of their deployments, including information on login times, application response times and historical trends. IT can harness all this information to diagnose and resolve problems.
IT pros should understand what VDI monitoring tools should measure, as well as some of the top monitoring tools on the market.
Measuring VDI performance metrics
One of the most important tasks involved in keeping a VDI environment healthy is to identify and monitor KPIs. Doing so can help IT to spot and remediate trends affecting the end-user experience.
One of the main differences between virtual desktop monitoring software and server monitoring software lies in the types of resources that are monitored. Server monitoring tools often focus on raw hardware metrics, such as the load that is being placed on a server's CPUs. Most modern VDI monitoring tools do not require admins to interpret raw performance metrics. Virtual desktop monitoring software, on the other hand, tends to focus on the end-user experience instead.
User experience monitoring is generally done either through synthetic transactions or real user monitoring. Synthetic transaction monitoring typically works by logging simulated users into virtual desktops and then using various metrics to gauge the simulated user's experience.
Real-time application performance monitoring for desktops is hard because end users can be unpredictable in how they use applications.
Real user monitoring is exactly what it sounds like. Rather than monitoring simulated user accounts, the monitoring software bases its performance metrics on real user sessions. The ways in which synthetic transactions and real user monitoring work tend to vary by vendor, and some vendors even blend the two technologies.
VDI processes to monitor
Desktop virtualization uses virtualization software to host a desktop operating system on a collection of virtual machines running on top of virtualization software. Like any other virtualized environment running in the data center, there are certain processes that must be healthy for the desktop environment to work as intended.
Every VDI monitoring tool has its own unique capabilities, and the granularity of the troubleshooting tools varies from product to product. However, there are certain aspects of the user's experience that VDI monitoring software tends to examine: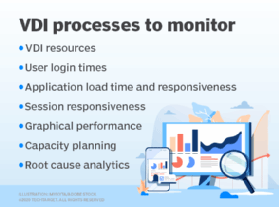 VDI resources. VMs used in VDI deployments share host resources, such as CPU, storage, network and memory. A big part of VDI monitoring involves making sure that each virtual desktop receives the hardware resources that it needs and that none of the virtual desktops are consuming resources to the point that they are depriving neighboring virtual desktops of the resources that they need.
User login times. Most vendors' products monitor the amount of time that it takes for a user to log in to the system. The amount of time that it takes users to complete the login process can often be used to gauge the VDI deployment's overall health. Login VSI's Login PI and Goliath Technologies both measure the logon experience for synthetic users to remove user variability and deliver objective measurements. Both tools enable admins to initiate synthetic user sessions from multiple network locations to validate end-to-end connectivity.
Application load time and responsiveness. Real-time application performance monitoring for desktops is hard because end users can be unpredictable in how they use applications. However, IT should know whether a user sees an hourglass icon when an application is loading.
Session responsiveness. This refers to how well the OS responds to user input. IT monitoring tools should be able to catch lags when a user opens the start menu or performs a search.
Graphical performance. Monitoring tools can show whether problems occur if a user tries to perform a graphically intensive operation, like playing a video.
Capacity planning. Some virtualization monitoring software can also be used for capacity planning. By monitoring resource consumption and various aspects of the end-user experience, monitoring software may help IT pros to determine the optimal number of virtual desktops that they should be running on each virtualization host.
Root cause analytics. If the monitoring software finds that the end-user experience is not as good as it should be, then the software may use the raw performance metrics to assist with root cause analytics. For example, a monitoring tool might find that the reason why a user is experiencing poor application response time is because one of the databases that is used by the applications is generating more storage IOPS requests than what the storage hardware can deliver.
VDI monitoring tools
There are many tools available for monitoring VDI deployments. While some of these tools are provided by VDI vendors as supplementary products, others are offered by third-party vendors.
Citrix Director. Citrix built many different monitoring tools into Virtual Apps and Desktops, each of which serves a different purpose. Director is the primary tool to monitor VDI in Virtual Apps and Desktops. It is web-based and provides real-time information on nine primary areas: machines, user sessions, infrastructure, load evaluation, historical trends, logon performance, session usage, connection failures and machine failures.
Citrix Session Recording. Session Recording enables IT to record users' screens to track what they are doing. With this tool, IT pros can identify potential malfeasance, such as violating certain company policies. They can also resolve problems by seeing exactly what the user is seeing.

In addition, Session Recording enables IT to create policies that automatically activate a screen recording based on certain user behaviors, such as opening a particular app.
Citrix Configuration Logging. Configuration Logging tracks each individual configuration change administrators make in a Virtual Apps and Desktops deployment, as well as which admin makes each change.
Citrix Monitor Service OData API. The Monitor Service OData API is a web-based (RESTful) API that enables IT to see connection failure data, as well as a list of which machines have already failed. It also includes details on session usage, logon duration times and load balancing.
Citrix Analytics for Performance. Analytics for Performance is a cloud-based, machine learning tool that is designed to improve performance by analyzing the data produced by an organization's Citrix products. Citrix Analytics for Performance seeks to quantify the end-user experience through an experience score. This metric can then be used to proactively monitor and troubleshoot virtual desktop and virtual application performance.
vRealize Operations for Horizon. VMware's built-in tool to monitor VDI, vRealize Operations for Horizon, is a management console that enables IT to examine metrics spanning the entire infrastructure, all the way down to the hypervisor. This enables IT pros to identify problems that occur outside of the virtual desktop itself.

IT can use vRealize Operations for Horizon to uncover each desktop's latency levels, bandwidth consumption, login duration and packet loss. IT pros can also pick and choose which specific metrics they see in the management console so they can focus on what's relevant to them. They can also perform a user search in vRealize Operations for Horizon so they can quickly identify which parts of the infrastructure support a specific user's desktop to pinpoint where a problem originates.
ControlUp. ControlUp Insights has a focus on historical data that enables IT to see what the VDI deployment's metrics looked like when it was healthy versus when it is unhealthy. ControlUp enables admins to start correcting problems directly from their consoles. The console presents a lot of data in a user-friendly form and enables admins to perform corrective actions directly. Historical data is also valuable for spotting long-term trends.

In addition, ControlUp Insights delivers several reports on areas such as protocol latency and Windows errors that help quantify what users are experiencing.

ControlUp is usually a hybrid cloud deployment. An on-premises server gathers data and hosts the operational console, which has real-time data. This server feeds data into a cloud information warehouse. Admins can use the cloud console for historic data and reporting. VDI shops that do not want their data in the cloud can run the information warehouse on premises.

ControlUp Logon Simulator is available as a free download, as is the company's Application Profiler. These two free tools provide a lot of insight into UX around accessing a VDI deployment. ControlUp is most beneficial for medium and large VDI deployments with specialized operational and help desk consoles.

Full-use licenses come in three tiers: Pro, Enterprise and Platinum. Each has a different cloud data retention policy and support service-level agreement (SLA). Logon Simulator and Application Profiler are integrated into the paid ControlUp software.

Licensing is on a per-concurrent user annual subscription basis. Pricing starts at $15 per user for Pro, $21 for Enterprise and $24 for Platinum. There are substantial discounts for thousands, or tens of thousands, of concurrent users. This discounting makes ControlUp more attractive to larger VDI deployments. Admins can also access a 30-day trial and a free tier for deployments of less than 50 desktops that do not support SLAs.
eG Innovations VDI Performance Assessment. VDI Performance Assessment automatically runs diagnostics of the VDI deployment and offers actionable answers for IT to address any performance problems. In regard to VDI management, eG Innovations offers eG Enterprise, which can monitor Citrix Virtual Apps and Desktops and all the supporting components, Horizon, Oracle VDI and Leostream. Customers have the option of going all-in with one management tool. The eG Enterprise tool serves as the primary VDI assessment utility for all of a company's infrastructure and application management and monitoring. Admins probably won't buy eG Enterprise for VDI alone because it works best if they deploy it across their whole network.

VDI shops can test the product with a five-server free trial that runs from the cloud. For production use, admins will want something a little more extensive. There is a perpetual license option, a monthly subscription option and a SaaS option if admins don't want to install a server on premises. Licensing is based on the agents that monitor elements such as hypervisor hosts or infrastructure servers. Pricing is not published; it varies depending on the number and type of agents IT deploys, with discounting for large deployments. This product has a sliding scale pricing system, so eG suits a variety of organization sizes.
Lakeside Software SysTrack Workspace Analytics. SysTrack Workspace Analytics enables IT to identify problems through natural language searches. IT pros can search for the problem they want to identify rather than scanning through a dependency tree that shows how a specific desktop runs or navigating a complicated menu.

SysTrack Workspace Analytics also features a risk visualization tool IT can use to identify vulnerabilities in the deployment and a threat detection engine that can automatically spot risky activity and limit threats.
Ivanti Performance Manager. Ivanti offers Performance Manager, powered by AppSense, which enables IT to adjust the amount of CPU each user gets, schedule out when CPU resources go where, and create context-based controls on resources such as CPU and memory. Xtraction is IT's hub for all of its VDI monitoring data, including information on outages and vulnerabilities. Insight covers users' endpoints, offering up information on profile size and application memory usage. All three tools are available as part of User Workspace Manager.
Liquidware Stratusphere UX. Stratusphere UX is another tool focused on desktop UX that oversees users on virtual desktops or physical PCs. Stratusphere UX includes a UX score, which is a compilation of the overall UX. This is a good metric to monitor for trends as the user count or application load changes. UX that diminishes over time is a sign that the VDI deployment is becoming overloaded and user satisfaction is falling.

For operational monitoring, Stratusphere UX offers deep insight into the individual processes inside users' desktops. Stratusphere UX also has network packet tracing in its origins and provides information about the various networks desktops use. To monitor desktops and servers, the monitoring features require agents on each desktop. This approach reduces the need to monitor the network or virtualization infrastructure and enables admins to monitor and manage physical desktops using the same tool.

Liquidware Labs distributes the software as a management virtual appliance, which enables fast deployment. It issues licenses by named user or per concurrent user. A perpetual license begins at $39. Liquidware Labs also has products for user environment management and application virtualization. VDI shops can buy all three as a suite for $79 per user.
Login VSI. Login VSI helps IT determine the size of the workload each user requires to experience an acceptable level of performance. It will identify the maximum user load for an acceptable experience. Admins can use this benchmarking tool on pre-production systems to identify scalability.

Login VSI also includes a continuous monitoring tool called Login PI that IT can use to simulate what actual users experience when they log in and use their apps. It measures production UX and simulates user logins all the way through application usage. Admins should replicate the actions of their users in their applications inside Login PI because the simulated users in Login PI mimic the real UX.

Login VSI does not publish its pricing, which varies based on multiple factors. The software is licensed as an annual subscription -- both the Login VSI and Login PI products are licensed by the number of users the product needs to simulate. The Login VSI tools are generally most valuable to larger VDI deployments.
Quest Foglight for Virtualization. Foglight for Virtualization provides monitoring for several levels of a VDI deployment, from user sessions, services and desktops to Active Directory, NetScaler and virtual storage tiers.
Goliath Technologies. Goliath is focused on users' VDI experience from the moment they launch their VDI clients and use applications. Goliath Performance Monitor serves to monitor and reports users' sessions to identify the causes behind user-reported issues. In addition, admins can work with synthetic users to start sessions and launch applications to identify problems before users report them. Admins can even launch a synthetic session from every site their users visit.

Goliath Application Availability Monitor, formerly known as Logon Simulator, is an effective way to be sure that changes to the infrastructure do not affect users. Goliath Performance Monitor lets admins view the network-carrying VDI traffic by extracting data from Citrix NetScaler appliances.

Goliath does not publish pricing, but the company offers 30-day trials for its main components: Goliath Performance Monitor, Goliath Application Monitoring and Goliath Application Availability Monitor.