What's in a name? Dell EMC PowerFlex brand replaces VxFlex
Vendor claims hundreds of Dell EMC PowerFlex customers in education, finance and healthcare. It marks the second name change for ScaleIO platform that EMC bought in 2013.
Dell EMC PowerFlex is the new name for VxFlex software-defined storage, culminating the vendor's portfolio-wide branding under the Power nomenclature. The rebranding involves Dell EMC storage and networking products that use Dell PowerEdge compute servers.
It marks the second rebranding of the ScaleIO server-side software that EMC acquired for $200 million in 2013. Dell and EMC merged two years later and changed ScaleIO to VxFlex.
Dell EMC PowerFlex does not have as high a profile as Dell-owned VMware vSAN software-defined storage. But "hundreds and hundreds" of customers in education, finance and healthcare use it as scalable block storage, said Matt Paul, a Dell EMC senior director of product management.
"We're talking with customers that have huge requirements to scale performance," Paul said.
Configuring PowerFlex
PowerFlex Manager manages PowerFlex rack and appliance models, and PowerFlex software is also available in VMware Ready Node configurations. Dell EMC PowerFlex could be used to create a two-layer SAN to disaggregate compute and storage. The vendor also positions PowerFlex as a way to run to multiple hypervisors, bare metal workloads and containerized applications on one platform. Dell EMC VxRail and VxRack HCI is geared for larger hyper-converged infrastructure deployments within VMware shops, but supports only VMware vSphere hypervisors.
Dell EMC PowerFlex Rack is a rack-scale product that provides compute, storage and integrated networking. The minimum Dell EMC PowerFlex purchase requirement is four nodes, and Dell EMC claims the system can scale linearly to thousands of nodes.
Along with the new name, Dell EMC added PowerFlex enterprise data services, which includes native encryption, inline compression, scalable replication, secure snapshots and thin provisioning.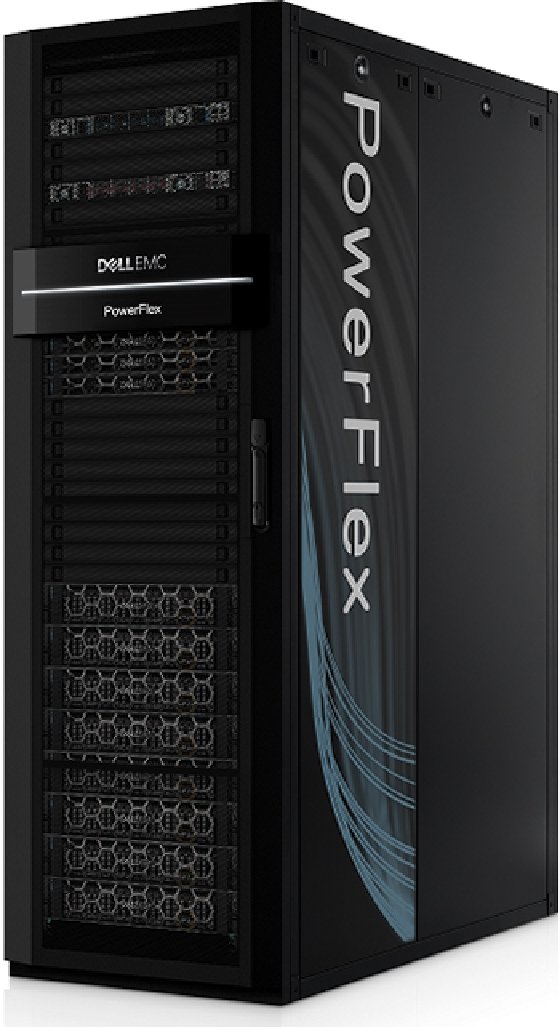 Customer consolidates on Dell EMC PowerFlex
David Lee said he was looking to consolidate storage that would enable him to take full advantage of VMware VMotion. After several years of storage built on various SANs, Lee integrated Dell EMC PowerFlex block storage to support students and faculty at Nexus International School in Singapore, where he is director of IT infrastructure.
"The key thing for me was the self-healing capabilities. We have been using a very piecemeal architecture and you have to be a bit of a specialist to make sure all the bits work together," Lee said. "The PowerFlex system spreads the data across all the disks in the array and across multiple nodes. That way, if he had to, we could build it back to a fully redundant state very quickly. That was one of the things that used to keep me awake at night."
Nexus International deploys eight PowerFlex nodes: five at its main data center and three at a secondary data center. The COVID-19 pandemic has shut down most activities in Singapore, including educational facilities. Lee said PowerFlex enabled Lexus students to stay connected via Minecraft Education and other social media-driven learning tools.
Lee said his PowerFlex configuration uses a roughly 70/30 mix of hard disk drives and flash. The hybrid storage enabled his team to keep students connected virtually even when Minecraft-dedicated servers failed by migrating storage between tiers.
Dig Deeper on Storage architecture and strategy