Definition
hyper-converged appliance
A hyper-converged appliance is a hardware device that provides multiple data center management technologies within a single box.
Hyper-converged systems are characterized by a software-centric architecture that tightly integrates compute, storage, networking and virtualization resources and other technologies. At one time, these systems were based on the use of commodity hardware, but premium appliances have become commonplace in recent years.
Typically, a hyper-converged appliance is sold as an integrated bundle, even if it contains products from different vendors, such as a hardware vendor and a hypervisor vendor. The vendor certifies all the appliance's various hardware and software components to work with one another and acts as a single point of contact for technical support.
Hyper-converged appliances almost always use server virtualization and/or storage virtualization. As such, nearly all hyper-converged appliances include a hypervisor, a program that enables multiple operating systems to share a single hardware host.
Hyper-converged appliances usually consist of a series of modular, standardized nodes. Initially, each node was designed to be entirely self-contained and included compute, network and storage hardware. These nodes are typically installed in a special purpose chassis. If an organization needs to scale its hyper-converged deployment, it simply installs additional nodes into the chassis. More recently however, some vendors have begun using external storage arrays, which makes it possible to scale up the compute and storage resources independently of one another.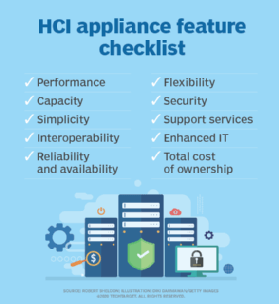 Hyper-convergence developed out of the converged infrastructure model, which combined disparate data center components into an appliance form factor to minimize compatibility issues and simplify the management of servers, storage systems and network devices, while also reducing costs for cabling, cooling, power and floor space.
Common hyper-converged appliance features
There are numerous vendors that offer hyper-converged appliances. As one might expect, the feature set tends to vary from one vendor to the next. Hyper-converged appliance features can also vary by use case. For instance, a hyper-converged appliance that has been specifically designed to handle high-performance workloads will likely include all-flash storage or NVMe (non-volatile memory express) storage, whereas a hyper-converged appliance that is acting as a virtual desktop host might be equipped with a less expensive storage alternative.
Some of the more important features to look for in a hyper-converged appliance include:
Flash storage arrays
Out-of-band management capabilities
Support for your hypervisor of choice
Enough memory to run your desired workload
Vendor support
The ability to scale to accommodate workload growth
Management software
High availability
Compatibility with your critical applications
In addition, it can be helpful to check with a hardware vendor to see if nodes are upgradable. Hyper-converged infrastructure (HCI) deployments are based on the idea that each node contains identical hardware. As such, vendors initially made it impossible to upgrade a node's hardware. However, there are some vendors that have begun offering nodes with upgradable components.
Hyper-converged appliance use cases
Some organizations inevitably adopt hyper-converged infrastructure appliances for use as a general-purpose computing platform. Although some hyper-converged appliances can be as costly as the enterprise-grade hardware found in traditional data centers, some vendors do offer hyper-converged appliances that are based on commodity hardware. Such appliances can make for a cost-effective alternative to traditional hardware.
Although general-purpose hyper-converged appliances do exist, there are some specific use cases for which hyper-converged appliances are especially well suited. Some of the most popular use cases include:
Hybrid cloud
Virtual machine hosting
Backup and disaster recovery (DR)
Virtual desktop infrastructure (VDI)
Branch office computing
As previously noted, hyper-converged appliances adhere to a unique modular design. It's this design that makes them so well suited to these particular use cases. Consider VDI, for example. In a VDI environment, virtual desktops tend to be identical to one another. An organization might have several categories of virtual desktops, such as one configuration for standard users and another configuration for power users, but the virtual desktops within a category tend to be identical to one another and, therefore, require identical hardware.
Just as virtual desktops are identical to one another, so too, are the nodes in a hyper-converged appliance. Because each node is identical, administrators can determine exactly how many virtual desktops each node is capable of hosting. This makes it easy for an organization to determine how many nodes it will need to purchase to run the required number of virtual desktops. Likewise, an organization can scale its VDI deployment by adding nodes on an as needed basis.
Hyper-converged appliances are also becoming a popular choice for backup and disaster recovery. Hyper-converged appliances generally include large amounts of fault tolerant storage, which makes the appliances ideal for use as a backup appliance. Additionally, most hyper-converged systems include a hypervisor. This means that in a DR situation, an organization could conceivably run virtual machines directly from the backup appliance for the duration of the outage.
Despite these use cases, hyper-converged appliances initially gained popularity as a platform for small offices or branch offices. Their reliance on commodity hardware made them an inexpensive alternative to conventional data center hardware, and their simple integrated design made the appliances practical for use in locations with little or no on-site IT staff.
HCI appliance market and vendors
There are numerous vendors that offer hyper-converged infrastructure appliances. Some of the vendors that offer physical appliances include:
Dell EMC
Cisco
Pivot3
StarWind Software
NetApp
Scale Computing
Stratoscale
Cohesity
Most of these vendors bundle their own hardware with third-party hypervisors from vendors such as VMware or Microsoft.
Additionally, there are vendors that offer software that organizations can use to create their own hyper-converged appliances. VMware, for example, gives its customers the ability to build their own hyper-converged platform by combining vSphere, vSAN, NSX and the vRealize Suite. Similarly, it's possible to use Microsoft Windows Server as the basis for a custom hyper-converged infrastructure appliance.
This was last updated in
August 2020
Continue Reading About hyper-converged appliance
Dig Deeper on Converged infrastructure management