HCI vs. traditional IT vs. dHCI vs. composable infrastructure
Compare outcomes of hyper-converged, traditional/converged, disaggregated HCI and composable infrastructures, plus hybrid cloud, to decide which approach best fits your IT needs.
For over a decade, we've seen the meaning of hyper-converged infrastructure evolve. What started as almost a throwaway term has slowly morphed into an actual thriving industry, complete with Magic Quadrant and vendors fighting over the true meaning of HCI.
Beyond duking it out on Twitter, hyper-converged infrastructure (HCI) vendors have attempted to move mountains in an effort to shoehorn their infrastructure paradigm into every aspect of IT life -- from the data center to the edge to the public cloud. For the hyper-converged industry, the mission is clear: supplant every legacy platform with a neatly integrated hyper-converged stack. It's HCI vs. traditional infrastructure and the world.
To be fair, this is a good goal! Anyone who knows me at all understands I'm a fan of hyper-convergence in general. I love what it can bring to organizations and enjoyed watching previously startup HCI vendors turn into hyper-converged powerhouses that help customers simplify IT operations.
Nutanix has grown from a pure HCI hardware play to a software-centric platform company for which HCI is the core. Scale Computing wrangled edge computing environments into submission, while NetApp, Hewlett Packard Enterprise (HPE), Pivot3, Datrium and DataCore all created HCI products with their own unique flavor.
One-size IT infrastructure doesn't fit all
As much as I like hyper-converged, it's clear the one-size-fits-all nature of the technology isn't the right choice for every workload. For general-purpose needs, it's a fantastic replacement for traditional infrastructure. The very nature of HCI -- linear scalability -- can also be its downfall. Should you start to drift away from general-purpose workloads, a more traditional infrastructure approach may be a better fit than hyper-converged.
HCI isn't always appropriate for workloads with intense demands on a single part of the resource stack.
HCI isn't always appropriate for workloads with intense demands on a single part of the resource stack; for example, big data workloads in which storage capacity can't increase linearly with other resources. Hyper-convergence may not be the answer for CPU-intensive workloads either -- especially, if you need to pay for hypervisor licenses for every node -- and it may not work well when virtualizing resources doesn't make sense.
Of course, as the hyper-convergence market continues to splinter, hyper-converged products that address these disparate needs may actually appear. Hyper-converged vendors, for example, now view disaggregated hyper-converged infrastructure (dHCI), which decouples storage and compute, as a possible answer.
Still, the fact remains many organizations will prefer more traditional IT approaches that leave in place the fine-tuned knobs administrators can use for more granular control of resources. One possible answer in the software-defined mode is composable infrastructure, which merges aspects of HCI and converged infrastructure with programmatic control of resources to make it easier to stand up and down virtual servers for specific workloads.
Let's explore reasons you may or may not choose HCI vs. traditional infrastructure vs. dHCI or composable architecture. Also, what about taking a hybrid approach that brings cloud in the picture or uses a mix of infrastructures?
The traditional infrastructure path
For many, the flexibility provided by a more traditional infrastructure approach just can't be beat. You get to choose each vendor you want to work with. You get to custom-build an infrastructure that meets the unique needs of your applications. And you get to make granular choices around the configuration of each discrete resource.
Traditional IT takes a bit more work to manage. But this can be softened a bit through the deployment of converged infrastructure systems that allows you much of the flexibility of a traditional approach with some of the management and support benefits you get from HCI. Unlike hyper-converged, which tightly integrates data center resources into individual nodes, converged infrastructure's data center components -- compute, networking, servers, storage -- remain separate in the traditional infrastructure mode. What convergence vendors do, however, is package those resources with virtualization tools on a prequalified turnkey appliance and a management software toolkit.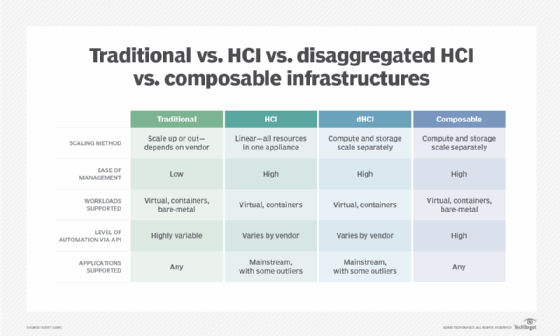 Disaggregated HCI
Some hyper-converged vendors have figured out there is a need for a more configurable resource buffet that retains the management benefits of HCI. These offerings, referred to as disaggregated HCI, provide customers with more granularity around the ratio of compute to storage.
Rather than monolithic all-in-one nodes, dHCI products ship separate compute and storage nodes so you can decide the right mix of each without scaling compute and storage linearly in lockstep.
Disaggregated HCI works well for those who need more control over their resource allocation but still want operational ease.
Composable infrastructure
Composable architecture is an IT infrastructure type getting a lot of hype lately. It goes a step beyond hyper-convergence by providing a fluid platform in which all resources are pooled together and tightly managed with software. The resulting fabric enables quick creation of workload operating environments in which the administrator doesn't have to mess around with hardware beyond initial deployment.
Today's marketplace sees the number of composable infrastructure products on the rise, most notably from HPE and Liqid. These software-defined constructs make it possible to easily and quickly deploy physical-, virtual- and container-based workloads. Composable architecture offerings also include comprehensive APIs, making it simple to include infrastructure manipulation in the development pipelines.
Hybrid cloud
Not everything happens on premises today. The cloud has risen, as has the edge.
Workload placement has become an industry unto itself, and it starts with ensuring there are enough infrastructure resources available in all necessary locations. Hybrid clouds enable you to operate workloads both in the cloud and in various on-premises locations, including edge environments.
HCI can actually help enable this operating paradigm. Hyper-convergence does this by making it easier to run the same software in the cloud that runs on on-premises hardware. This makes shifting workloads where they're needed eminently simple.
HCI and the edge
Hyper-converged infrastructure is ideal for edge-computing purposes due to the simplicity and convenience of being able to deploy an all-in-one compact node that provides all the server and software resources required at the edge. This includes places like remote offices/branch offices, IoT devices, remote manufacturing plants, hardened locations and so on. When server resources (e.g., storage, compute, networking and so on) start to run low, all you have to do is linearly plug another hyper-converged node into the infrastructure at or near the edge environment.
Moreover, organizations should embrace the hybrid cloud model because it provides the best of both the public cloud and on-premises infrastructure. Hybrid clouds take on the characteristics of a multipronged approach to IT infrastructure.
A multipronged approach
In reality, there is generally no such thing as taking a single approach to IT infrastructure, using traditional IT, the converged data center or otherwise. This is particularly true for larger organizations, where there are too many varying needs, initiatives and people with different opinions. Clearly, the correct path forward for most is to adopt what makes sense.
If that's vague, it's intended to be.
Every organization is unique. Some operate workloads that may allow complete adoption of HCI vs. traditional vs. converged vs. disaggregated HCI vs. composable infrastructures. Others operate application stacks that are siloed, where hyper-convergence may be perfect on a per-application basis, running alongside traditional environments, composable offerings and hybrid cloud deployments.
As with everything, the critical elements lie in the outcomes you aim to achieve. Regardless of which direction you go, make sure your selected infrastructure path -- or paths -- adheres to your organization's workload needs, disaster recovery goals and transformation requirements.