Fotolia
Best hyper-converged systems win Products of the Year 2019
Datrium, Western Digital and HiveIO win praise for ground-breaking products that led the way in a year of hyper-converged and composable infrastructure evolution and change.
The definition of hyper-converged systems expanded in 2019, and the winners of this year's Storage magazine and SearchStorage Products of the Year awards in the hyper-converged and composable infrastructures category reflect that change.
Some call it hyper-converged infrastructure (HCI) 2.0, while others see hyper-converged systems evolving into composable infrastructure. Another hyper-converged segment emerged as disaggregated convergence, a seeming contradiction in terms, but an answer to a desire to independently scale storage and compute.
Whatever you want to call it, these 2019 Products of the Year winners mirror the evolution of HCI.
Gold winner Datrium Inc. was among the first to broaden the definition of HCI. Its Automatrix product is a disaggregated architecture that consolidates primary storage, backup and disaster recovery. Automatrix stores data on-premises and in the cloud, and it is also available as a service.
Silver winner Western Digital OpenFlex F3100 Series Fabric Device offers a look at what is, perhaps, the future of hyper-convergence by disaggregating storage from servers over NVMe-oF.
Bronze winner HiveIO, meanwhile, is a bit of an HCI throwback. Its Hive Fabric 7.3 is a software-only product that counts virtual desktop infrastructure as a key use case, going back to the roots of hyper-converged systems.
Is true HCI composable or disaggregated? It clearly depends on your point of view. Let's put aside those labels for now, however, and showcase the best this category had to offer in 2019.
Gold winner: Datrium Automatrix
Datrium pushed the boundaries of hyper-converged systems by converging resources into a disaggregated platform rather than a single chassis. Automatrix includes Datrium's DVX Data Nodes, Compute Nodes, backup as a service to S3 and the vendor's ControlShift workload mobility DR as a service. Datrium bills Automatrix as having the durability of a SAN with HCI simplicity, and with backup and DR services, it converges use cases as well as IT resources.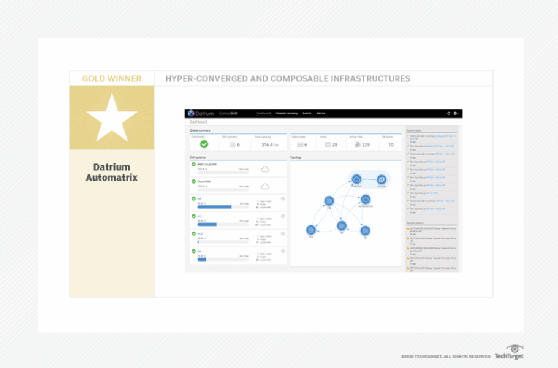 The company built Automatrix for VM storage and for use across clouds, and its Data Nodes are available in all-flash configurations. Datrium boasts instant restores because it restarts VMs from local backups that are replicated to a secondary site, which can be a public cloud, and require no rehydration. Rehydration refers to the process of reversing the deduplication of transferred data to reconstitute or reassemble files so they can be accessed and used.
One judge described Automatrix as the "best of hyper-converged and dedicated systems."
"It disaggregates storage from the physical hardware. The local cache in the compute host delivers performance, and the centralized storage area for older data simplifies storage management," the judge said.
Another judge called it "a different take on HCI with DR, backup and migration built-in."
A third judge found its ease of use and performance at scale impressive. Datrium claims an Automatrix system with 128 Compute Nodes delivers 18 million random read (4 KB) IOPS, and a system with 10 all-flash Data Nodes achieves 16 GBps random write (32 KB) throughput.
"The simplicity is outstanding," the judge said. "The scalability with performance is top-notch."
Silver winner: Western Digital OpenFlex F3100 Series Fabric Device
Because traditional hyper-converged systems architecture consists of x86 hardware, most HCI advances have emanated through the software stack. That is how Nutanix and VMware-based systems have come to dominate the market.
Western Digital Corp. is seeking to make significant advances in HCI and composable infrastructure through hardware, however. The OpenFlex F3100 Series Fabric Device uses NVMe-oF, which is still nascent even in SAN technology. The OpenFlex F3100 allows servers to share speedy NVMe drives and, perhaps, storage class memory down the road.
The F3100 can hold 10 hot-swappable fabric devices in a 3U enclosure. Western Digital claims one device can provide 2.1 million IOPS, 11.7 GBps throughput and less than 35 microseconds of latency.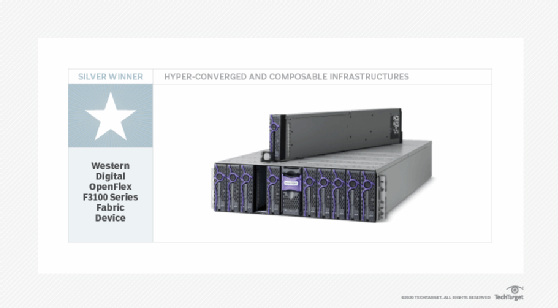 "Impressive performance and density in a 3U [all-flash array]," one judge said of the F3100. "The only NVMe-oF entry in the category is worth singling out for that alone, given how critical NVMe fabrics will be to future composable infrastructure designs." The judge added, "Disaggregating storage from servers by using NVMe-oF will certainly improve storage utilization and performance balancing."
Several other judges pointed out the innovative hardware design of the F3100, but the platform requires software-defined storage to really take off. Western Digital's open composable API could help the company find good software partners, however. The API orchestrates compute, flash, disk, networking and disaggregated memory resources.
"The support of an open API is also very innovative and makes the adoption of composable infrastructure far more realistic," one judge said.
Bronze winner: HiveIO Hive Fabric 7.3
Hive Fabric is the HCI purist's representative among category winners: software-defined storage to quickly deliver virtual desktops and virtual servers. That takes hyper-convergence back to basics. Hive Fabric can install on any properly equipped x86 server, and its AI-powered Message Bus allows IT generalists to manage it.
HiveIO claims Hive Fabric can help install VDI on bare metal in under 45 minutes. Hive Fabric goes beyond basic x86 server hardware, however. It supports Nvidia, ATI and Intel GPUs for performance acceleration, along with physical and software-defined networks. Hive Fabric uses shared storage for VMs or volume storage. Its price of $12 per VM, per month includes 24/7 support.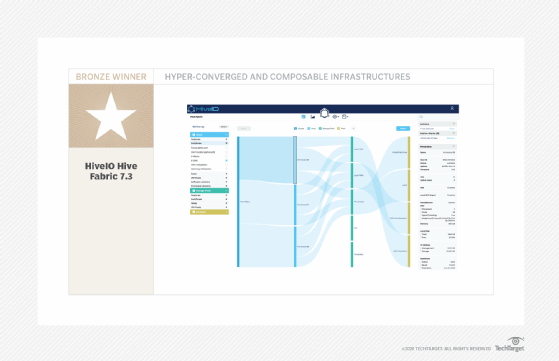 One of the vendor's goals for Hive Fabric 7.3 is to bring low cost and flexibility to HCI.
"This is clearly HCI aimed at lower cost by utilizing a mix and match of hardware," is how one judge described Hive Fabric. "Not the first software-only HCI, but definitely one of the more flexible. The flexible networking, GPU acceleration and [dynamic RAM] allocation is also innovative."
Another judge praised HiveIO's vision of "simple-to-operate but sophisticated performance."
Get the complete listing of our 2019 Products of the Year category winners.