kentoh - Fotolia
Composable architecture extends the reach of disaggregation
In composable architecture, IT components are broken apart and reassembled for specific applications. They can provide more flexibility than converged or hyper-converged systems.
Composable infrastructure has generated lots of buzz lately, even though the basic premise behind it has long been the Holy Grail for data center and storage admins. Also known as composable architecture, the build-as-you-go methodology helps enterprises consume IT resources more efficiently, and theoretically at lower cost, than traditional data center silos.
A composable system is similar in some ways, yet different from converged infrastructure (CI) and hyper-converged infrastructure (HCI). Each of these approaches combine compute, networking and storage but does so in a different way.
Composable infrastructure treats physical storage, compute and networking resources as services. Those resources are managed through software application programming interface (API) calls. Composable infrastructure supports bare metal, virtualization and containerized infrastructure.
Hewlett Packard Enterprise is often credited with coining the composable infrastructure category with its HPE Synergy product. Other major storage vendors have launched similar products, along with a handful of composable-based startups.
Converged, hyper-converged, composable -- the competing terms can cause confusion for enterprise buyers. Adding to the confusion are amorphous analyst and vendor descriptions: integrated infrastructure systems, integrated platforms and composable disaggregated systems, to name a few.
"We call all of these three integrated systems," said Eric Slack, a senior analyst at Evaluator Group. "The one thing that they all have in common is they try to make it easier, quicker and cheaper for you to get up and running. The whole idea, ironically, is trying to eliminate integration" performed by an outside systems integrator.
Composable architecture lends itself to a specific set of workloads that may not be suitable for CI or HCI, said Mike Matchett, a storage analyst and founder of Small World Big Data, a Boston-area consulting firm.
"Composable is a cool way to build a private cloud with bare-metal resources. It lends itself to workload isolation for regulatory compliance, and it lends itself to streaming analytics and IoT workloads where queuing is an issue," Matchett said.
We'll take a look at the vendor products below, but first let's examine the distinctions between composable systems, converged and hyper-converged infrastructure (HCI).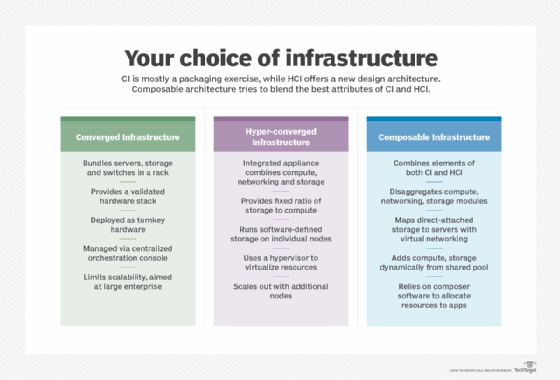 Converged, hyper-converged and composable
At first glance, CI resembles a traditional SAN, with the addition of bundled data services. Before CI, you hired a systems integrator to rack and stack your desired mix of servers, storage and switching. The advent of CI simplifies procurement. You select the apps and how much storage you need, and then the vendor ships a prepackaged system optimized for your environment out of the box.
HCI marked a change in how infrastructure is designed and packaged. HCI integrates networking, processing and storage gear in a single hardware platform, with a hypervisor to virtualize the compute.
Composable architecture allows a data center to deploy cloud-like services in much the same manner as cloud service provider. Different IT components can be broken apart and reassembled for specific workloads. Additional resources may be added on the fly and automatically return to the shared pool if no longer needed. For DevOps organizations, composable infrastructure provides on-premises deployment that can deliver infrastructure as code.
Major composable systems vendors
HPE Synergy: Synergy is based on a specially designed 10U server frame with an interconnected network fabric and HPE storage blades. HPE Synergy Frame Link Module allows multiple chassis to be connected as a unified fabric. Synergy allows pluggable compute, networking, power management and storage modules to be swapped in as needed. Two Synergy Composer management servers are supported, with integrated HPE OneView software-defined infrastructure management. HPE said more than 3,000 customers have purchased Synergy since the product launched in 2015.
Synergy isn't to be confused with the recently launched HPE Nimble Storage dHCI, which stands for disaggregated HCI. Aside from being a misnomer, the dHCI product more closely resembles a converged system than an HCI system.
Cisco UCS M-Series: Cisco launched the M-Series modular servers initially to help enterprises launch cloud-scale applications and service. That makes M-Series a logical fit for composable architecture, although it's unclear how much penetration Cisco has in enterprises. To date, Cisco M-Series appears to have zeroed in mostly on hyper-scale cloud providers. The M-Series is part of the Cisco Unified Compute Platform series, variations of which appear in Dell EMC VxBlock, IBM VersaStack and NetApp FlexPod converged systems.
Dell EMC MX7000: Dell EMC was a latecomer to composable architecture in 2018. The modular Dell EMC MX7000 platform is billed as 'kinetic' architecture to develop fluid resource pools from physical servers and storage. The MX7000 7U chassis is powered by 14th generation Dell PowerEdge MX servers. The servers house either a two-socket or four-socket blade sled that allows up to seven direct-attached SAS storage sleds. Network modules provide 25 Gigabit Ethernet (GbE) and 32G Fibre Channel (FC) host connectivity, with a Fibre Channel switching uplink to reduce traffic between multiple chassis. Dell OpenManage software suite provides the integrated management.
Lenovo TruScale: Compared to Cisco, Dell and HPE, Lenovo's offering may not fit the accepted definition of composable architecture, but it does have similarities. With TruScale, Lenovo lets customers buy ThinkSystem compute servers and Lenovo storage hardware as a scalable service. Lenovo wheels the gear into your data center and offers remote management, but the customer is not required to make a minimum capital purchase of physical equipment. As with composable infrastructure, Lenovo TruScale lets customers pay only for consumed compute and storage.
Western Digital OpenFlex: Long established as a drive vendor, Western Digital is trying to ride momentum for composable architecture. OpenFlex helps companies trim costs and reduce overprovisioning. All shared capacity is available as a large network-addressable drive, which can be carved up into multiple namespace configurations. The key hardware components include Western Digital's F3000 Series NVMe array, scaling to 61 TB of NAND flash, the D3000 disk array with 168 TB of raw capacity, and an E3000 fabric enclosure. All the hardware is enabled for NVMe-oF network protocols. Western Digital has vowed to spur community development of industry standards for composable architecture.
Composable startups
Established storage vendors have the market clout to drive composable standards and adoption, but newcomers are taking a hand as well. Among the notable startups:
Liqid developed a PCIe Gen 3 internal switched fabric and composable software that runs on standard servers. Liqid's major customer is telecom provider Orange Silicon Valley and has partnerships with some flash memory makers.
DriveScale sells software that builds a distributed storage array by connecting diskless compute nodes and storage enclosures connected via a top-of-rack Ethernet switch. DriveScale Composer maps the direct-attached storage to bare-metal or VM instances. Multiple DriveScale deployments are managed with its SaaS-based cloud portal.