michelangelus - Fotolia
Composable storage startup Fungible chases hyperscalers
Fungible's composable storage includes FS1600 block storage server and Fungible Composer management backplane. Fungible offloads data services to its FS1 Data Processing Unit.
Venture-funded chip startup Fungible Inc. this week launched a composable storage system built around its data processing unit chips.
Fungible introduced a disaggregated hardware system powered by Fungible Data Processing Unit (DPU) F1 programmable microprocessors and the TrueFabric NVMe-oF stack. Fungible launched the DPU in August, and its CEO Pradeep Sindhu at the time said it would follow with a complete storage system by the end of 2020.
That storage system consists of the new Fungible Storage Cluster FS1600 block storage server and associated Fungible Composer management backplane.
The F1 DPU is a dedicated controller to handle data services. Ashish Nadkarni, a group vice president at IT analyst firm IDC, said Fungible storage tries to overcome the limitations of traditional CPU-based systems.
"They created a system in which the storage scales as a function of offloading data processing to a dedicated DPU. In a typical storage array, the CPU does the bulk of the work. But what people are realizing is that the CPU is no longer the most efficient way to run a storage controller," Nadkarni said.
Marc Staimer, chief analyst at Dragon Slayer Consulting in Beaverton, Ore., said Fungible falls within converged infrastructure.
"They have a technology that allows for scale-out block storage. If you ask me what their sweet spot is, it's high-performance computing. I would look at Pavilion Data Systems and Fungible as direct competitors" in the startup market, Staimer said.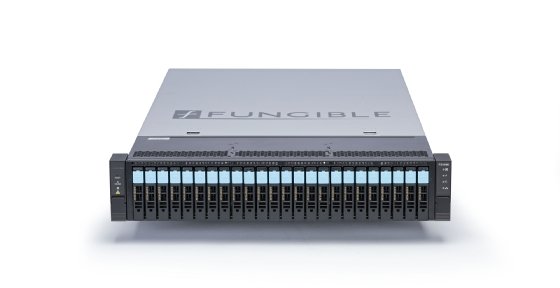 Fungible Storage Cluster: Pool compute and storage
Sindhu said F1 DPUs handle repetitive infrastructure tasks many times faster than a traditional CPU. The Fungible chip is engineered with onboard memory and processing to handle networking, security, storage management and virtualization. TrueFabric provides disaggregation and pooling of resources across servers.
The FS1600 data plane is a standard 2U form factor that takes 24 U.2 NVMe SSDs. The out-of-band Fungible Composer orchestrates services for APIs, networking, NVMe discovery, storage, system/device managment and telemetry. Fungible commits writes from servers to storage using native server TCP/IP. The startup said it is working to develop a DPU initiator to offload that functionality using NVMe over User Datagram Protocol to further reduce latency.
The Fungible Storage Cluster is available in three capacity options: 46 TB, 92 TB and 184 TB per FS1600 node of raw capacity. The vendor declined to specify pricing. Sindhu said FS1600 storage will be available from Fungible's reseller channel.
Customers install Fungible using RESTful APIs without making application changes. Fungible claims the DPU enables a single Fungible storage node with 576 TB to deliver 15 million IOPS with 110 microseconds of latency. The Fungible Storage Cluster is designed to scale from tens of nodes up to hundreds of data center racks, with performance scaling as the cluster grows.
Fungible scale-out block storage software encrypts boot data at rest and supports erasure coding and inline compression. Deduplication, quality of service and thin provisioning are on Fungible's roadmap.
"We have the ability to connect reliably so that you don't have any packet loss. It has end-to-end encryption. We created this protocol to avoid congestion. When you avoid congestion, you reduce your latency," Sindhu said.
Data management outside the node
Composable storage is a cloud-based architecture to abstract IT hardware into logical pools of shared resources. Rather than fixed ratios of compute, networking and processing, composable systems run infrastructure as code to flexibly fire up IT instances on demand, and then return those resources to the pool once the task is complete. That makes it slightly different from converged infrastructure, which allows customers to cobble a system from qualified hardware, and hyper-converged infrastructure that packages compute, networking and storage in an integrated appliance.
HPE created the concept of composable storage with its Synergy launch, based on HPE servers and storage. Dell EMC PowerEdge MX, Lenovo TruScale and Western Digital Corp.'s OpenFlex are similar offerings that allow enterprises to customize compute and storage using specialized modules. NetApp HCI is a product that relies on SolidFire all-flash storage software or NetApp Cloud Volumes to add or remove resources, although NetApp does not formally call it a composable system.
Startups are also trying to crack this emerging industry. Newcomer Nebulon's approach is to provide local storage I/O management via PCIe-connected servers, while delivering storage controller functions such as monitoring and provisioning via the cloud. DriveScale software-defined storage lets you build elastic cloud resources using standard servers. Liqid offers a virtual PCIe switch but not storage. Now-defunct Attala Systems developed a product with a similar architecture to Fungible, based on FPGAs that separate compute and processing.
Staimer said Fungible's composable storage system has work to do to capture HPC customers, who use direct-attached storage disks in servers that connect over InfiniBand or Gigabit Ethernet.
"The standalone storage system needs external management. There is no x86 processor to handle connections load balancing, snapshots and the other services," Staimer said.
Adding a DPU initiator would be an important milestone for Fungible to compete for HPC workloads, Staimer said.
Sindhu, a former CEO and CTO at Juniper Networks, founded Fungible in 2015 with former Apple SVP of software engineering Bertrand Serlet. The startup has raised $311 million from private investors. Fungible in September acquired disaggregation vendor Cloudistics for an undisclosed sum.
Dig Deeper on Converged infrastructure management