kalafoto - Fotolia
Pavilion Data Systems adds investors, as NVMe startups fade
Shakeout and consolidation is taking place among NVMe flash startups. New investment gives Pavilion Data Systems a longer runway to add data features, expand sales.
It hasn't been a great year for NVMe flash startups to seek funding. Investors have mostly shut off the spigot, despite surging interest by customers in the faster-than-SCSI storage protocol.
Pavilion Data Systems bucked that trend on Tuesday, landing $25 million in an oversubscribed round that surprised even its executives. The startup, based in San Jose, Calif., now has $58 million in private funding since it was founded in 2014. The vendor started shipping its Pavilion Memory Array in 2018.
New investors Taiwania Capital and RPS Ventures led the round, with participation by earlier investors Kleiner Perkins, Korea Investment Partners, DAG Ventures, Artiman Ventures, SK Telecom and Tyche Partners.
Tough sledding for NVMe startups
NVMe is a relatively new flash storage protocol that is designed to eliminate the overhead associated with legacy SAS and SATA.
Pavilion Data is one of several startups that use PCIe to link compute and storage more closely than with a traditional array. This design is often referred to rack-scale flash, with NVMe providing end-to-end fabric connectivity for shared storage.
Pavilion faces a tough road ahead, though. The company has endured layoffs and been dogged by executive turnover in the past 18 month. Pavilion's new funding comes weeks after cash-strapped competitors E8 Storage and Vexata were acquired for undisclosed sums. E8's technology is being kept alive by Amazon, which acquired it for fast public cloud flash storage in AWS. Vexata was bought by StorCentric, an umbrella company whose holdings include NAS vendor Drobo, SAN maker Nexsan and backup software provider Retrospect.
Other NVMe startups include Apeiron Data Systems, software-only Excelero and Exten Technologies, which jettisoned arrays for its HyperDynamic NVMe software. Excelero this year signed a partnership deal with server maker Lenovo.
Major vendor Dell EMC, IBM, NetApp, Pure Storage and Hewlett Packard Enterprise sell arrays equipped for NVMe. Pure Storage FlashBlade uses its own custom flash modules in place of NVMe drives.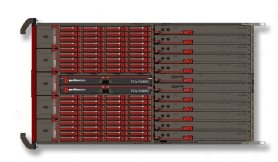 "I think we'll see more consolidation. The major vendors have started to sell NVMe arrays into the market, and they're going after both mixed workloads and the dedicated workloads that the startups started to go after," said Eric Burgener, a research vice president of storage at IT analyst firm IDC.
Pavilion Data Systems' head of marketing, Walter Hinton, said the startup will apply the funding toward expanding its sales efforts in North America and Europe and establishing a larger presence in the Asia-Pacific region. The vendor recently opened a sales office in India.
"This was a growth round, and it closed very quickly," Hinton said.
Shared capacity vs. direct-attached storage
Hinton said Pavilion Data Systems sees a niche for its "hyper-parallelized flash array" in underserved sections of the market. Pavilion said the array packs up to 20 storage controllers and 72 NVMe SSD in 4U, or about 1 petabyte (PB). A minimum configuration is 18 drives and two line cards, each with four 100-Gigabit Ethernet and two controllers.
"We're not going after the big wide swath of traditional workloads like Oracle or SQL Server. Rather, we're in that place where organizations are looking at modern applications. So things like MySQL, NoSQL, big data analytics, and the performance-related part of analytics, with Sparc and other things," Hinton said.
Hinton said Pavilion Data customers fall into two broad categories. The first is webscale companies seeking to replace direct-attached storage with shared storage for high-performance computing systems or large analytics clusters. Other customers include financial services and government accounts.
Pavilion Data has a "large number of customers all over the world, and many are seven-figure transactions," Hinton said.
Not all the money will go toward sales. Hinton said Pavilion Data Systems needs to fill gaps by adding data Replication and other data services to appeal to enterprises that run modern applications.