Fotolia
NVMe flash array startups Pavilion Data, Vexata jump in
The 4U Pavilion Memory NVMe flash array comes with 20 controllers and 40 Ethernet ports. Vexata markets VX-100 appliances running Active Data Fabric distributed storage.
The battle for position in the NVMe flash array market is shaping up, with a bevy of newcomers taking on the established...
Continue Reading This Article
Enjoy this article as well as all of our content, including E-Guides, news, tips and more.
flash contenders.
San Jose, Calif.-based startups Pavilion Data Systems Inc. and Vexata are the latest to jump into the market with storage systems that use nonvolatile memory express (NVMe)-based flash media.
Vexata, founded by former EMC and VMware engineering executives Surya Varanasi and Zahid Hussain, packages its Active Data Fabric distributed software layer on its VX-100 arrays. Hussain is CEO of Vexata and Varanasi is CTO.
Vexata Active Data Fabric consists of VX-OS operating system software and three hardware components: a front-end controller, a field-programmable gate array (FPGA)-based cut-through router, and data nodes that handle flash I/O scheduling and metadata management. Vexata VX-100 arrays and VX-Stack application-centric appliances are shipping now.
Pavilion Data Systems takes a different approach. The Pavilion Data array is a 4U chassis containing 20 storage controllers and 40 Ethernet ports, connected to 72 NVMe SSDs via an internal PCIe switch network. Jeff Sosa, the head of product management at Pavilion Data, said general availability is expected this year or in early 2018.
Pavilion Data was founded by Kiran Malwankar, formerly the director of hardware engineering at all-flash pioneer Violin Systems, and Sundar Kanthadai, former engineering director at SeaMicro, a subsidiary of Advanced Micro Devices. Kleiner Perkins Caufield & Byers and Artiman Ventures provided Pavilion Data with $15 million in a Series A funding round in 2016.
The NVM Express standard encompasses the register interface and command set for using PCI Express-connected flash with industry-standard hardware. NVMe is widely considered to be the de facto standard for using PCIe flash cards in a server. PCIe is expected to gradually, but steadily supplant SAS and SATA SSDs. According to research firm IDC, by 2022, PCIe flash cards will account for roughly half of all SSD revenues.
Vexata takes the wraps off VX-100 NVMe flash array family
Vexata emerged from stealth in September after four years of product development. The venture-backed startup has received $54 million in funding from Intel Capital, Lightspeed Venture Partners, Mayfield and Redline Capital Management.
"Everything we do is centered on random read-write access to large data sets. We don't cache and we don't do any tiering. VX systems are designed to plug into your existing environment. There are no custom drivers or host agents to install, and you don't need to rewrite applications," said Vexata CEO Hussain, who was formerly senior vice president of the flash products division of EMC, prior to its acquisition by Dell in 2016.
Hussain said enterprises are running Vexata VX-100 scalable arrays in proofs of concept to support high-volume Microsoft SQL Server, Oracle and SAS database transactional workloads. He said Vexata eventually plans to offer a software-only version of Active Data Fabric.
The Vexata OS controller hardware is based on a Supermicro CPU motherboard. The Vexata router is implemented as a series of field-programmable gate arrays that plug into PCIe cards using standard network interface cards and standard SSDs. Vexata's NVMe flash array modules plug into the Ethernet fabric.
Vexata Active Data Fabric separates the control plane from the data plane to enable VX-100 arrays to scale for high performance, Hussain said. The data access layer supports block, file and object storage.
"We decoupled the software-defined intelligence on [data placement] from the acceleration used to move the data," he said.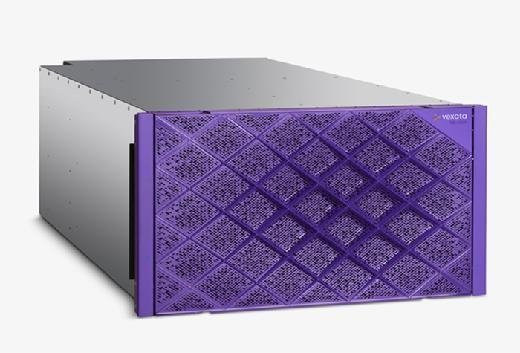 Vexata VX-100 arrays integrate 64 SSDs on 16 storage nodes, or four 4 TB SSDs per node. The VX-100F node takes standard NVMe flash and scales to 180 TB of usable storage. VX-100M models configure Intel Optane SSDs and scale to 30 TB of effective capacity.
Active Data Fabric natively supports at-rest encryption, clones, space-efficient snapshots and thin provisioning. A resilient N+2 RAID 6 architecture computes all parity bits to rebuild data nodes. Vexata storage arrays are equipped with 16 ports for 32 Gb per second Fibre Channel and 40 Gigabit Ethernet (GbE) NVMe over Fabrics connectivity.
Pavilion Data builds hardware-defined NVMe flash array
Pavilion Data's Sosa said the 4U Pavilion Memory Array is in beta, with an undisclosed number of customers. Instead of using servers, Pavilion Data is juicing up the processing power on its arrays to enable backup and data management functions without impeding storage performance.
"We have built a scale-out storage array that is self-contained in a 4U appliance," Sosa said. "You can use it with NVMe over Fabrics software on the client side, but you don't have to install any custom drivers on your host tier. We operate like a traditional storage array. We deliver performance on the target by innovations in our hardware."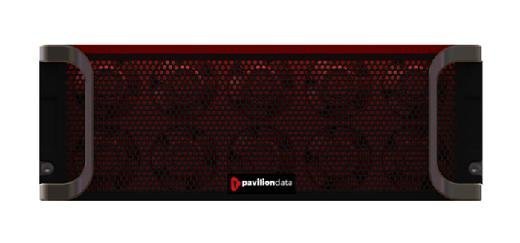 Instead of a custom application-specific integrated circuit or FPGA, Pavilion fashioned its own hardware using off-the-shelf processors, networking and PCIe switches. The array includes 10 Pavilion-designed modular I/O line cards, each with two x86 controllers and four 40 GbE network ports. A Pavilion Memory Array node contains 20 controllers and 40 network ports.
The Pavilion management software automatically carves RAID 6 groups from drives, but does not yet replicate between arrays.
"Pavilion puts a lot of horsepower into the array," said Tim Stammers, a senior storage analyst in New York with 451 Research. "They [use] a lot of x86 cores. If you look at history, this is the way storage systems have been developed over the last 15 to 20 years."
Pavilion software on the array ties the componentry together to run as a single system and provide all the data services directly on the array. Customers that require multipath support will need to install Pavilion's custom driver, but no other host software is needed, Sosa said.
Which NVMe array architecture will prevail?
To date, buying an all-flash NVMe array is not a necessity in most organizations. NVMe dramatically boosts throughput and lowers latency, but it is limited to early use cases for private clouds for real-time analytics.
Most established vendors have added or pledged NVMe protocol support in their all-flash and hybrid arrays. And, as in the early days of SSDs in storage arrays, the emergence of NVMe has launched a new batch of storage vendors.
Other startups angling to gain a foothold in the nascent market for NVMe flash include the following:
Apeiron Data Systems uses NVMe drives for media and houses data services in FPGAs instead of servers attached to storage arrays.
E8 Storage uses its software to replicate snapshots from the E8-D24 NVMe flash array to attached branded compute servers, a design that aims to reduce management overhead on the array.
Excelero software-defined storage follows a similar approach to E8 storage, with the exception of its bring-your-own-server model.
Mangstor MX6300 NVMe over Fabrics arrays are based on Dell EMC PowerEdge outfitted with branded NVMe PCIe cards.
"There is no way to know which architecture will be the most popular until they've been on the market for a while," Stammers said.
Next Steps
The storage industry races to make shared NVMe all-flash a reality
The rise of NVMe flash and the future of SAS/SATA
Kaminario: NVMe limited by storage architecture