stefanocar_75 - Fotolia
Vexata storage gets a boost from Fujitsu deal
Fujitsu North America agrees to sell Vexata arrays. The vendors plan demos in the Fujitsu Solutions Lab and are preparing reference architecture SKUs for Oracle, SAP and VMware.
Fujitsu North America has picked startup Vexata as its partner for storage for artificial intelligence applications.
Vexata sells all-flash high-performance NVMe storage targeted at Oracle, SAP and VMware shops.
Fujitsu sells the Vexata VX-100 Active Data Architecture storage array, aiming it at AI and cognitive applications. The vendors have teamed on Vexata storage reference architecture for Oracle RAC, Oracle Smart Flash Cache and VMware consolidation. Fujitsu resellers will start selling product SKUs for those platforms in February.
This is the first set of turnkey appliances the two companies plan to deliver. They're developing products for SAP HANA, SAS Analytics and Microsoft Azure Stack.
Major vendors are lining up to sell storage for AI. Dell EMC, IBM, Isilon, NetApp and Pure Storage all use Nvidia GPU-based servers in combination with the storage vendor's scale-out file systems.
The Fujitsu-Vexata reference stacks combine Vexata VX-100 NVMe arrays, Primergy RX Series x86 rack servers and Mellanox Technologies network switches. Demonstration projects on the new Vexata platforms are under way at Fujitsu Solutions Lab.
The AI challenge
"The cognitive era is fully upon us. We're seeing it across a variety of customer engagements," Vexata chief marketing officer Ashish Gupta said. "The challenge with AI is to run at scale. We want to build a data system that addresses existing platforms that are transitioning from Oracle and SAP" to next-generation analytics at the edge.
Vexata storage is available as a rack-scale array, a software-only installation on commodity servers or scale-out NAS with IBM Spectrum Scale. The Vexata Data Architecture control plane resides on a CPU. Critical data remains out of the data path, on a separate field-programmable gate array.
The VX-100 provides 430 TB of usable capacity in 6U, with parallelized data access to all drives. Vexata targets data centers that need petabyte-scale storage. The vendor lists customers in government, hedge funds, insurance and payments processing.
"The file system construct and the frameworks they use are quite varied. The one thing common is the large size of the data sets. We're talking about 200 TB per application use case," Gupta said.
Pacific Disaster Center (PDC), an applied research arm of the University of Hawai'i, implemented Vexata storage last year. PDC develops research and planning tools for disaster preparedness to businesses and governments.
"Just from a disk IO perspective, we concluded the Vexata storage gave us a performance increase up to eight times what other vendors could provide, at about half the price," PDC executive director Ray Shirkodai said.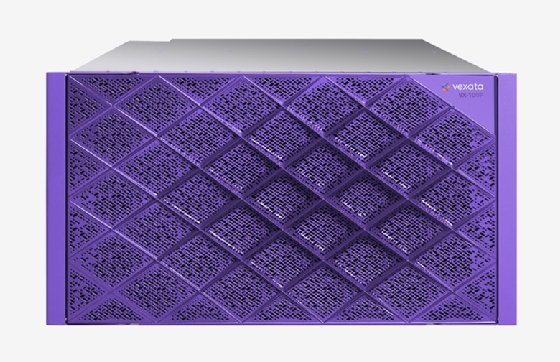 Partnership advantage
NVMe flash technology is expected to generate 50% of external primary storage sales by 2021, according to IDC. Other NVMe-focused startups include Apeiron, E8 Storage, Excelero, Exten (formerly Mangstor) and Pavilion Data. Major storage vendors Dell EMC, NetApp, Pure and IBM also sell NVMe flash arrays.
The Fujitsu partnership paves the way for Vexata to approach enterprises planning to refresh Oracle or SAP storage, IDC analyst Eric Burgener said.
"When you're a startup, the one thing customers always throw in your face is: How do I know you'll be in business six months from now? Fujitsu is a big company, and it completely removes that objection," Burgener said.
Fujitsu meanwhile will use the Vexata storage system to gain a presence in high-performance NVMe flash. "Fujitsu needed to get in that space. This gives them a quick time to market with a performance-optimized product," Burgener said.