Sergey Nivens - Fotolia
Lenovo flash storage, Microsoft Azure eye mad rush to edge
New Lenovo ThinkAgile MX and Lenovo storage arrays target Microsoft cloud customers. Azure Stack HCI configuration mirrors qualified designs for VMware, Nutanix.
Cloud and edge computing are growing inexorably, and Lenovo flash storage and converged systems have broadened to help Microsoft cloud shops get the most out of their deployments.
The newly launched Lenovo ThinkAgile MX1021 hyper-converged infrastructure runs Microsoft Azure Stack HCI software. Lenovo also added a ThinkSystem DM7100 Series of all-flash and hybrid arrays with NVMe solid-state drives (SSDs).
Both systems are sold directly from Lenovo resellers and partners, as well as on demand with Lenovo TruScale hardware as a service.
Charles King, principal analyst of IT analyst firm Pund-IT, said Lenovo aims the products at enterprises that use the hybrid cloud to compute large data quickly at the edge.
"By its nature, hybrid cloud includes hardware installed in customers' on-premises data centers. However, Lenovo is offering these through its flexible TruScale financing model, where customers pay only for the compute and storage capacity they use. You could call it the best of both on-prem and cloud worlds," King said.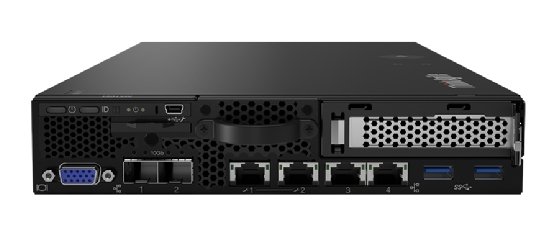 Hyper-convergence outside the core
The Lenovo MX1021 hyper-converged bundle includes Microsoft Azure Stack HCI on Lenovo's ThinkSystem SE350 laptop-size Azure Stack Hub server. Lenovo said the ruggedized MX1021 hardware includes built-in security for intrusion detection and movement. Lenovo and Microsoft previewed ThinkAgile with Azure Stack at Microsoft Ignite last year.
Lenovo designed ThinkAgile as a two-node configuration priced at around $20,000. The appliance does not require a top-of-rack network switch to connect to Ethernet. The hardware includes eight-core Intel Xeon D processors and 256 GB of DDR4 storage class memory. For storage, the MX1021 supports up to eight 2 TB NVMe SSDs and PCIe slots for optional graphics processing units.
"This a true edge device with Microsoft Azure Stack HCI enabled on top. You get an end-to-end solution to extend your hyper-converged stack from the core enterprise to the edge environment," said Kamran Amini, the GM of Lenovo's server and storage business.
Targeted verticals include education, financial services, government, manufacturing and retail. That mirrors the workloads of Lenovo's other validated HCI systems, which include VX Series for VMware vSAN and HX for Nutanix software.

Expanded Lenovo ThinkSystem storage
Lenovo has been trying to boost its presence in storage since acquiring IBM's server business in 2014. The Lenovo flash storage portfolio consists of the DE and DM series. The DM7100F adds NVMe flash models to the portfolio for block and file workloads.
Like most competing NVMe flash arrays, the Lenovo ThinkSystem DM7100 Series provide an end-to-end connectivity from applications to storage via NVMe-oF connectivity. A single node provides 7.4 PB of raw flash storage, and up to 88.4 PB when configured as a NAS cluster and up to 44.2 of SAN block storage.
As a NAS configuration, the hybrid DM7100H scales out to 12 arrays, and up to six SAN arrays for block storage. The arrays include automated tiering from on premises to Microsoft Azure and other public cloud providers.
Dig Deeper on Converged infrastructure management