Gorodenkoff/stock.adobe.com
Lenovo storage expands NVMe with midrange DM ThinkSystem
Server vendor Lenovo wants to grow its ThinkSystem storage business. The DM5100F NVMe Lenovo storage array integrates S3 protocol for unified data management.
Although best known for servers, Lenovo wants to stake out territory in enterprise storage.
Lenovo's data center group this week rounded out its ThinkSystem storage with a midrange NVMe array designed for multiprotocol data management and cloud-based intelligent monitoring. ThinkSystem DM5100F, launched on Thursday, adds an entry-level Lenovo flash array to the NVMe-based DM Series. The 2U rackmount DM5100F system takes 48 15.36 TB NVMe SSDs and scales to 737 TB per node.
Lenovo storage controllers can be configured as active-active NAS or SAN clusters. A 12-node NAS configuration provides nearly 9 TB of raw capacity, while a six-node SAN cluster scales to 4.4 PB of raw block storage.
Enterprises can mix and match Lenovo storage arrays, servers and branded networking gear and manage the infrastructure with Lenovo XClarity system support. Lenovo also added a Fibre Channel switch and unveiled new hardware reference architecture for SAP HANA shops.
Anticipating objects at the edge
The Lenovo DM Series storage operating system now supports S3-compatible storage, allowing file, block and object data to be managed within a unified cloud management pane. ThinkSystem Intelligent Monitoring automates storage management with a built-in AI component.
Customers can use Lenovo storage to replicate snapshots from edge environments to the data center core or the public cloud. The integrated disaster recovery allows data centers to boost business continuity, said Stuart McRae, Lenovo's GM of storage.
Analyst firm Gartner predicts big changes to address storage in edge environments. Gartner said half of all new data will be generated outside core data center networks by 2024. McRae said the DM Series enhancements were made to address customer needs at the network edge.
"New applications on the edge are being written and developed for object storage. Being able to manage all data type as one gives our customers a lot of efficiency. They can secure their data and unify backups without the need for separate devices," McRae said.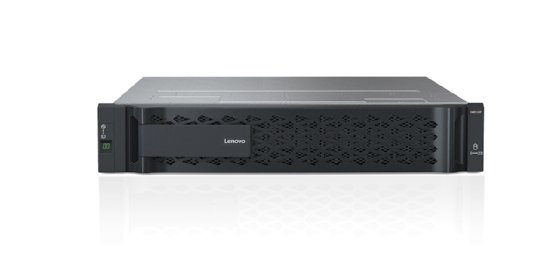 The 'sweet spot' of midrange storage
Steve McDowell, an analyst for storage and data center technologies at Moor Insights & Strategy, said zeroing in on midrange sales is a smart play.
"The midrange of storage is the sweet spot of purchasing right now. From a technology perspective, this release brings Lenovo to the state of the art. The block, file and object capabilities gives them some differentiation," McDowell said.
However, Lenovo faces stiff competition in midrange storage. Market leader Dell EMC recently unveiled its PowerStore midrange system, although that product has yet to catch fire. Competing all-flash midrange products include Hewlett Packard Enterprise's Primera, Hitachi Vantara's Virtual Storage Platform, IBM FlashSystem, NetApp EF600 and Pure Storage FlashBlade.
Lenovo and NetApp teamed up two years ago to launch a joint venture in China to sell NetApp OnTap storage systems under the Lenovo brand. The two companies joined forces this year and added supercomputer maker Nvidia to the mix to launch an AI reference architecture. The technical specs integrate a NetApp OnTap-powered Lenovo ThinkSystem DM5000F NVMe array, Lenovo ThinkSystem SR670 two-socket servers, and Nvidia Tesla V1000 32 GB or T4 Tensor Core GPUs. In another partnership, Lenovo and SAP introduced a private cloud consumption model for SAP HANA customers.
Lenovo sells its storage systems directly or as on-demand services with Lenovo TruScale SaaS pricing.