madgooch - stock.adobe.com
6 basics of storage automation, predictive analytics and AI
AI and predictive analytics are included in many storage offerings. See how this functionality helps automate storage, which features are useful and which products have them.
AI and predictive analytics are essential features in modern storage systems, helping to assess the health of the infrastructure and identify problems and storage automation capabilities to keep these systems running smoothly.
Gartner recently identified augmented data management as No. 2 on its list of 10 top data and analytics trends for 2020. Vendors are adding machine learning and AI capabilities to provide self-configuring and self-tuning data management to free IT staff to focus on higher-value tasks, according to the research firm.
AI and predictive analytics are part of that trend, however, there's been a good bit of hype and exaggeration around the use of those technologies. At times, vendors apply the AI label in vague and inaccurate ways. Nevertheless, predictive analytics tools can deliver tangible benefits in terms of storage automation performance, efficiency and lower operating costs.
What follows are answers to six key questions about AI, predictive analytics and storage automation.
How does predictive analytics help storage?
Predictive analytics uses technologies such as data mining, analytical queries, predictive modeling, AI and machine learning to uncover patterns in storage system data to identify anomalies, forecast future outcomes and fix problems using storage automation capabilities. Predictive analytics capabilities in storage products offer several advantages: better performance and resource use, lower administrative overhead, reduced downtime and optimized workloads.
Predictive analytics capabilities in storage products offer several advantages: better performance and resource use, lower administrative overhead, reduced downtime and optimized workloads.
Machine learning is particularly important to improve predictive analytics in the latest storage systems. Data collected from across the storage infrastructure is used to train the predictive algorithms to understand trends and recognize when bottlenecks and problems might arise. Storage components can then be continuously optimized and potential issues addressed.
What's behind the move to more intelligent storage?
Increasing use of all-flash arrays and hybrid and hyper-converged infrastructure are among the factors driving demand for smarter storage. Storage doesn't exist in a vacuum anymore. In many enterprises, it's an integrated part of the data center technology stack that's managed as a whole and requires more real-time data on storage capacity and performance that intelligent storage provides.
What role is cloud storage playing in making storage smarter?
Cloud storage incorporates predictive analytics in ways that help forecast trends, plan infrastructures and reduce overhead. These applications use AI, machine learning and other advanced techniques to continuously collect and analyze telemetry data from flash arrays in the storage stack. Here, too, the goal is to analyze IOPS, bandwidth, fault tolerance, latency and other storage-related information, identify problems and use storage automation capabilities to proactively address them.
"Cloud-based predictive analytics platforms … go far beyond the remote monitoring systems of a prior generation," said Eric Burgener, a research vice president at IT analyst firm IDC, in a whitepaper. He identified three key features that differentiate cloud-based predictive analytics from traditional remote monitoring: data sharing, scope of monitoring, and use of AI and machine learning to drive autonomous operations.
In the cloud context, predictive analytics takes storage infrastructure one step closer to a self-healing technology that identifies and resolves issues with minimal intervention.
What technology is making storage smarter?
Data collection is part of the foundation of smart storage. Vendors aggregate and analyze anonymized telemetry data from their customers to learn about different storage scenarios, workloads or problems that could affect other customers. Vendors can provide detailed information on storage performance metrics and patterns, as well as forecast trends, bottlenecks and other potential issues before they occur.
Predictive analytics works in tandem with machine learning and deep learning to make these systems work without preprogrammed instructions.
Which features should storage predictive analytics tools have?
When vetting storage systems, look for these five key predictive analytics features to ensure you get the capabilities you'll need:
Support automation. Systems can predict various problems associated with performance, capacity, availability and security. For example, predictive analytics can be used to analyze storage capacity use per device, volume and application, and proactively identify when targets will be reached. Admins can use storage automation capabilities to set systems to automatically add or rebalance capacity.
Automated management and configuration. Look for tools that provide automated storage setup and management. These systems automatically determine performance, resource consumption and capacity needs, and optimize workload placement to improve resource use.
Software updating and patching. Systems proactively update software, using analytics to make code available to sites that meet requirements to address potential problems before they become an issue.
Resource planning. Predictive algorithms identify trends to assist with planning ahead for future storage needs. Storage administrators can use this technology to forecast capacity, IOPS and bandwidth needs for various storage scenarios and possible upgrades.
VM management. Predictive analytics can integrate with virtualization platforms, such as VMware vSphere, to provide information on workload-specific performance and capacity, spot trends in usage and suggest better configuration settings.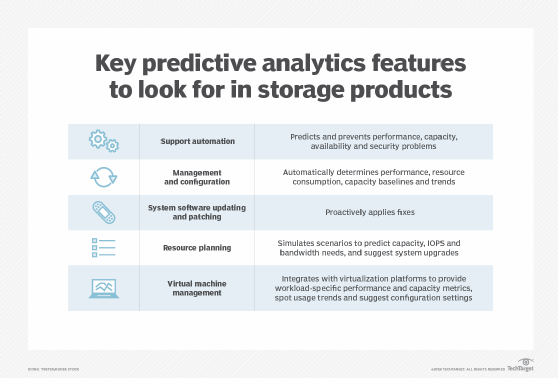 Which vendors have predictive analytics tools for storage?
AI-driven analytics software -- and its predictive and prescriptive functionalities -- comes standard in most storage products from major vendors. IT buyers should compare AI-enhanced storage products from leading vendors such as Dell EMC, Hewlett Packard Enterprise, Hitachi Vantara, IBM, Infinidat, NetApp and Pure Storage, along with smaller vendors and startups.