How can predictive analytics for unstructured data improve storage?
AI-based analytics capabilities are becoming pervasive in storage arrays. Find out how they're helping get the unstructured data deluge under control.
What happens when you meld traditional analytics with storage infrastructure? You get the AI-driven analytics for data storage that's now built into most storage arrays. And the predictive analytics for unstructured data capabilities in these storage arrays can take storage management to the next level.
AI-driven analytics tools built specifically for storage include Dell EMC CloudIQ, Hewlett Packard Enterprise HPE InfoSight, Hitachi Infrastructure Analytics Advisor, IBM Storage Insight, NetApp Active IQ and Pure Storage Pure1 Meta.
Predictive analytics for unstructured data
For example, HPE InfoSight, acquired through HPE's acquisition of Nimble Storage, has become a pervasive part of the company's data management strategy. InfoSight is an analytics beast that watches every aspect of a customer's storage environment and other IT infrastructure elements as well. As a block-based storage system, Nimble is used for countless unstructured data scenarios, such as storing sensor data, IoT data and Hadoop needs.
By aggregating what it learns from its entire customer base, HPE is able to provide all of its customers with intelligence on how their actions will impact their storage. If a customer is considering upgrading to the latest version of an application or deploying a new application, HPE can tell it about any issues other customers have had. HPE claims that InfoSight, with its predictive analytics for unstructured data capabilities, predicts and resolves 86% of storage-related issues proactively. This aggregation means that the more customers use InfoSight, the more value it brings for everyone.
The analytics behind these products provide customers with capacity planning alerts, indicating how long it will be before they're out of space. Administrators no longer need to constantly monitor capacity or risk running out.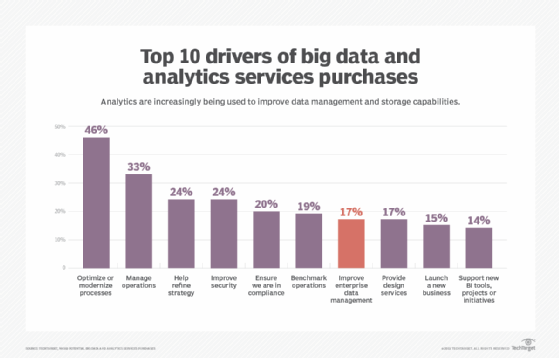 On the support front, these AI-driven analytics for data storage engines streamline the process, providing critical information to expedite repairs.
AI-driven predictive analytics for storage capabilities are particularly useful for improving the complex storage operations that are needed to support unstructured data storage needs.
As you're looking for your next storage product, make sure that predictive analytics for unstructured data is a key part of the package.