Discover the best NAS products for your organization
Explore some of the top NAS products on the market -- based on features, cost and implementation -- to help you make the right buying decision.
Although network-attached storage devices are useful for smaller organizations, they also get significant use in the enterprise. Like any other enterprise hardware component, enterprise NAS tends to be expensive. As such, it is important to research the available options prior to making a purchasing decision. This article outlines some of the available options to help you find the best NAS products for your organization.
Dell EMC Isilon A Series
The Dell EMC Isilon line includes NAS appliances designed for data archiving. These archiving appliances include the Dell EMC Isilon A200 and A2000. The A200 is aimed at general archive storage, while the A2000 is designed for deep archiving. This is evident in each appliance's capacity and caching options.
The Dell EMC Isilon A200 NAS Storage appliance consists of a 4 rack unit (U) chassis that accommodates as many as 60 SATA drives. The total capacity ranges from 120 TB to 480 TB per chassis. In the interest of improving archive performance, the appliance can accommodate either four or eight SSDs that act as a storage cache.
In contrast, the A2000 has a fixed capacity of 800 TB based on the use of 80 10 TB disks. The A200, on the other hand, supports the use of 2 TB, 4 TB or 8 TB disks. While the A2000 offers the same caching options as the A200, it seems unlikely that customers will invest in cache storage if using the appliance for deep archiving as Dell EMC suggests.
Both the A200 and the A2000 include four Intel Pentium processors (D1508). Likewise, both appliances supply front-end connectivity through two 10 Gigabit Ethernet (GbE) SFP+ ports. Both appliances also include either two InfiniBand or two 10 GbE ports for infrastructure connectivity.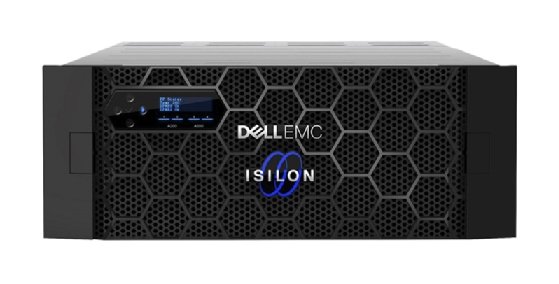 Dell EMC Isilon H Series
The Dell EMC Isilon series includes a collection of hybrid NAS devices, designed to act as scale out storage. Among Dell EMC's hybrid scale-out NAS offerings are the H400, H500, H5600 and H600. Each of these devices uses a densely packed 4U chassis.
The Dell EMC NAS appliances differ in terms of performance and capacity. The lower-end model is the H400, which fits four Isilon nodes into a 4U chassis. This device supports a maximum of 60 SATA drives per chassis, along with four to eight SSDs for caching. It has a capacity of 120 TB to 480 TB per chassis, and each chassis has a throughput of 3 GBps.
The H500 supports a maximum of 60 SATA drives per chassis, along with four to eight SSDs for caching. It has a capacity of 120 TB to 480 TB per chassis, and each chassis has a throughput of 5 GBps.
The H5600 supports a maximum of 80 SATA drives per chassis, along with four to eight SSDs for caching. It has a capacity of up to 800 TB per chassis, and each chassis has a throughput of 8 GBps.
The top tier model in this series is the Dell EMC Isilon H600. It supports a maximum of 120 SAS drives per chassis, along with four to eight SSDs for caching. The appliance has a capacity of 72 TB to 144 TB per chassis, and each chassis has a throughput of 12 GBps.
Dell EMC Isilon F Series
Dell EMC provides several different flavors of its Isilon NAS appliances. Those primarily interested in performance should look at the Isilon F series of all-flash NAS storage devices. This series includes the F800 and the F810, both of which can deliver as much as 250,000 IOPS per chassis.
Both models have a maximum capacity of 924 TB per chassis. The F800 has a minimum capacity of 96 TB, while the F810 has a minimum capacity of 230 TB. These capacities are based off disk capacity. Both appliances include 60 drive bays, but the F800 supports a minimum disk size of 1.6 TB, while the minimum disk size for the F810 is 3.84 TB.
The F800 and the F810 include four Intel Xeon processors (E5-2697A v4). The F800 comes with twin 10 GbE SP+ or twin 40 GbE QSFP+ ports per node for front-end networking, and two InfiniBand or two 40 GbE QSFP+ ports per node for back-end networking. Dell EMC's comparison page does not list the networking specs for the F810, but given the similarities between the two units, it seems likely that they support identical networking configurations.
Both NAS appliances conform to a 4U design and have a throughput of as much as 15 GBps per chassis.
Dell NX Series NAS
Dell designed the NX series of NAS appliances to provide an affordable option for organizations that need NAS storage but aren't necessarily looking for the largest or most feature-rich NAS. Appliances in the Dell Storage NX family have a starting price of $2,499 and go up from there.
There are four chassis options in the NX series -- the NX440, NX430, NX3240 and NX3340. All of these chassis are 1U rack mountable, except for the NX3240, which is a 2U rack mountable chassis. The NX440 and NX430 run the Windows Storage Server 2016 Standard Edition or Workgroup Edition OS, while the NX3240 and NX3340 run Windows Storage Server 2016 Standard Edition. All of the appliances use Intel Xeon processors.
Storage capacity varies among the units. On the lower end is the NX430, which has a 40 TB raw capacity based on the use of four 10 TB disks. The highest capacity model is the NX3240, which has a maximum raw capacity of 192 TB based on the use of sixteen 12 TB disks. In addition, companies can cluster the NX3240 to support up to 64 nodes.
Each of these NAS appliances is compatible with Dell EMC OpenManage, and supports the use of data deduplication, File Classification Infrastructure and the File Server Resource Manager.
Dell EMC Unity XT All-Flash Unified Storage
In addition to its Isilon lineup, Dell EMC also offers a series of Unity XT storage appliances. Dell EMC designed the EMC Unity XT series for midrange storage needs and optimized the series for performance and efficiency.
The Unity XT Series consists of numerous appliance models, divided into various categories. For example, Dell EMC Unity XT models 380F, 480F, 680F and 880F are all-flash storage appliances. They are designed to provide better performance than other Unity XT models and feature 5:1 inline deduplication. These appliances also provide high maximum capacities, ranging from 2.4 petabytes (PB) in the 380F to 16 PB in the 880F.
In addition to the all-flash models, the Dell EMC Unity XT 380, 480, 680 and 880 are hybrid flash storage arrays. They offer the same maximum capacities and data reduction features as their all-flash counterparts, but they are designed as hybrid storage appliances.
Dell EMC also offers the Unity VSA, which supports high availability and allows for as much as 50 TB of storage in VMware environments. This appliance can be configured to provide either 10 TB, 20 TB or 50 TB of raw capacity, and it is designed to unify block, file and VMware Virtual Volumes storage.
The other offering within the Unity lineup is the Dell EMC Unity Cloud Edition. Dell designed this appliance for use in a VMware cloud software-defined data center. Dell EMC's product page does not provide performance or capacity statistics for this appliance.
Hitachi Vantara HNAS
Hitachi Vantara offers three enterprise class Hitachi NAS (HNAS) products that each support as many as 64 enterprise virtual servers and 500 file systems. Each of the HNAS appliances has a 3U rack height and can accommodate as much as a petabyte (PB) of storage
The primary distinction between the three appliances is in their maximum physical file system size per cluster. The HNAS 4060 can scale to accommodate an 8 PB file system. The HNAS 4080 doubles that capacity with a maximum physical file system size per cluster of 16 PB, and the HNAS 4100 has a 32 PB maximum file system per cluster.
Editor's note: Using extensive research into the NAS market, TechTarget editors focused on the vendors that lead in market share, plus those that offer traditional and advanced functionality. Our research included data from TechTarget surveys, as well as reports from other respected research firms, including Gartner and Forrester.
Although the vast majority of the specifications are the same for all three appliances, there are differences in memory and random IOPS. The HNAS 4060 and the HNAS 4080 both have up to 26 GB of nonvolatile RAM (NVRAM) on their main field-programmable gate array (FPGA) board and 16 GB of memory on the main motherboard. In contrast, the HNAS 4100 has up to 68 GB of NVRAM on its FPGA board and 32 GB of RAM on its main motherboard. Random IOPS for a dual-node configuration of the HNAS 4060, 4080 and 4100 are 147,957, 209,519, and 293,128, respectively.
The Hitachi NAS appliances each support the NFS, SMB, FTP and iSCSI protocols. Additionally, the appliances allow for HTTPS (S3) connectivity to the cloud.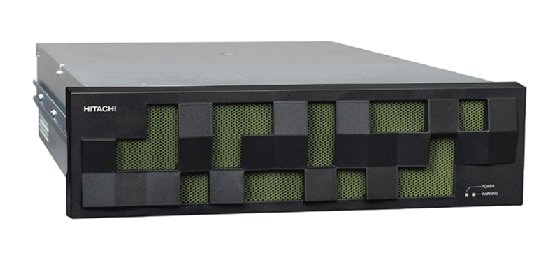 The Hitachi NAS products have integrated snapshot capabilities for data protection, and they have been engineered to support synchronous disaster recovery. The appliances also perform automatic data deduplication in a way that is transparent to the end user.
Hitachi Vantara VSP N
Along with its HNAS dedicated NAS platform, Hitachi also sells VSP N NAS modules for its Virtual Storage Platform SAN arrays.
The VSP N400, N600 and N800 all support 64 virtual enterprise servers and 500 file systems. The N400 supports a 2 PB file system per system, and the N600 and N800 support 6.5 PB file systems.
The big difference between the models is scalability. The N400 scales to 4.7 PB internal raw capacity and supports 16 standard expansion trays, eight high-density expansion trays or 16 flash module expansion trays. The N600 scales to 7.1 PB of internal capacity, 24 standard expansion trays, 12 high-density expansion trays and 24 flash module expansion trays. The N800 scales to 14.1 PB of internal capacity, 48 standard expansion trays, 24 high-density expansion trays and 48 flash module expansion trays.
Hitachi does not disclose pricing.
HPE StoreEasy 1000 Storage Family
The Hewlett Packard Enterprise (HPE) StoreEasy 1000 series consists of 15 different storage appliances, covering a wide range of prices and capabilities.
The most modest of the StoreEasy 1000 series is the HPE StoreEasy 1560, which is an 8 TB SATA storage device -- allowing for four 2 TB drives -- that sells for $4,790.99.
On the higher end is the HPE EasyStore 1660. This appliance sells for $11,019.99 and provides 32 TB of SAS storage. The storage is configured as eight 4 TB drives.
HPE offers several other StoreEasy appliances, for which online pricing is not available. The highest capacity offered by any of these appliances is 64 TB.

The features and capabilities found among the models in the StoreEasy 1000 series vary from one appliance to the next. However, most seem to support protocols such as SMB, NFS, iSCSI over Ethernet, FTPS and HTTPS.
Additionally, all of the StoreEasy products are expandable using an external enclosure. Businesses can use either HPE D3610 (large form factor) or D3710 (small form factor). The D3610 includes 12 drive bays and provides as much as 120 TB of additional capacity. It sells for $21,800.99 on Insight. In contrast, the D3710 enclosure includes 25 drive bays and sells for $17,460.99 on Insight.
IBM Spectrum Scale
IBM Spectrum Scale is intended for enterprises that require massive scalability. Spectrum Scale can store 9 quintillion files per file system and can handle individual files that are as large as 8 exabytes.
Not surprisingly, Spectrum Scale servers use clustering to achieve this massive scalability. While a Spectrum Scale can be used in a stand-alone configuration, it can also be formed into clusters consisting of as much as 16,384 individual nodes. Clusters support the NFS and SMB protocols, object protocol nodes and Hadoop Distributed File System connectors.
IBM Spectrum Scale is designed to use x86 servers, including Intel EM64T and AMD Opteron processors. Each node requires a minimum of 1 GB of memory and a supported OS. IBM supports IBM AIX, Red Hat and SUSE Linux, Windows Server, Microsoft Windows 7 and IBM Z Systems.
Because IBM Spectrum Scale is a software product rather than a physical NAS appliance, its pricing is based on the volume of data stored. Pricing starts at $18 per terabyte, per month. For those organizations that prefer a perpetual license, pricing starts at $618 per terabyte per month. IBM offers a free 30-day trial that can run on Oracle VirtualBox, Kernel-based Virtual Machine (KVM) or VMware ESX.
NetApp FAS Series NAS
The NetApp FAS series consists of three different hybrid flash arrays for SAN or NAS storage.
The lower-end option is the FAS2700 series, which consists of two different appliances -- the FAS2720 and the FAS2750. Both of these appliances adhere to a 2U form factor and can scale to the multi-petabyte range. The FAS2720 supports capacities from 24 TB to 17 PB, while the FAS2750 supports capacities from 10 TB to 15 PB. The higher capacities are based on the use of multiple nodes. Both units support up to 24 nodes.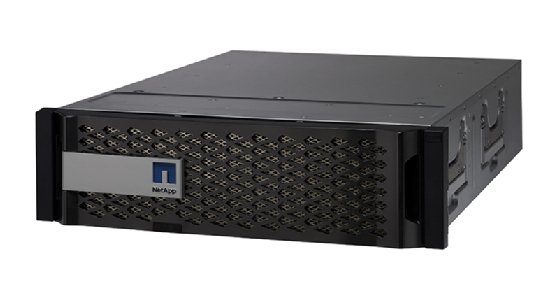 Like the FAS2700 series appliances, companies can scale the FAS8200 appliance to 24 nodes. However, the FAS8200 is designed to deliver a higher capacity than the FAS2700. The FAS8200 adheres to a 3U form factor and can deliver a maximum capacity -- in a multi-node configuration -- of 57 PB.
NetApp's high-end offering is the FAS9000. This appliance consumes a whopping 8U of rack space and scales to 24 nodes. Collectively, these nodes can deliver 172 PB of storage capacity.
NetGear ReadyNAS 2312
Although NetGear is best known for its consumer-grade products, the company does offer an enterprise NAS. The ReadyNAS 2312 is a 1U that boasts the industry's highest storage density within a 1U form factor. This unit includes 12 drive bays and, when used with 12 TB drives, can provide up to 144 TB of storage space.
The ReadyNAS 2312 offers a variety of data protection features. Perhaps the most compelling of these features is the ransomware protection. Like many other enterprise-class NAS appliances, the ReadyNAS 2312 continuously creates storage snapshots used to revert to a previous state in the event of a ransomware infection. What makes NetGear's approach unique, however, is it writes snapshots to a dedicated area designed to be tamperproof. Not even the administrator can directly access the snapshot storage.

In addition, NetGear's ReadyNAS 2312 is certified for VMware compatibility and includes built-in antivirus capabilities, as well as bit rot protection to guard against media degradation.
Pricing for the NetGear ReadyNAS 2312 varies depending on whether storage is included. CDW offers a diskless version for $1,199.99. CDW also offers a 48 TB version -- six 8 TB drives -- for $5,699.99. NetGear does not seem to offer a model preloaded with its maximum storage capacity.
Pure Storage FlashBlade NAS
Pure Storage provides enterprise-grade NAS functionality through its FlashBlade. Pure Storage claims there are three key features that make FlashBlade worthy of consideration. The first is an elastic fabric, creating separate virtual networks that isolate client, metadata and data traffic, while allowing SLAs to be defined for each.
The second notable feature, according to Pure, is Purity for FlashBlade. Purity data provides services such as compression, encryption, thin provisioning, snapshots, high availability and rapid data locking.
The third feature that Pure Storage offers is its scale-out blade. FlashBlade is designed to scale to billions of files and objects because of its massive scale-out architecture. Simply put, FlashBlade should expand as a company's data grows.
Although Pure Storage does not seem to provide information on the upper limits of its architecture, a data sheet indicates that the system can accommodate at least 75 blades. A 75-blade architecture can deliver 75 GBps of throughput and can handle 7.5 million IOPS. Collectively, these blades can provide petabytes of capacity and handle tens of thousands of clients.
The FlashBlade architecture is based on the use of 4U chassis. Each chassis contains either eight 40 Gb ports or 32 10 GbE ports.
QNAP Enterprise ZFS NAS
QNAP has long been a player in the NAS space, but has historically focused on building high-end media server NAS appliances and is the best NAS product when a company is looking for that feature. More recently, QNAP has entered the enterprise NAS market with its Z File System (ZFS) NAS.
The first appliance in QNAP's ZFS NAS series is the ES1640dc V2. This appliance includes 16 drive bays, each supporting 12 Gbps SAS drives. QNAP does not seem to define an upper limit for the total amount of storage that the appliance can accommodate.
The ZFS NAS is powered by an Intel Xeon E5-2400 v2 processor and supports as much as 64 GB of DDR3 memory. In addition, the NAS appliance is equipped with dual, active-active controllers so a secondary controller will take over if the primary one fails. The device's DRAM write cache is battery protected to guard against data loss.
The QNAP ZFS appliance offers several options for connectivity. It includes four 10 GbE SFP+ ports for iSCSI, NFS or CIFS communications. There is also a pre-installed card containing two 10 GbE (RJ45) ports. Users can remove this card or replace it with a dual-port, QSFP+ 40 GbE network interface controller.
The QNAP appliance supports common enterprise NAS features such as deduplication, compression and snapshots. In addition, the device is certified for use with Windows Server 2016 and VMware. It is also OpenStack ready and designed to work with KVM, Docker and Kubernetes.
Qumulo
Qumulo offers a variety of NAS products that provide hybrid HDD and SSD storage. On the lower end of the scale, Qumulo offers its QC24 NAS, which houses a 3.5 GHz, 4 core CPUs and 64 GB of memory into a 1U chassis. This unit can provide as much as 24 TB of raw storage by combining four 6 TB HDDs and two 800 GB SSDs. Qumulo's highest-end offering is the QC360, a 4U appliance with twin 2.4 GHz, 6 core CPUs and 256 GB of RAM. This unit can accommodate 360 TB of raw storage in the form of 36 10 TB HDDs and four 1.6 TB SSDs.
Qumulo appliances run the Qumulo File System. The company also offers this file system for use on Dell EMC and Hewlett Packard Enterprise NAS appliances. This distributed file system can scale to accommodate billions of files and can make those files available through a single namespace. In addition, Qumulo arrays provide support for erasure coding, continuous replication, snapshots and auditing.
Qumulo arrays support a variety of protocols, including NFS, SMB, FTP and command-line interface. The appliances also support the REST API.
The company does not disclose pricing.