7 predictive storage analytics tools compared
Learn how storage management tools from Hitachi, Infinidat, Pure Storage and other vendors use AI to improve array operation and storage administration efficiency.
AI has become mainstream with its use of machine learning, computational statistics and various deep learning models. Social networks, search engines and shopping websites use lots of AI applications, including personalization and product recommendation engines, clickstream analysis, image feature identification and classification, and ad price optimization.
Companies such as Amazon, Google and Microsoft offer these capabilities as packaged cloud services so developers don't have to be experts on these complicated algorithms. In recent years, similar AI approaches have been applied to many tasks in IT operations and management, an application area now dubbed AIOps.
While AIOps is often considered the domain of products offering comprehensive infrastructure and operations administration, AI is also infusing the management software bundled with data center hardware, including storage systems.
As outlined in a previous article, the application of AI to storage management uses predictive machine learning to analyze the massive streams of data on system events, internal parameters and workload-specific metrics, such as error logs, performance measures and capacity utilization created by storage hardware. Because the accuracy of machine learning models is correlated with the quantity of data used to train them, most storage vendors aggregate anonymized data from across their customer base to create massive troves that capture almost any scenario, workload and anomaly users are likely to encounter.
The combination of AI and device telemetry yields predictive storage analytics products that can significantly reduce setup time, automatically optimize configurations, proactively warn of impending problems and even fix common issues without involving a storage administrator. Here, we examine several storage management products from vendors that use AI-driven analytics to improve array operation and storage administration efficiency.
Typical AI storage features and capabilities
Before reviewing the analytics capabilities of these products, it's important to understand the basics.
Most products use machine learning data analysis to provide one or more of the following five features:
automate everyday support tasks such as capacity management;
optimize device, volume setup and configurations;
update system software, patches and device- and installation-specific hot fixes;
plan resource expansion via predictive trends and scenario analysis; and
manage virtualization platforms via platform-specific optimizations and metrics.
Storage vendors typically use features to differentiate their AI-driven storage analytics capabilities. The quality of a product's software execution will determine how well it delivers on AI's promise. The benefits of AI to storage administrators are significant and include the following:
Predictive storage analytics tools enable systems and admin staff to operate more effectively, efficiently and reliably.
The following examines AI-augmented storage products and their primary features and functionality. This isn't intended to be an exhaustive list of all storage analytics products that use AI, but rather one focused on those from major vendors.
Dell EMC CloudIQ
Dell EMC provides the CloudIQ SaaS application free of charge to users of its storage systems, including Unity XT, PowerMax, XtremIO, SC Series, PowerVault, Isilon and Connectrix Fibre Channel switches. CloudIQ's features encompass consolidated monitoring, and predictive analytics and anomaly detection, which are, in part, enabled by machine learning. Product features include:
CloudIQ dashboards, warnings and predictions rely on data from system alerts, performance metrics, capacity usage and system configuration, which can be displayed in logs or via dashboards, visualizations and computed metrics. CloudIQ's data summarization, which is called a proactive health score, is an indicator of a system's condition. The score uses a zero to 100 normalized scale and is based on data from component failures, configuration weaknesses, performance problems, capacity problems and data protection.
CloudIQ is available via the web or a mobile UI and offers information ranging from the overall health score for systems in an environment to details about individual arrays and storage volumes.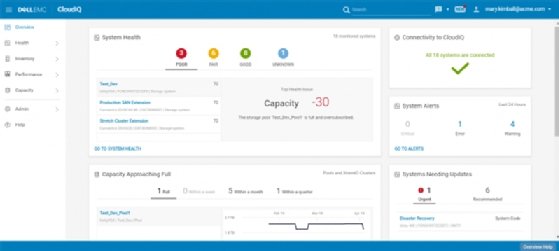 Hewlett Packard Enterprise InfoSight
InfoSight is a cloud-based predictive storage analytics tool that, like the other products examined here, uses machine learning to analyze server, storage and VM environments. Hewlett Packard Enterprise (HPE) claims its product can predict and resolve 86% of system problems before they affect operations and workloads.
InfoSight provides a central management console that can analyze and correlate events from an entire infrastructure stack, including storage, servers and VMs. It's a mature product based on technology acquired when HPE bought Nimble Storage, one of the pioneers in using aggregated, anonymized data to predict storage performance and resource use.
Like competitive products, HPE analyzes customer data to build and refine InfoSight's machine learning models. The system can detect and, in some cases, correct problems that haven't yet occurred. HPE also integrates InfoSight with its support operation to automatically trigger a trouble ticket for detected problems the system can't automatically resolve.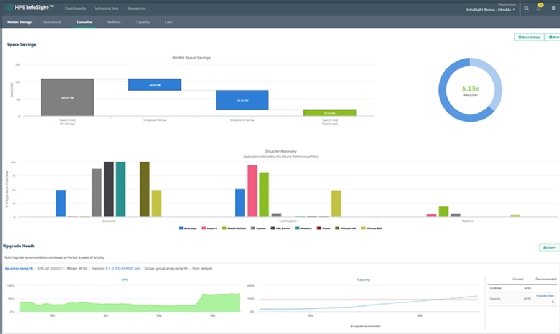 Hitachi Ops Center Analyzer
Part of Hitachi's Ops Center software suite, Hitachi Ops Center Analyzer is machine learning-powered management software for shared storage systems, servers, VMs and SAN switches. It's available as an installable product or SaaS application. Key features include:
The predictive storage analytics product integrates with Hitachi's other IT operations software, including its Ops Center Automator. Like Dell's product, Hitachi Ops Center Analyzer has a summary dashboard of monitored resources that highlight critical alerts, warnings and performance trends, but it also allows storage admins to focus on specific storage systems.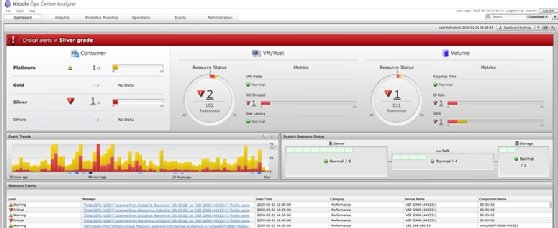 IBM Storage Insights
Storage Insights is IBM's free capacity and performance management product. This edition supports IBM and some third-party block and virtualized storage systems. In addition, Storage Insights automatically collects and summarizes system log data to provide system inventory and basic levels of configuration, capacity, performance and health monitoring. It also flags configurations that violate IBM best practices and offers migration and upgrade suggestions.
A pro-level subscription adds support for IBM file and object storage systems along with EMC VNX and VMAX products. IBM Storage Insights also features advanced inventory and monitoring options, optimization and placement recommendations for tiered data storage and customizable alerts. Predictive analytics and capacity planning features require a Pro subscription.
Both editions have dashboards customized for various IT tasks, including system operations, configuration optimization, performance, capacity planning, and problem resolution and product support.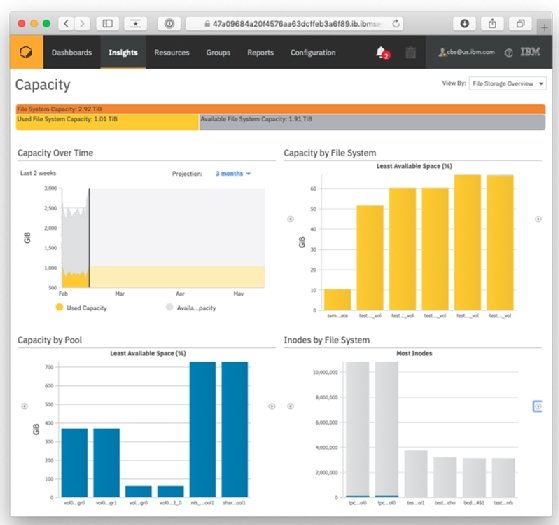 Infinidat InfiniVerse
Infinidat extends machine learning from the management plane into the storage system via an intelligent data cache. The product's cache management algorithm, Neural Cache, uses a system's data access and I/O history to identify access patterns and correlations it uses to manage cached storage to accelerate performance.
The InfiniVerse management product, which is included with all Infinidat storage systems, has consolidated system and performance monitoring features. These include machine learning-based analytics, which are trained on anonymized metadata from across Infinidat's customer base. These AI-driven analytics identify changes to improve capacity utilization, eliminate performance bottlenecks and optimize workload placement. The system can identify orphaned -- allocated, but unused -- storage capacity, hardware faults or application anomalies, such as when round-trip latencies from a database server reach an unacceptable level.
In 2020, Infinidat plans to add automated workload mobility, which will automatically move workloads between racks in a distributed storage cluster. This feature is designed to improve performance and reliability.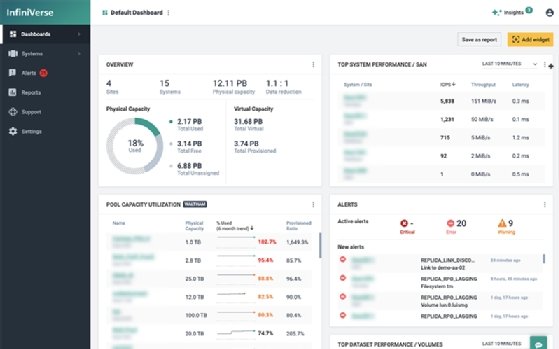 NetApp Active IQ
Active IQ includes the fundamental machine learning-powered analysis and management features listed above and, like most products in this category, uses metadata collected from NetApp customers to train and update its predictive models. Like HPE, NetApp integrates Active IQ with its product support team, enabling the software to automatically open trouble tickets when it detects a problem it can't resolve.
As with the other storage management products discussed here, Active IQ doesn't just generate statistics and system dashboards; it uses its analysis to produce recommended actions that address identified problems. For example, risk reports identify issues in six broad categories, including hardware failures, unsupported configurations and resource depletion, and have a Corrective Action field with links to customer support bulletins, bug reports and knowledgebase articles that address the risk.
Active IQ also exposes functions and data via a token-secured API that enables an organization to integrate the system with its DevOps automation pipeline and IT key performance indicator dashboards.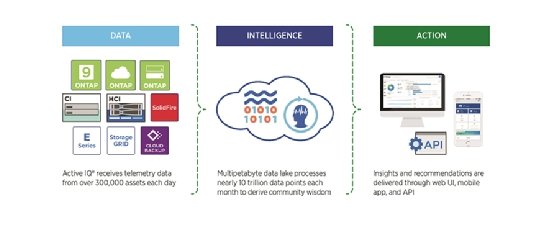 Pure Storage Pure1 Meta
Pure1 Meta, the analytics platform for Pure Storage arrays, aggregates what the company claims is more than 1 trillion data points per day from its cloud-connected customers. That data goes into a multi-petabyte data lake that's used to train predictive models for capacity and performance management. The company says data from its 10,000 customers covers at least 100,000 different applications and workload profiles. This enables the system to model both overall performance and interactions with other applications on a storage array to assist in workload placement, consolidation and configuration optimization.
Aggregated data collection also enables Pure1 Meta to flag vulnerabilities the first time they affect a customer and detect them before they cause a security or reliability issue for others. When a vulnerability is detected, Pure1 Meta notifies storage admins and creates a trouble ticket with Pure1 Support.
Pure1 Meta also includes a simulation feature that enables users to see the projected implications of new workloads, volume migrations and hardware changes in their environment. Testing various scenarios before deployment allows storage admins to optimize workload placement and make better decisions regarding hardware purchases. Pure1 Meta is available via a web UI or mobile apps for both iOS and Android.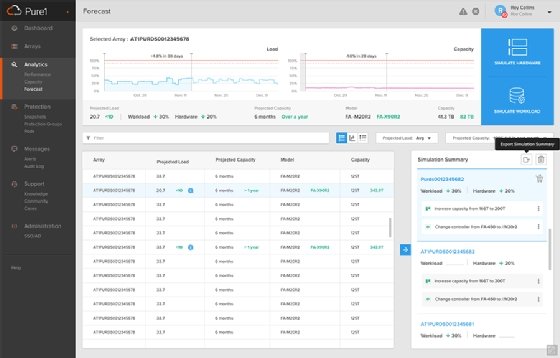 The evolving AI-driven storage marketplace
AI-driven analytics software has become table stakes for storage vendors, making the quality of predictive and prescriptive analytics and their integration into management and support software a critical point of product evaluation.
The predictive storage analytics products profiled here focused on each vendor's hardware, but AI-enhanced management software is becoming available for multi-cloud environments. Thus, it shouldn't be long before we see similar capabilities in heterogeneous storage environments.