Konstantin Emelyanov - Fotolia
Dell EMC PowerEdge XE7100 seeks to corral unstructured data
Dell looks to snap server sales slump with two new PowerEdge XE servers. The dense models have flexible configurations of compute, storage and networking, and joint code development with Splunk.
(This story was updated with additional information Oct. 22)
Dell EMC enlarged its PowerEdge server line with a dense storage platform engineered for the rising flood of unstructured data.
The Dell EMC PowerEdge XE7100 5U storage servers collate data from various silos, including remote locations and back-end storage systems. The launch spawned several performance enhancements to Dell EMC OpenManage systems software and joint code development with analytics database vendor Splunk. Dell EMC and Splunk revealed plans to develop APIs to improve data ingestion of Redfish-enabled telemetry streams.
Dell is trying to enable PowerEdge to capture data for real-time analytics in the hybrid cloud. AI, containers and 5G connectivity enable processing close to storage to avoid the latency of traditional batch processing. A dual-socket Dell PowerEdge XE71000 contains up to 52 nodes for parallelization.
This is the second addition to the Dell EMC PowerEdge XE line. The vendor in February introduced 2U XE2420 reference architecture with Dell EMC Isilon storage for use in rugged compute environments.
Eric Burgener, a research vice president of storage at IDC, said server-based deployments are gaining popularity in in enterprise AI. He said these designs fit between high-end SANs and disaggregated converged systems.
"A high degree of concurrency is important for latency-sensitive workloads. And we are seeing more and more AI workloads that are considered to be mission-critical and operate in real time. This product sounds like it will incrementally address some of those concerns. All the storage resources that drive the applications reside in one server," Burgener said.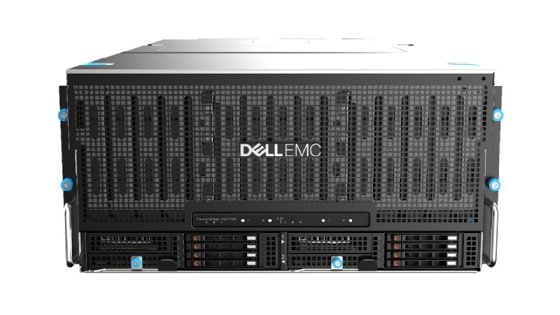 Server makers in full swing
Server makers have bulked up their systems for the rollout of 5G, which will push more data to edge processing. About 75% of new enterprise will be generated outside the core data center by 2025, according to analyst firm Gartner.
Supermicro recently optimized its Big Twin and SuperServer products, including the addition of AMD Epyc processors. Lenovo rolled out MX1021 Edge server for hybrid clouds with Microsoft Azure. Hewlett Packard Enterprise (HPE) has developed edge computing hardware and software under its Edgeline brand.
Two PowerEdge XE7100 models are available. The object storage-focused XE7420 consists of dual half-width nodes, each with a single PCI Express slot. The full-width XE7440 nodes allow flexible configurations of capacity, networking and processing targeted at video analytics and media streaming.
Dell EMC product spokesperson Angelia McFarland said the PowerEdge XE7100 will eventually be offered as an option for Dell ECS (formerly known as Elastic Cloud Storage) object software. It is the second move Dell has made this month in object storage after previewing ObjectScale built on VMware Cloud Foundation.
A single 5U PowerEdge XE7100 node contains up to 100 hard disk drives (HDDs). It is the follow-on to Dell EMC PowerEdge DSS7000, also designed for dense workloads but which requires an extra kit due to its nonstandard length. The XE7100 is equipped with up to two dual-socket nodes and up to four accelerators to boost data inferencing.
Flatiron Institute, a scientific organization focused on computational research, is implementing Dell PowerEdge XE7100 servers to underpin its scalable storage platform. The goal is reliable shared storage for collaborative research, said Ian Fisk, a co-director of Flatiron's scientific computing core group.
"The increased volume of data associated with instruments and simulation applications is changing the way that people work together. Removing the limitations on how much data can be stored and served opens up more avenues for people to strengthen their cooperation," Fisk said.
Fisk said Flatiron's Dell footprint grew from a single computer to tens of thousands of processor cores and "tens of petabytes" of disk storage.
"We expect to scale up to potentially 50 petabytes. We look forward to deploying the PowerEdge XE7100, because it allows us to continue to offer our scientific community a very flat, familiar high-performance storage system," Fisk said.
Dell has been tuning PowerEdge for EMC storage since the companies merged in 2015. That's the basis of Dell's recent Power rebranding of storage and storage networking. Aside from Dell EMC Isilon, PowerEdge provides compute to Dell EMC Kinetic composable architecture and Dell Ready Solutions for AI reference designs. The Dell EMC VxRail hyper-converged infrastructure flagship runs VMware vSAN and vSphere virtualization with PowerEdge compute.
Dell server sales have been in free fall this year. Dell historically leads the server market, but its global sales tumbled 13% year-over-year in the first quarter of 2020 and dropped another 12% in the second quarter, according to analyst firm IDC. Hewlett Packard Enterprise ranked No. 1 with 15% market share compared to Dell's 14% in the second quarter according to IDC. HPE server sales declined about 2%. By contrast, IDC reported worldwide server revenue grew nearly 20%, buoyed by Chinese server makers Inspur (up 77%) and Lenovo (21% increase).
Dell said OpenManage systems software was enhanced to allow admins to manage up to 8,000 PowerEdge servers across a data center. OpenManage integration with VMware vCenter provides one tool to upgrade physical and virtual hosts.
Dell characterized the Splunk collaboration as a testbed for plugins aimed to enable data correlations to be drawn as data is ingested.