Share this item with your network:
Managing and protecting all enterprise data

michelangelus - Fotolia
NVMe market and technology rapidly evolve
The tipping point of NVMe acceptance is fast approaching as more enterprises consider adopting the technology to maximize SSD flash investment and performance.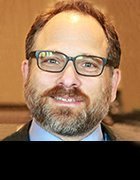 By
The nonvolatile memory express specification, developed to maximize the benefits of flash-based storage, has evolved...
Continue Reading This Article
Enjoy this article as well as all of our content, including E-Guides, news, tips and more.
quickly and significantly since it was a gleam in the storage industry's eyes in the mid-2000s. Today, NVMe SSD technology is poised to enter the enterprise mainstream. A recent G2M report, "NVM Express Ecosystem Snapshot," described the NVMe market as having nearly 300 products from nearly 100 companies.
G2M estimated the NVMe market, with its varying hardware and software components, will grow to $65 billion over the next three years, around three times what it is worth today.
How did we get here?
The Non-Volatile Memory Host Controller Interface working group released the NVMHCI specification, the precursor to NVMe, in 2008. NVMHCI provided a standard interface to support SSDs and write drivers while addressing barriers to flash performance in servers when using SAS and SATA interconnects. Building on this work to maximize the parallelism inherent in flash storage technology to reduce latency, the NVM Express group started working on the NVMe technology protocol standard in 2009. In addition to improving flash performance, NVMe simplified controller design as well. This could lead to SSD cost reductions as the spec and the NVMe market become more established.
NVM Express released version 1.0 of the spec in March 2011. In May 2018, it published version 1.3, with numerous new features for server and client uses. This was the first major update to the NVMe spec in more than two years.
The NVMe-over-Fabrics story
A related specification, NVMe over Fabrics (NVMe-oF), extends the benefits of NVMe technology throughout the data center. NVMe-oF enables message-based NVMe commands to transfer data between a host computer and a target SSD storage device or system over an Ethernet (Internet Wide-Area RDMA Protocol, RDMA over Converged Ethernet or TCP), Fibre Channel or Infiniband network.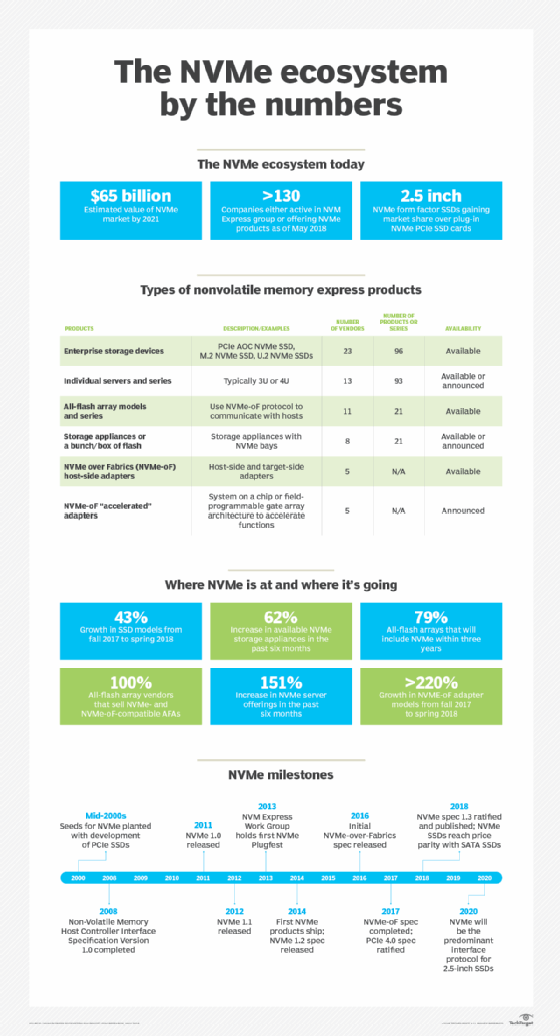 The NVMe market is made up of NVMe-enabled enterprise servers, storage appliances and storage arrays, as well as NVMe-focused scale-out flash storage software. There are also 2.5-inch and 3.5-inch U.2 NVMe SSDs for drive bays, PCIe AOC NVMe SSD cards and miniature M.2 "mezzanine" NVMe SSD storage cards that mount directly into servers. There are NVMe-oF adapters (PCIe cards).
The NVMe-oF cards include accelerated ones that offload and accelerate functions through a system on a chip or field-programmable gate array architectures. NVMe storage arrays will be the main users of accelerated NVMe-oF adapters, according to G2M. Some host-side systems may use these adapters for high-performance applications, however. Ethernet, G2M said, will dominate the NVMe-oF adapter market, with the host standard at 10 gigabit Ethernet and 25 GbE and target standard rapidly increasing from 40 GbE to 50 GbE or 100 GbE.
The research firm predicted the NVMe storage appliances will cannibalize the NVMe all-flash array market share as the NVMe market matures. This should be especially true with private and public cloud deployments. G2M said NVMe 2.5-inch SSDs will gain market share from NVMe PCIe SSDs. And M.2 NVMe SSDs, supported by slots directly attached to server motherboards, will pose a challenge to U.2 NVMe 2.5-inch SSDs. G2M also said it expects a new hot-pluggable and highly dense SSD form factor called ruler to start replacing PCIe AOC and maybe even M.2.
The number of servers with NVMe drive bays will have increased significantly by 2021, according to G2M, but the number of NVMe bays per server won't thanks to an increase in SSD capacities and small M.2 storage cards.