fotomek/stock.adobe.com
Chip startup debuts with Fungible data processing unit (DPU)
Fungible, backed with $300 million-plus in funding, launches data processing unit (DPU) chips it will use to build high-performance composable infrastructure storage systems.
Well-funded startup Fungible is coming out of stealth with what it calls a data processing unit along with a software stack that will power storage appliances.
Fungible launched today with two versions of its data processing unit (DPU) microprocessors: one for storage systems and one for networking servers. The vendor also developed a TrueFabric network and storage software stack. Founder and CEO Pradeep Sindhu said Fungible will deliver complete storage systems built around its DPUs and TrueFabric by the end of 2020.
"We believe we've created a new category of microprocessor," Sindhu said, claiming that neither traditional CPUs nor graphic processing units (GPUs) were built to run data center storage systems at scale. "Back when I was CTO at Juniper Networks, I observed the largest inefficiencies for scale-out data centers could be traced to two root causes: inefficient exchange of data between server nodes and inefficient execution of data centric computations inside the nodes by the combination of hardware and software."
Fungible claims its DPU is more optimized to run storage, networking and security services than general purpose CPUs. The DPUs and associated TrueFabric network and software stack allow resources across storage servers to be disaggregated and pooled.
The Fungible DPU includes memory and on-chip processing built for storage, security, networking and virtualization. One of its design goals is to significantly speed data computations. The startup has two chips at launch. The Fungible F1 DPU is an 800 Gbps chip built for storage targets, AI servers, analytics engines and security appliances. The Fungible S1 DPU is a 200 Gbps chip for storage initiators and local storage, bare-metal virtualization and network virtualization.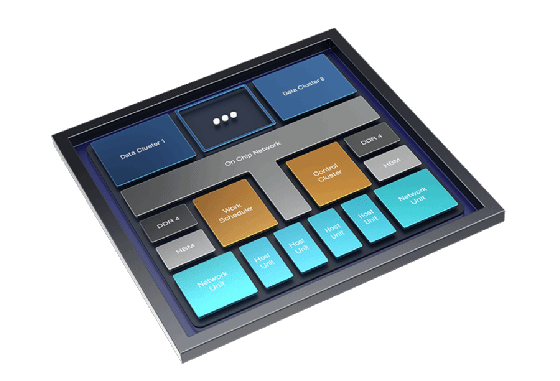 Fungible claims its DPU will perform data computations more efficiently than CPUs with the help of a TrueFabric storage software stack that works over standard Ethernet networks. It supports flash and hard disk drives, although was designed primarily to work with NVMe solid-state drive (SSD) flash storage. Fungible DPUs go into x86 server slots and connect over the Ethernet network.
Sindhu said Fungible's technology requires no change to applications, and it supports standard RESTful APIs and common drive and network interfaces and form factors.
The DPUs enable pools of storage and compute in a composable infrastructure architecture. The storage can be partitioned for security, with storage and compute resources allocated on-demand.
"It's basically composable architecture on an ASIC," said Marc Staimer, president of Dragon Slayer Consulting. "But it has networking specifically built in, which is something very few products have."
Sindhu said Fungible DPUs and software have benefits of hyper-converged infrastructure but allow greater sharing of the storage and networking resources.
"It's a mistake to treat network and storage as if they were two independent silos," he said. "Creating synergies between the two lets you come up with much better storage systems. Durable storage and networks are intimately tied to each other, and we provide a full rich networking stack for storage targets and clients."
Sindhu said Fungible DPUs perform data computations faster than CPUs, and its TrueFabric network fabric enables lower latency between any types of devices. By removing CPU bottlenecks, he claims Fungible can enable large-scale data pooling.
Fungible DPUs can power data clusters and control clusters. Data clusters consist of six cores and four threads, and handle data movement, reduction, protection, security and analytics. Control clusters consist of four cores and two threads, and handle security features, including encryption and key management. TrueFabric software provides management of up to hundreds of Fungible DPU-powered systems.
Fungible DPU vs. Nvidia DPU
IDC Infrastructure Systems group vice president Ashish Nadkarni said Fungible DPUs fit into an emerging category that market research firm IDC calls functional offload processors. Others taking that approach include Amazon Nitro and startups Nebulon and Pensando.
"You take a piece of the operating system, especially the kernel, and move it to a different processor," Nadkarni said. "You're reducing the burden of the CPU, and you can segregate functions so the CPU can get walled off from the rest of the data pod. I think this is the way the industry will go. I think most storage companies that are x86-based will move to this distributed composable approach that allows function offloading in hardware."
Nvidia also sells a DPU, which in its case is a high-performance network interface card (NIC) based on ARM processors that transfer data at network speed. Nvidia acquired its DPU technology when it bought networking vendor Mellanox Technologies in April for $7 billion.
Dragon Slayer's Staimer said Nvidia's DPU is more of a traditional switched-based NIC, while the Fungible DPU was built to accelerate IP data packet movement at high speeds rather than offload networking processes. He said Fungible DPU shares characteristics with Hewlett Packard Enterprise's Cray Slingshot switching technology. They both minimize latency and hops, but the Fungible DPU resides on the storage target and initiator, while Slingshot is switch-based and only works with the Cray Shasta supercomputer.
"Fungible gives you more granular control and works with any switches," Staimer said. "They're saying it's far more scalable if you do it from the end point and you need fewer switches."
IDC's Nadkarni and Staimer agree that the Fungible DPU can be used for mainstream storage but is designed mainly for high-performance compute.
"It's for performance-optimized workloads for sure," Nadkarni said.
"This will fit in the HPC world," Staimer said. "It will fit in the storage world, specifically where high performance is key."
'Not waiting' for OEM partners
Sindhu said large server and storage vendors can use Fungible DPUs to build systems, but he doesn't expect that to happen. "We're not waiting for them to call us," he said. "We're building systems ourselves."
But those complete systems are not yet ready, and he declined to give more details on what to expect from them.
Former Juniper Networks CEO and CTO Sindhu and former Apple SVP of software engineering Bertrand Serlet started Fungible in 2015 and raised $311 million over three funding rounds. The company has more than 200 employees with headquarters in San Jose, Calif. Venture capital firms Battery Ventures, Mayfield Fund, SoftBank Vision Fund and Walden Riverwood Ventures led Fungible's funding rounds.
Dig Deeper on Converged infrastructure management