VMware vs. Nutanix on HPE GreenLake: Comparing approaches
See how Synergy composable infrastructure with VMware Cloud Foundation and ProLiant DX on Nutanix Enterprise Cloud take different approaches to HPE GreenLake pay-per-use IT.
Hewlett Packard Enterprise has forged partnerships with both VMware and Nutanix to deliver infrastructure offerings through the HPE GreenLake as-a-service program. How do the approaches of VMware vs. Nutanix on GreenLake compare?
The consumption-based model for implementing workloads has emerged as an alternative to maintaining infrastructure on premises and in the cloud. HPE with its GreenLake program is a consumption IT leader by aiming to bring the flexible as-a-service nature of the cloud to local data centers, satellite and remote offices, and other locations. With GreenLake, HPE supplies a preconfigured system with all required software and hardware that it manages remotely for a monthly subscription pay-for-use fee -- just like the cloud.
Under GreenLake, HPE offers a number of infrastructure packages to support different types of workloads. For example, the virtualization package provides options for implementing a GreenLake product that runs virtualized applications, and the composable package offers options for implementing a software-driven composable infrastructure. HPE also provides packages for several other types of workloads, including storage, backup, database management, big data, private cloud and high-performance computing in this consumption-IT GreenLake program effort.
Thanks to partnerships with VMware and Nutanix, HPE's GreenLake catalog now includes a Synergy composable infrastructure system running VMware Cloud Foundation and an HPE ProLiant DX system running Nutanix Enterprise Cloud software. Both offerings promise to deliver hybrid cloud infrastructure as a service but take different approaches to getting there.
It's not always clear where the differences lie, however.
HPE GreenLake and VMware
The HPE/VMware offering deploys VMware Cloud Foundation on a Synergy composable system to provide a hybrid cloud platform delivered as a service through the GreenLake program. Synergy is made up of specialized HPE hardware components that typically include a blade chassis, multiple blade servers and storage modules, and a management appliance.
The consumption-based model for implementing workloads has emerged as an alternative to maintaining infrastructure on premises and the cloud.
The appliance delivers native infrastructure management for composing compute, storage and network resources on demand. Synergy's flexible architecture enables organizations to run their workloads on bare metal, in virtual machines or in containers.
VMware Cloud Foundation is an enterprise-grade software platform that includes vSphere, vSAN software-defined storage, NSX networking and the vRealize Suite. It integrates compute, storage, networking, security and management services into a hybrid cloud system that can span private and public environments.
To support this platform, VMware Cloud Foundation delivers a hyper-converged architecture that automates deployment and lifecycle management, streamlines IT operations and accelerates hybrid cloud adoption, all while offering a consistent operational model based on vSphere tools and processes. With the release of VMware Cloud Foundation 4, customers also get native Kubernetes support.
The GreenLake Synergy/VMware Cloud Foundation combination provides users with the benefit of a cloud-operating model, along with the agility of a composable infrastructure. Organizations already running VMware software can keep their applications, tools and data in place, avoiding extensive application rewrites and data migrations. Because the HPE Synergy/VMware Cloud Foundation system is offered through GreenLake, enterprises can consume it as a service, rather than purchasing the hardware outright, taking advantage of GreenLake's pay-per-use flexibility to get a fully managed hybrid cloud environment.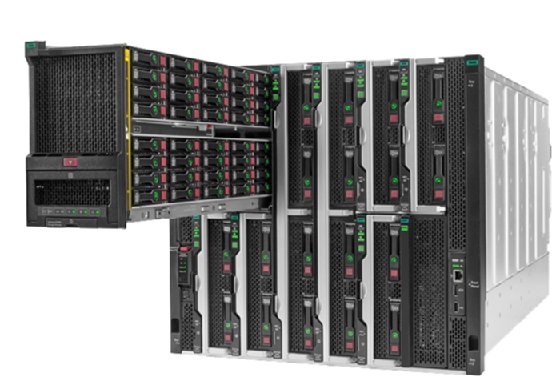 Furthermore, the Synergy composable infrastructure/VMware Cloud Foundation offering enables customers to compose resources dynamically as their workloads evolve. They can also scale their systems when needed. With GreenLake's metering and capacity management, users can deploy additional resources within minutes, rather than weeks or even months.
HPE also provides the Right Mix Advisor to help determine whether workloads and applications are best suited to the public cloud or private cloud and how to migrate those workloads. It does this while enabling organizations to remain in control of IT operations and policies.
HPE GreenLake and Nutanix
The HPE and Nutanix partnership is built on HPE ProLiant DX-integrated systems and Nutanix Enterprise Cloud software. A ProLiant DX system uses HPE ProLiant and Apollo rack servers, which vary in unit size, capacity and performance capabilities, making it possible to accommodate a wide range of workload requirements. Together, HPE and Nutanix have tested and validated the ProLiant DX systems to run business-critical applications at scale on Nutanix Enterprise Cloud software.
Nutanix Enterprise Cloud includes Acropolis, AHV and Prism. Acropolis is a flexible, intelligent hyper-converged infrastructure (HCI) with a focus on cloud deployments and cloud-native applications. Nutanix AHV is a license-free, enterprise-grade hypervisor built into Acropolis. Acropolis also supports other hypervisors, however, including VMware ESXi and Microsoft Hyper-V. The third component, Prism, is an infrastructure management tool that streamlines administration and reporting in virtualized environments.
GreenLake now offers several SKUs that come with the Nutanix software preinstalled on ProLiant DX systems, providing users with an integrated infrastructure that's easy to deploy, maintain and scale. Customers get a consumption-based, as-a-service server product that simplifies the process of running virtualized workloads, which, in turn, reduces the burden on IT resources. To help maintain smooth operations, HPE supports the hardware and Nutanix supports the software, ensuring coverage for the entire IT lifecycle.

The initial GreenLake rollout of the Nutanix systems targets three workloads. The first is end-user computing, with the primary focus on virtual desktop infrastructures, either Citrix Virtual Apps and Desktops or VMware Horizon View. The second workload type is databases. The goal here is to simplify deployment and management, consolidate database sprawl, accelerate development cycles, and improve performance. The final workload type -- private cloud -- aims to provide a highly available, scalable and efficient cloud infrastructure that's easy to deploy and manage.
VMware vs. Nutanix and HPE GreenLake
HPE no doubt initiated partnerships with VMware and Nutanix -- at least, in part -- to tempt existing VMware and Nutanix customers into the GreenLake fold. Certainly, customers already committed to either vendor might well appreciate a consumption-based approach to upgrading and modernizing their infrastructures, while continuing to work with familiar technologies.
However, those not tied to a particular vendor but instead are interested in GreenLake offerings must determine which one will best meet their workload and operational needs. Comparing the two is not always a straightforward process, though.
For example, an important distinction between the platforms is that the Nutanix software runs on a ProLiant DX system, whereas the VMware software runs on a Synergy system, which offers the speed and agility of composability. That said, both the Nutanix and VMware software have their roots in HCI, which limits their workload operating environments. The Nutanix offering can only run workloads in VMs and the VMware one can only run workloads in VMs and containers, despite being implemented on the Synergy platform.
Another obvious difference between VMware vs. Nutanix is that one relies on VMware Cloud Foundation and the other on Nutanix Enterprise Cloud. Both software products are built on HCI foundations and touted as hybrid cloud solutions. They're also highly regarded products, with fans on both sides of the aisle. Beyond that, it becomes more difficult to compare them because they take such different approaches, and it's only by examining the software within the context of the intended workloads that enterprises can come to any viable conclusions.
Another factor to consider is that Nutanix systems initially focused on three specific use cases, whereas the VMware systems have no such restrictions. Additionally, most will want to know how the VMware vs. Nutanix GreenLake products compare when it comes to pricing. For this, they need to contact HPE directly and have them build out the specs for each system.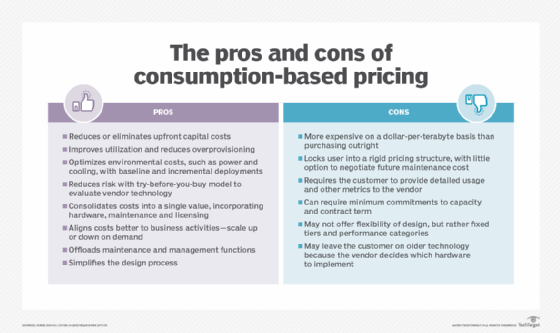 Both VMware vs. Nutanix GreenLake products are relatively new, so it will take some time before we learn what end users have to say after extended usage on how the two offerings are. However, their non-GreenLake counterparts have been around for some time, so organizations can look to those for more specifics.
Before choosing either platform, learn as much as possible about what GreenLake does and the technology behind the Nutanix and VMware GreenLake systems. Only then can you make informed decisions.