The best enterprise storage systems and products of 2019
Get to know the top storage systems, products and services selected from a field of nearly 100 in the 'Storage' magazine and SearchStorage annual Products of the Year awards.
It's February, and that means it's time to shine a light on the best enterprise storage systems and products of the past year. Welcome to the Storage magazine and SearchStorage 2019 Products of the Year.
Now in its 18th year, the Products of the Year competition gives readers a comprehensive view of the best in enterprise storage the market has to offer. It starts with an invitation for vendors to submit their products for consideration by our panel of industry experts. Composed of analysts and consultants, as well as Storage magazine and SearchStorage editors, judges narrowed the list of new or significantly upgraded storage hardware, software and services entrants to 50 finalists in five categories to then compete for gold, silver and bronze.
The Storage Products of the Year categories included backup and disaster recovery hardware, software and services; cloud storage; disk and disk subsystems; hyper-converged and composable infrastructures; and storage system and application software. To determine the winners, our judges weighed each competing hardware, software and service on technological innovation, ease of integration, performance, ease of use and manageability, value and functionality.
You will find our gold, silver and bronze enterprise storage systems winners below. We also gave one vendor our first ever Judges' Choice award, recognizing a startup that impressed judges but didn't win a spot on the podium.
Backup and DR hardware, software and services
This year's backup and DR category has a strong cloud component, as well as the addition of comprehensive data protection and the ability to handle many types of workloads.
Commvault Complete Backup & Recovery V11 SP 17 is our gold winner. The product protects workloads across storage locations and includes support for DR, endpoints, snapshot management, archiving and software as a service (SaaS). Praised by judges for its AI capabilities, Commvault added optimized scan and multi-node backup for Nutanix File Shares, backup and restore of Azure SQL Database managed instances, Splunk clusters protection and Azure to VMware VM conversion.
Cohesity Inc.'s software-defined DataProtect (software release Pegasus 6.3) earned silver, as it did last year with its DataPlatform offering. It incorporates machine learning to maximize visibility into protected data so users can gain actionable insights. An antiransomware feature and multifactor authentication boost security.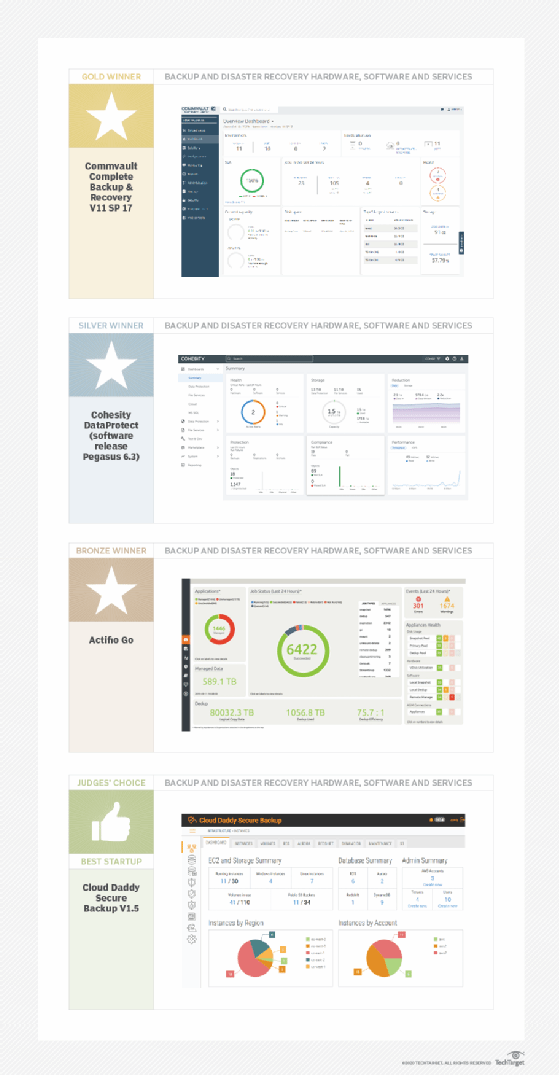 Copy data management pioneer Actifio scored bronze with its Actifio Go SaaS. The platform, which enables users to manage copy data in hybrid clouds and multi-clouds, offers backup and DR, in addition to management features like migration and analytics.
Cloud Daddy Inc. received our first-ever Judges' Choice award for its Secure Backup V1.5 offering. The product impressed judges with its ability to protect data for cloud-native AWS workloads through backup and DR, security and infrastructure management. One judge noted how the inclusion of security and infrastructure management sets Cloud Daddy Secure Backup apart from the competition.
Learn more about our 2019 backup and DR hardware, software and services winners.
Cloud storage
Winners in this category provide data access and management across multiple on-premises and public cloud locations, while using a hybrid or multi-cloud approach to more cost-efficiently address application requirements.
Startup LucidLink garnered gold with its Filespaces 1.0 cloud service that targets organizations requiring remote access to large and dense data sets by speeding up access to data in globally distributed cloud object stores. The cloud-native file system runs on top of any S3-based object store, splits metadata from data and synchronizes that data locally.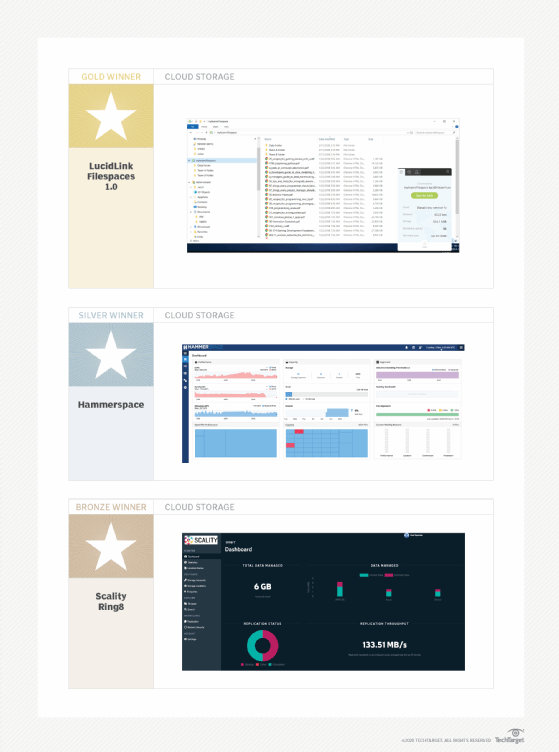 Silver-award winner Hammerspace extracts and stores complex metadata that provides data's physical location. This enables users to locate and manage files and objects across multiple on-premises and public cloud sites using a global namespace independent of location.
Scality's addition of multi-cloud eXtended Data Management to its Ring8 file and object storage software helped it capture third place in the category. The feature enables users to orchestrate data across on-premises private and public clouds.
Discover more about our 2019 cloud storage winners.
Disk and disk subsystems
Disk and disk subsystems category winners illustrate the transition to flash-based arrays and the shift from Capex to Opex operating models. Ultrafast flash replacing disk arrays and the use of computational storage to serve AI exemplify the latter trend.
Startup Vast Data Inc. earned top ranking with Universal Storage V2.0, which combines NVMe, 3D XPoint persistent memory and quad-level cell NAND flash in a single enterprise storage system. By disaggregating the control layer, the company enables tenant-based pooling of containers used with high availability NVMe enclosures. The system delivers enormous storage density and considerable aggregate performance, while locally decodable erasure codes provide data protection.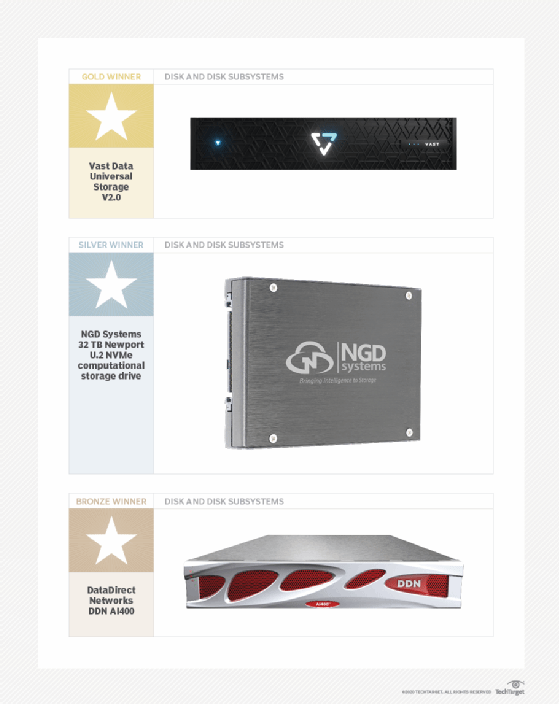 NGD Systems captured second with its 32 TB Newport U.2 NVMe computational storage drive that doubles capacity over the company's previous high-capacity model. Because Newport runs compute tasks inside SSDs, moving data to main memory for processing isn't required. The product enables users to process enormous amounts of AI data in near real time with no additional hardware.
DataDirect Networks secured third place with its DDN AI400 NVMe all-flash appliance. Developed in response to the growing use of AI, the array can include up to 240 TB of NVMe flash in a 2U enclosure and is rated to deliver 49 GBps and 1.5 million IOPS.
Get more information on our 2019 disk and disk subsystems winners.
Hyper-converged and composable infrastructures
Hyper-converged enterprise storage systems have evolved over the years to address the weaknesses of early hyper-convergence technology. The advent of composable infrastructure and what some call hyper-converged infrastructure (HCI) 2.0 is a direct result of this evolution, and category winners reflect these developments.
Datrium Inc. earned the spot at the top of the category podium with Automatrix, a product that consolidates primary storage, backup and DR. Automatrix disaggregates storage from the physical hardware and is billed as combining the durability of a SAN with HCI simplicity in what one judge called the "best of hyper-converged and dedicated systems." Other judges praised Datrium's building DR, backup and migration into an HCI, as well as its impressive scalability, performance and ease of use.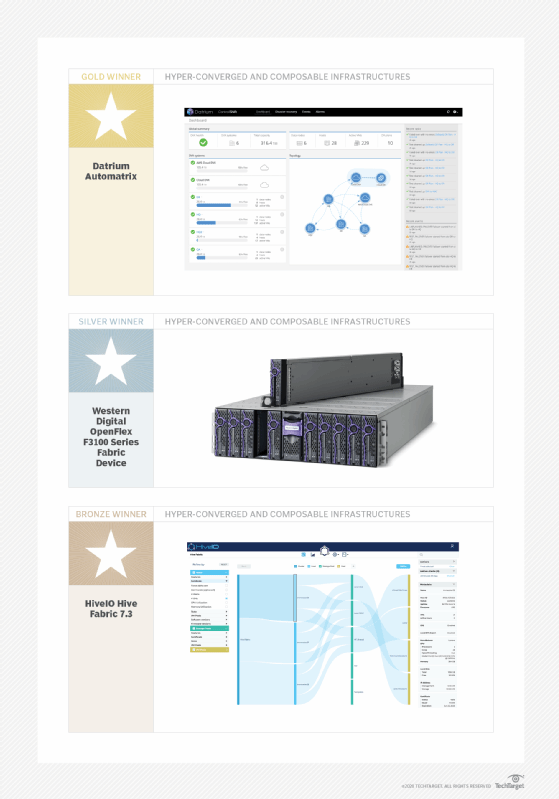 Western Digital Corp. took silver with its composable OpenFlex F3100 Series Fabric Device, which disaggregates storage from servers over NVMe-oF using an innovative hardware design. Judges said NVMe-oF will be critical to future composable infrastructure designs to improve storage utilization and performance balancing.
Bronze winner HiveIO Hive Fabric 7.3 installs on standard x86 server hardware to enable the quick delivery of virtual desktop infrastructure and virtual servers. It supports GPUs for performance acceleration and software-defined and physical networks. Its AI-powered Message Bus allows IT generalists to manage the product.
Uncover more details about our 2019 HCI and composable winners.
Storage system and application software
Winners in this category exemplify the growing trends of integrating AI and machine learning into enterprise storage systems and management products and adding features to support AI workloads. One winner recognized the need to support analytics at the edge to process IoT data, while another innovated by using memory as storage to boost performance.
Gold winner WekaIO WekaFS, a hardware-agnostic parallel file system for x86 servers and AWS cloud, targets markets where high-performance parallel processing is a top priority. Designed for NVMe, WekaFS also supports legacy protocols such as SMB and NFS. The latest version of this product impressed judges with improved performance and reduced storage consumption.
Excelero NVEdge scored silver by delivering high-performance data storage and management to the edge. It enables organizations to build NVMe flash arrays with whatever high availability storage architecture they choose. Judges noted how NVEdge delivers on the market demand for massively scalable, highly available edge storage.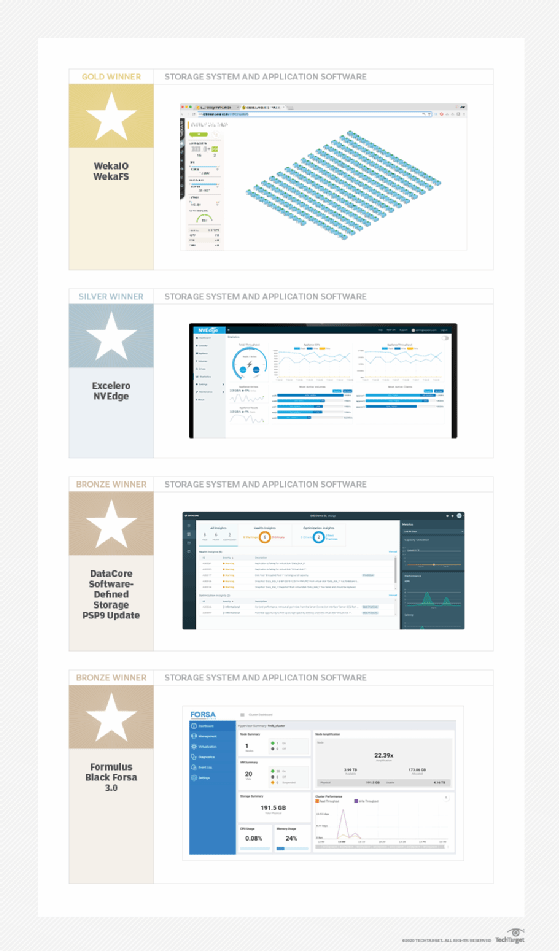 A pair of products shared bronze in this category. The DataCore Software-Defined Storage PSP9 Update added features such as encryption at rest, new installation managers for Microsoft Hyper-V and VMware deployments and cloud-based predictive analytics. Formulus Black Forsa 3.0 won kudos for in-memory processing that accelerates application performance by enabling software to run completely in memory without modification.
Read more about our 2019 storage system and application software winners.
It isn't easy to earn a spot as one of our finalists, and it is even harder to win an award as one of the best enterprise storage systems and products of the past year. Three cheers to all our winners for this well-deserved honor.
Dig Deeper on Storage management and analytics