michelangelus - Fotolia
Top data storage and management tools win Products of the Year
The winning system and application software products for 2019 innovated in their own ways, and each one is breaking new ground in storage performance and simplicity.
Winners in this year's Storage magazine and SearchStorage 2019 Products of the Year storage system and application software category showed the growing importance of AI and machine learning in data storage and management tools.
Many of the nominees in the category were storage management software products designed for global monitoring of storage resources. However, these products did not stop at visibility. They wrapped analytics into the package as well. The addition of analytics enables customers to detect and fix performance anomalies and proactively plan for future capacity needs.
"Most of the major storage vendors have some form of AI/[machine learning]-based predictive analytics," one judge said. "It has become table stakes."
At the same time storage vendors are integrating AI into products, they're adding features to support AI workloads that require high-throughput, low-latency storage.
The market continues to demand faster data storage and management tools, and not just in the core data center. Vendors recognize that customers need to support analytics at the edge to process data from IoT devices.
This year's Products of the Year entrants in the storage system and application software category have also added innovative features to familiar products, including support for containers or the addition of memory as storage to boost performance.
Gold winner: WekaIO WekaFS
WekaFS, also called the Weka File System and formerly known as WekaIO Matrix, is a hardware-agnostic parallel file system compatible with any x86 server and AWS cloud. Designed for enterprise high-performance computing, it currently holds the top position in the Virtual Institute for I/O's IO-500 10 Node Challenge, which tests a storage system's single-client performance by limiting the benchmark to 10 nodes. WekaIO Inc. beat out supercomputers like the ones installed at Oak Ridge National Laboratory and Clemson University.
WekaFS is designed for NVMe, but supports legacy protocols such as NFS and SMB. Its latest release includes new security and management features. Encryption at rest and in flight keeps data safe while snapshot to AWS S3 opens use cases such as workload migration, disaster recovery and archiving.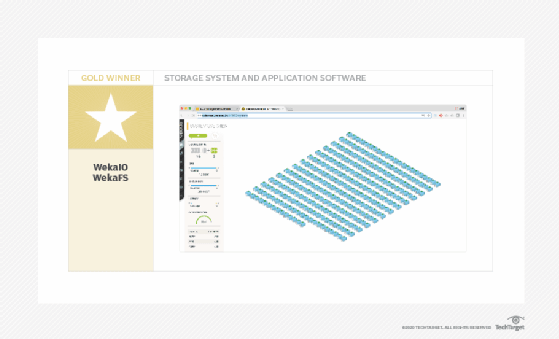 WekaFS is aimed at markets where high-performance parallel processing is important, such as AI and machine learning, life sciences, financial analytics and media. One judge remarked that WekaIO is quickly establishing itself in that market and becoming, "the vendor that most other vendors are worried about."
Judges were impressed by the reduced storage consumption and increased performance in WekaFS' upgrade, which they said were already very good.
Silver winner: Excelero NVEdge
The silver winner in this year's storage system and application software category is Excelero NVEdge. The product aims to deliver high-performance data storage and management to the edge.
NVMe flash is commonly used at edge data centers where IoT and other latency-critical data processing takes place. NVEdge enables organizations to build their own NVMe flash arrays using the high availability storage architecture of their choice.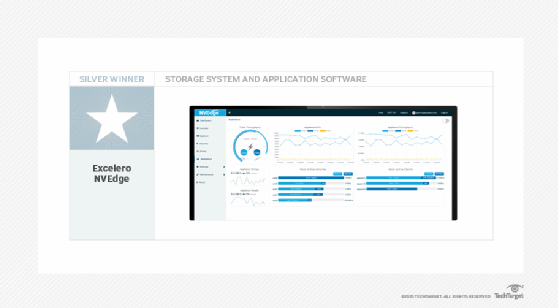 Judges were generally impressed by Excelero's low latency, high throughput and high IOPS.
"Problems with edge storage are well known and not often well addressed," said one judge, who added that NVEdge is delivering something the market needs.
Excelero NVEdge specifically targets two underserved markets: deployments at the edge that need a high availability NVMe storage array but without massive scale and cloud data centers where disaggregated storage must be highly available.
Bronze winner: DataCore Software-Defined Storage (SDS) PSP9 Update
DataCore Software's SDS is one of two bronze winners in this category. The PSP9 Update to the DataCore Software-Defined Storage platform added a handful of new features, including DataCore Insight Services, a cloud-based predictive analytics engine that can detect problems and provide recommendations and capacity planning.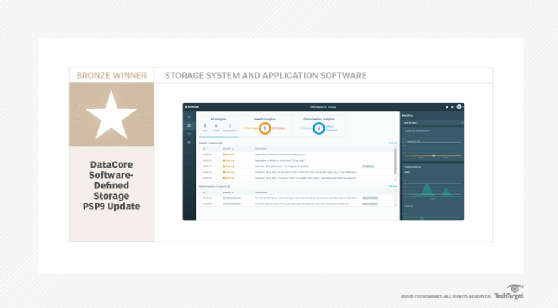 Judges praised the simplified data storage and management capabilities in the DataCore SDS PSP9 Update. By uniting different types of storage from all manner of devices under a single intelligence layer, customers can flexibly deploy and manage storage systems without losing track of them.
In addition to DataCore Insight Services, the PSP9 Update introduced encryption at rest, new installation managers for Microsoft Hyper-V and VMware deployments and a subscription license model as an alternative to its existing perpetual license.
"Utilizing heterogenous resources efficiently and without complexity is important for any organization," one judge said, adding that this product can help organizations accomplish that without ripping and replacing infrastructure.
However, another judge said most of the features added in the DataCore SDS PSP9 Update -- most notably analytics based on machine learning and subscription pricing -- are quickly becoming industry standards. Although the capabilities are important, the judge said they're all "competitive catch-up features."
Bronze winner: Formulus Black Forsa 3.0
Formulus Black's Forsa 3.0 also takes bronze in this category, claiming the spot thanks to its innovation with in-memory processing. The Forsa 3.0 software enables any application to run completely in memory using dynamic RAM, Intel Optane DC persistent memory and other NVDIMM technologies without modifying the application. This accelerates performance by allowing the application to use memory as high-performance, low-latency storage media.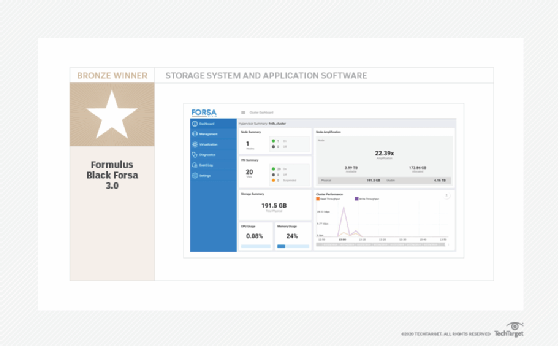 "In-memory processing is an important and major trend for the industry," one judge said.
Another judge added, "IT needs more innovation in this area."
The software identifies data patterns in real time and encodes large data sets to reduce its footprint, allowing the application to run in memory on commodity hardware.
Uniqueness and innovation earned Forsa 3.0 its bronze award. Forsa 3.0 is licensed per socket, which generated concern from one judge about cost at scale.
Learn who made the podium in all five of our 2019 Products of the Year categories.