michelangelus - Fotolia
DataCore adds new HCI, analytics, subscription price options
DataCore adds an HCI appliance based on Dell hardware, a cloud-based predictive analytics engine for proactive maintenance and new pricing options for its software-defined storage.
Storage virtualization pioneer DataCore Software revamped its strategy with a new hyper-converged infrastructure appliance, cloud-based predictive analytics service and subscription-based licensing option.
DataCore launched the new offerings this week as part of an expansive DataCore One software-defined storage (SDS) vision that spans primary, secondary, backup and archival storage across data center, cloud and edge sites.
For the last two decades, customers have largely relied on authorized partners and OEMs, such as Lenovo and Western Digital, to buy the hardware to run their DataCore storage software. But next Monday, they'll find new 1U and 2U DataCore-branded HCI-Flex appliance options that bundle DataCore software and VMware vSphere or Microsoft Hyper-V virtualization technology on Dell EMC hardware. Pricing starts at $21,494 for a 1U box, with 3 TB of usable SSD capacity.
The HCI-Flex appliance reflects "the new thinking of the new DataCore," said Gerardo Dada, who joined the company last year as chief marketing officer.
DataCore software can pool and manage internal storage, as well as external storage systems from other manufacturers. Standard features include parallel I/O to accelerate performance, automated data tiering, synchronous and asynchronous replication, and thin provisioning.
New DataCore SDS brand
In April 2018, DataCore unified and rebranded its flagship SANsymphony software-defined storage and Hyperconverged Virtual SAN software as DataCore SDS. Although the company's website continues to feature the original product names, DataCore will gradually transition to the new name, said Augie Gonzalez, director of product marketing at DataCore, based in Fort Lauderdale, Fla.
With the product rebranding, DataCore also switched to simpler per-terabyte pricing instead of charging customers based on a-la-carte features, nodes with capacity limits and separate expansion capacity. With this week's strategic relaunch, DataCore is adding the option of subscription-based pricing.
Just as DataCore faced competitive pressure to add predictive analytics, the company also needed to provide a subscription option, because many other vendors offer it, said Randy Kerns, a senior strategist at Evaluator Group, based in Boulder, Colo. Kerns said consumption-based pricing has become a requirement for storage vendors competing against the public cloud.
"And it's good for customers. It certainly is a rescue, if you will, for an IT operation where capital is difficult to come by," Kerns said, noting that capital expense approvals are becoming a bigger issue at many organizations. He added that human nature also comes into play. "If it's easier for them to get the approvals with an operational expense than having to go through a large justification process, they'll go with the path of least resistance," he said.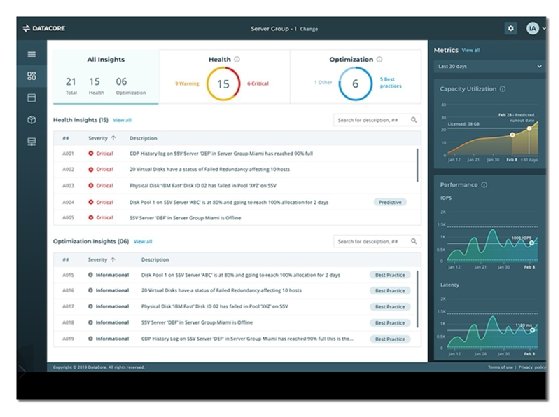 DataCore Insight Services
DataCore SDS subscribers will gain access to the new Microsoft Azure-hosted DataCore Insight Services. DIS uses telemetry-based data the vendor has collected from thousands of SANsymphony installations to detect problems, determine best-practice recommendations and plan capacity. The vendor claimed it has more than 10,000 customers.
Like many storage vendors, DataCore will use machine learning and artificial intelligence to analyze the data and help customers to proactively correct issues before they happen. Subscribers will be able to access the information through a cloud-based user interface that is paired with a local web-based DataCore SDS management console to provide resolution steps, according to Steven Hunt, a director of product management at the company.

DataCore customers with perpetual licenses will not have access to DIS. But, for a limited time, the vendor plans to offer a program for them to activate new subscription licenses. Gonzalez said DataCore would apply the annual maintenance and support fees on their perpetual licenses to the corresponding DataCore SDS subscription, so there would be no additional cost. He said the program will run at least through the end of 2019.
Shifting to subscription-based pricing to gain access to DIS could cost a customer more money than perpetual licenses in the long run.
"But this is a service that is cloud-hosted, so it's difficult from a business perspective to offer it to someone who has a perpetual license," Dada said.
Johnathan Kendrick, director of business development at DataCore channel partner Universal Systems, said his customers who were briefed on DIS have asked what they need to do to access the services. He said he expects even current customers will want to move to a subscription model to get DIS.
"If you're an enterprise organization and your data is important, going down for any amount of time will cost your company a lot of money. To be able to see [potential issues] before they happen and have a chance to fix that is a big deal," he said.
Customers have the option of three DataCore SDS editions: enterprise (EN) for the highest performance and richest feature set, standard (ST) for midrange deployments, and large-scale (LS) for secondary "cheap and deep" storage, Gonzalez said.
Price comparison
Pricing is $416 per terabyte for a one-year subscription of the ST option, with support and software updates. The cost for a perpetual ST license is $833 per terabyte, inclusive of one year of support and software updates. The subsequent annual support and maintenance fees are 20%, or $166 per year, Gonzalez said. He added that loyalty discounts are available.
The new PSP 9 DataCore SDS update that will become generally available in mid-July includes new features, such as AES 256-bit data-at-rest encryption that can be used across pools of storage arrays, support for VMware's Virtual Volumes 2.0 technology and UI improvements.
DataCore plans another 2019 product update that will include enhanced file access and object storage options, Gonzalez said.
This week's DataCore One strategic launch comes 15 months after Dave Zabrowski replaced founder George Teixeira as CEO. Teixeira remains with DataCore as chairman.
"They're serious about pushing toward the future, with the new CEO, new brand, new pricing model and this push to fulfill more of the software-defined stack down the road, adding more long-term archive type storage," Jeff Kato, a senior analyst at Taneja Group in West Dennis, Mass., said of DataCore. "They could have just hunkered down and stayed where they were at and rested on their installed base. But the fact that they've modernized and gone for the future vision means that they want to take a shot at it.
"This was necessary for them," Kato said. "All the major vendors now have their own software-defined storage stacks, and they have a lot of competition."
Dig Deeper on Storage architecture and strategy