yoshitaka272 - Fotolia
New DataCore vFilO software pools NAS, object storage
The new vFilO software provides a scale-out file system and global namespace for unstructured data, facilitating unified access to data through NFS, SMB and S3 protocols.
DataCore Software is expanding beyond block storage virtualization with new file and object storage capabilities for unstructured data.
Customers can use the new DataCore vFilO to pool and centrally manage disparate file servers, NAS appliances and object stores located on premises and in the cloud. They also have the option to install vFilO on top of DataCore's SANsymphony block virtualization software, now rebranded as DataCore SDS.
DataCore CMO Gerardo Dada said customers that used the block storage virtualization asked for similar capabilities on the file side. Bringing diverse systems under central management can give them a consistent way to provision, encrypt, migrate and protect data and to locate and share files. Unifying the data also paves the way for customers to use tools such as predictive analytics, Dada said.
Global namespace
The new vFilO software provides a scale-out file system for unstructured data and virtualization technology to abstract existing storage systems. A global namespace facilitates unified access to local and cloud-based data though standard NFS, SMB, and S3 protocols. On the back end, vFilO communicates with the file systems through parallel NFS to speed response times. The software separates metadata from the data to facilitate keyword queries, the company said.
Users can set policies at volume or more granular file levels to place frequently accessed data on faster storage and less active data on lower cost options. They can control the frequency of snapshots for data protection, and they can archive data in on-premises or public cloud object storage in compressed and deduplicated format to reduce costs, Dada said.
DataCore's vFilO supports automated load balancing across the diverse filers, and users can add nodes to scale out capacity and performance. The minimum vFilo configuration for high availability is four virtual machines, with one node managing the metadata services and the other handling the data services, Dada said.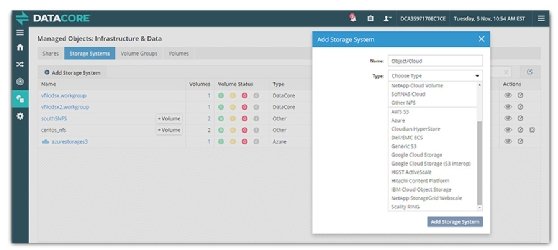 File vs. object storage
Steven Hill, a senior analyst of storage technologies at 451 Research, said the industry in general would need to better align file and object storage moving forward to address the emerging unstructured data crisis.
"Most of our applications still depend on file systems, but metadata-rich object is far better suited to longer-term data governance and management -- especially in the context of hybrid IT, where much of the data resident in the cloud is based on efficient and reliable objects, " Hill said.
"File systems are great for helping end users remember what their data is and where they put it, but not very useful for identifying and automating policy-based management downstream," Hill added. "Object storage provides a highly-scalable storage model that's cloud-friendly and supports the collection of metadata that can then be used to classify and manage that data over time."
DataCore expects the primary use cases for vFilO to include consolidating file systems and NAS appliances. Customers can use vFilo to move unused or infrequently accessed files to cheaper cloud object storage to free up primary storage space. They can also replicate files for disaster recovery.
Eric Burgener, a research vice president at IDC, said unstructured data is a high growth area. He predicts vFilO will be most attractive to the company's existing customers. DataCore claims to have more than 10,000 customers.
"DataCore customers already liked the functionality, and they know how to manage it," Burgener said. "If [vFilO] starts to get traction because of its ease of use, then we may see more pickup on the new customer side."
Camberley Bates, a managing director and analyst at Evaluator Group, expects DataCore to focus on the media market and other industries needing high performance.
Pricing for vFilO
Pricing for vFilO is based on capacity consumption, with a 10 TB minimum order. One- and three-year subscriptions are available, with different pricing for active and inactive data. A vFilO installation with 10 TB to 49 TB of active data costs $345 per TB for a one-year subscription and $904 per TB for a three-year subscription. For the same capacity range of inactive data, vFilo would cost $175 per TB for a one-year subscription and $459 per TB for a three-year subscription. DataCore offers volume discounts for customers with higher capacity deployments.
The Linux-based vFilO image can run on a virtual machine or on commodity bare-metal servers. Dada said DataCore recommends separate hardware for the differently architected vFilO and SANsymphony products to avoid resource contention. Both products have plugins for Kubernetes and other container environments, Dada added.
The vFilO software became available this week as a software-only product, but Dada said the company could add an appliance if customers and resellers express enough interest. DataCore launched a hyper-converged infrastructure appliance for SANsymphony over the summer.
DataCore incorporated technology from partners and open source projects into the new vFilO software, but Dada declined to identify the sources.