DataCore SANsymphony PSP6
The latest release of DataCore's software-defined storage offering, SANsymphony PSP6, enhances REST API integration, container support and cloud replication.
Silver winner in Storage magazine and SearchStorage's 2017 Products of the Year Software-Defined Storage categ...
Continue Reading This Article
Enjoy this article as well as all of our content, including E-Guides, news, tips and more.
ory.
DataCore Software racked up its fifth medal-winning finish in the annual storage Products of the Year competition, this time with the PSP6 update of its flagship SANsymphony.
The PSP6 version of DataCore SANsymphony enhances representational state transfer (REST) API integration with more than 200 new operation methods to extend configuration and resource management capabilities. The update also supports Kubernetes for containers. Customers can use the Kubernetes PersistentVolume API to orchestrate the deployment, operations and scaling of containerized applications and consume storage.
Additional new capabilities in SANsymphony include DataCore Cloud Replication, enabling customers to deploy a remote replication site in Microsoft's Azure cloud, and dynamic data resiliency.
The 2017 update of the DataCore SANsymphony storage virtualization software placed first in functionality in the Products of the Year competition, based on the average scores of the judging panel. "A long-proven product that keeps adding more capability," one judge said.
DataCore claimed optimizations to SANsymphony parallel I/O technology could improve performance by as much as 50%. Judges scored the product second in performance behind 2017 gold winner Excelero, a nonvolatile memory express-based storage specialist.
"Parallel I/O addresses the problem of slow [virtual machine] performance well, and the RESTful API management of gear once virtualized is a great improvement," one product user said.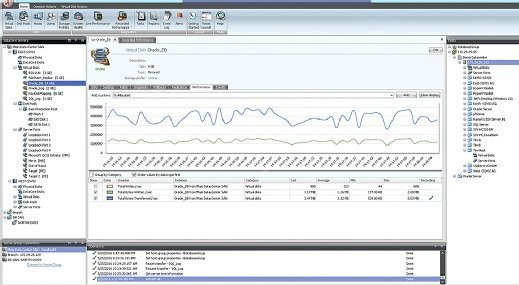 DataCore SANsymphony PSP6 polled in the top three products for value and ease of use and manageability and placed fourth in innovation among the 11 software-defined storage finalists.
"An excellent example of a mature product that continues to innovate," one judge said. Another commented that parallel I/O is a "difference-maker" in SDS performance.
The vendor's Hyper-Converged Virtual SAN PSP5 update placed third in the server-based storage category in 2016. The DataCore SANsymphony software won the gold award in storage systems software in 2015, after taking bronze in 2013 and 2010.
The starting list price for DataCore SANsymphony PSP6 is $10,000.