Rubrik Datos IO RecoverX 2.0 (formerly Datos IO RecoverX 2.0)
Rubrik performed well on the innovation front with its Datos IO RecoverX 2.0. Judges praised the software's semantic deduplication and eventually consistent data backup.
Silver winner in Storage magazine and SearchStorage's 2017 Products of the Year Backup and Disaster Recovery Software and Services category.
RecoverX is back on the podium for the second straight time in the Products of the Year backup and disaster recovery software and services category. But RecoverX is now the property of Rubrik, which acquired RecoverX developer Datos IO in February 2018.
Rubrik Datos IO RecoverX 2.0 cloud data backup software provides application-consistent backup and orchestrated recovery for next-generation cloud applications, nonrelational and cloud databases, and big data file systems. It can be deployed on premises or in public clouds, features semantic deduplication to reduce backup storage size and doesn't require media server hardware.
Rubrik Datos IO RecoverX 2.0 supports Hadoop and Microsoft SQL Server, as well as microservices environments.
A RecoverX cluster can scale elastically from three to five nodes and back. That allows RecoverX to support more than 100 nodes, big data database environments of more than 100 TB and file systems of more than 1 petabyte, according to the vendor.
For backup speed, RecoverX 2.0 uses parallel data streaming to transfer data. For restore speed, it uses single copy and queryable restore technology. Distributed architecture allows backup and recovery to continue in the event of infrastructure failure, according to Rubrik.
Rubrik Datos IO RecoverX 2.0 is aimed at application architects, database administrators and development teams. It can manage, protect and recover third-platform and internet of things data that resides locally and on software-as-a-service platforms. Key uses include point-in-time backup and recovery, cross-cloud data mobility, and archiving and long-term retention.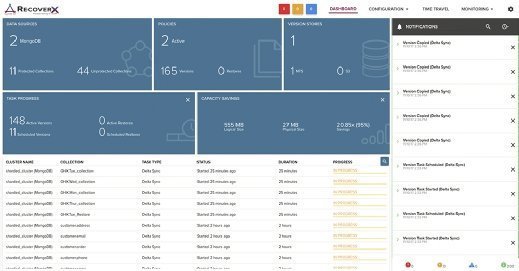 Some judges gave RecoverX high scores for innovative features, with one saying "A definite innovation to back up eventually consistent data." Others liked the semantic deduplication feature of Rubrik Datos IO RecoverX 2.0, with one calling it a "key differentiator." The original version of RecoverX won bronze in this category of the 2016 Products of the Year awards.
The 2.0 version is licensed on an annual subscription model that includes upgrades and support. The cost is based on database size, and it's capacity tiered. The list price for a 1 TB license is $8,000 per year.
Dig Deeper on Data backup and recovery software