IoFabric Vicinity 3.0
Vicinity 3.0 from IoFabric uses artificial intelligence to cut storage costs and also creates a seamless, live instance of data between on-premises sites and the cloud.
Gold winner in Storage magazine and SearchStorage's 2017 Products of the Year Storage Management Tools category.
IoFabric Vicinity 3.0 applies cutting-edge artificial intelligence technology to one of the oldest business concerns, saving money.
By using AI technology to constantly identify data that can be migrated into the least expensive tier of storage while allowing the right access for applications, IoFabric Vicinity 3.0 can reduce storage costs. And it does that without causing the performance hit that can happen when hot data gets sent into colder storage by mistake.
IoFabric Vicinity 3.0 also includes an "evergreen" technology that allows for live, seamless instances of data to be replicated among on-premises storage sites and those in the cloud. The technology eliminates traditional data migration, the need for storage silos and vendor lock-in, according to the vendor.
Vicinity 3.0 also includes ransomware protection. It stores data snapshots in an immutable format, preventing ransomware attackers from altering and even accessing data. The data storage management tool also includes SnapCopy, which replicates backups to multiple sites, both on premises and in the cloud.
IoFabric Vicinity 3.0 supports any storage protocol, including NVM Express over Fabrics. Its distributed data fabric will improve overall storage performance based on goals administrators set for specific workloads, according to the vendor.
Judges picked IoFabric Vicinity 3.0 as the 2017 storage management tools gold winner for two reasons: its use of its Swarm Technology artificial intelligence to optimize storage costs and improve data storage performance and the addition of ransomware-proof snapshot technology.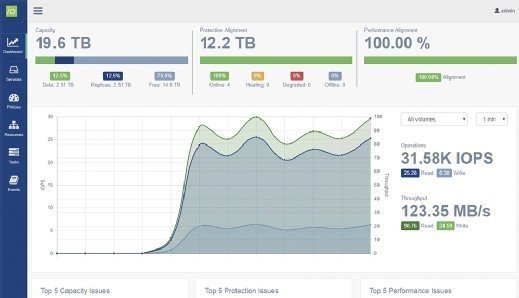 One judge noted, AI is "one of the keys to future storage." Another called the storage management tool "very innovative" and said that the product was "maturing nicely since its initial release." A third judge said Vicinity 3.0 "seems like the most compelling, innovative solution in the [storage management] category."