Acronis Storage 2
Acronis' data protection and software-defined storage product features CloudRAID and Notary with blockchain, and is used as a back end for Acronis cloud offerings.
Bronze winner in Storage magazine and SearchStorage's 2017 Products of the Year Backup and Disaster Recovery Software and Services category.
The comprehensive Acronis Storage 2, though not exclusively a backup and recovery platform, offers standout data protection elements that judges praised. Acronis described the product as the first integration of blockchain into software-defined storage and data protection.
Acronis Storage 2 supports block, file and object storage, and incorporates Acronis CloudRAID for data protection and Acronis Notary with blockchain technology for data integrity. It provides enterprise-level storage up to thousands of petabytes, according to the vendor. And object storage geo-replication copies data across all data centers for improved data protection and security, Acronis said.
CloudRAID uses erasure coding technology to reconstruct protected data from data chunks and parity information stored elsewhere in a storage cluster. It protects against component failure, node failure and data corruption. Use cases include object-based cloud storage, archiving and the replacement of traditional RAID systems with faster data recovery.
Notary with blockchain generates a timestamped fingerprint of protected data it stores in Ethereum, a public blockchain-based distributed computing platform. By comparing two fingerprints of the same data, Acronis Storage can verify authenticity and integrity of stored data. Use cases include medical files, police and security camera footage and long-term archiving subject to audit.
Several judges pointed to the blockchain feature in Acronis Storage 2 as innovative. "Acronis keeps getting better," one judge wrote. Another noted that "Functionality, ease of integration, ease of use and value are quite good."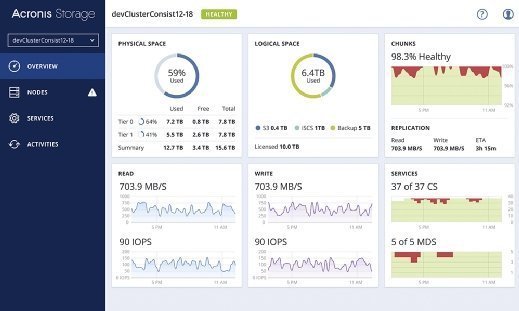 The product is integrated with the vendor's data protection and management suite. The embedded Acronis Backup Gateway provides service providers with their own performance-optimized cloud gateway, using tools such as Acronis Backup Cloud, according to the vendor.
Acronis Storage has also been used as a back end for Acronis cloud products, including Acronis Backup Cloud and Acronis Backup 12.
When a service provider buys a subscription to Acronis Backup Cloud, Acronis Storage comes at no extra charge. Channel partners have subscription and perpetual licensing options. Pricing begins at 1.5 cents per gigabyte per month and drops to 0.5 cent per gigabyte per month for larger volumes.