Pure FlashBlade
Pure Storage FlashBlade is optimized for unstructured data analytics. Its system-on-a-chip architecture uses custom NAND flash blades to accelerate data and its metadata.
Silver winner in Storage magazine and SearchStorage's 2017 Products of the Year Storage Arrays category.
Continue Reading This Article
Enjoy this article as well as all of our content, including E-Guides, news, tips and more.
All-flash pioneer Pure Storage brought its FlashBlade scale-out NAS array to market at a time when more organizations are evolving to DevOps.
Pure FlashBlade is a file-and-object complement to the Pure Storage FlashArray SAN platform. Enterprises use the FlashBlade system to crunch massive data sets in real time. Use cases cover data-intensive sectors, such as automotive, energy, finance, healthcare, life sciences and supercomputing.
Pure FlashBlade is rated to deliver equivalent performance regardless of workload. The key design feature is the use of proprietary NAND modules that talk directly to flash chips, addressing the issue of serial bottlenecks typically associated with parallel systems.
The 4U FlashBlade chassis accepts 15 blades. Pure's proprietary, low-latency flash, hot-pluggable modules are available in 8 TB, 17 TB and 52 TB capacities to expand the system on the fly. Compute, flash memory and memory are converged on each blade with an Intel system on a chip, a field programmable gate array and eight gigabit Ethernet ports.
Powering Pure FlashBlade is the Purity OS, designed as a massively distributed, key-value pair database that allows compute and performance to scale linearly as blades are added to the system. Pure Storage collapses three layers of network switching in a scale-out fabric module, including a high-performance intelligent load balancer to simplify management.
FlashBlade is rated to deliver 15 Gbps from a single namespace. The all-flash system is available in storage capacities ranging from 98 TB to 1.5 petabytes in 22U.
Judges evaluating Pure FlashBlade had varying opinions, even among those who selected it as a winner. One judge that gave Pure Storage high marks praised the architectural innovation, with a caveat: "While this iteration looks interesting, it's really the stated features of speed and scale that seem most compelling, so [I] can't give too much credit yet."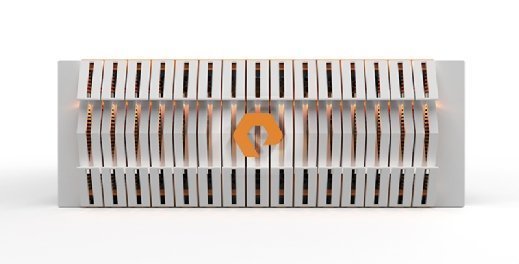 "Ultra-powerful and dense all-flash file storage," was the succinct analysis of another judge. A third judge gave high marks for the overall Pure FlashBlade architecture, but said it might have ranked higher if it equaled the "claimed performance" of 2017 Products of the Year gold winner Datrium DVX.