Veeam Availability Suite 9.5
Following podium finishes the last two years, Veeam again wins over judges with its Availability Suite. The 9.5 edition added physical support, integrations and Office 365 backup.
Gold winner in Storage magazine and SearchStorage's 2017 Products of the Year Backup and Disaster Recovery Software and Services category.
Veeam Software returns to the Products of the Year winner's circle for backup and disaster recovery software and services with its Veeam Availability Suite 9.5. Veeam also won this category in 2015 with version 8 and finished in second place last year with version 9.
Veeam Availability Suite 9.5 provides data protection across virtual, physical and cloud workloads. The latest version integrates with Windows Server 2016 and Nimble Storage. Adding Nimble to existing integrations with Dell EMC, Hewlett Packard Enterprise and NetApp enables backup and recovery from snapshots, Veeam said.
Advanced Microsoft Resilient File System integration offers better performance and bigger capacity for large data sets, helping protect business-critical applications. Built-in WAN acceleration copies data off site as much as 50 times faster than file copy, according to Veeam.
A Restore to Microsoft Azure feature in Veeam Availability Suite 9.5 enables businesses to take on-premises Windows and Linux-based virtual machines (VMs), physical servers and endpoints and migrate or restore them to Azure.
Other new features include Veeam Agents for Windows and Linux and backup for Office 365.
Veeam Availability Suite 9.5 added a tool that automates the disaster recovery process, ensuring VMs recover and restart in the correct order, analyst George Crump wrote in a SearchDataBackup feature shortly after 9.5's release.
Judges liked Veeam's continuous evolution of features in the Availability Suite. "A good incremental upgrade to 9.0," one judge wrote. "Adding recovery in Azure is a good DR feature."
"Easy to deploy rapidly, but with all of the features added in the last few releases, proper configuration becomes essential," another judge said.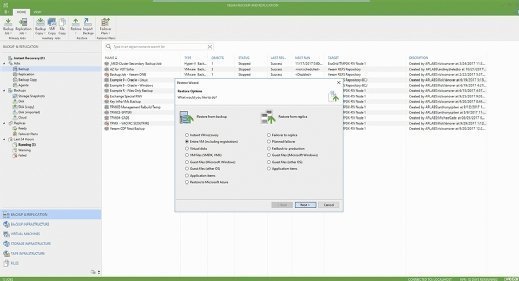 The product costs $1,150 to $2,650 per socket, depending on the edition. Veeam Availability Suite 9.5 includes Veeam Backup & Replication and Veeam One.
Veeam launched in 2006 and has since become a data protection market leader. It started out as backup for virtual machines, but has added physical support and ventured deeper into the cloud.
The vendor touts its scalability, particularly its ability to protect tens of thousands of VMs and petabytes of data. Data recovery can take seconds, according to Veeam.