Getty Images
Pure aims new FlashBlade//E at unstructured data market
Pure Storage expanded its storage offerings with FlashBlade//E designed for the unstructured data market with an acquisition cost on par with hybrid storage.
Pure Storage released a new storage array that holds multiple petabytes and puts flash storage on a level playing field cost-wise with hard drive-based systems.
Released today, the FlashBlade//E provides several petabytes of storage per array as well as the ability to expand capacity at a lower cost. Pure priced the new array at $0.20 per GB.
"What Pure is doing here is delivering file and object built on [quad-level cell] so that it is competitive with spinning disks," said Steve McDowell, an analyst and founding partner at NAND Research.
Pure Storage is also making a bigger play for the unstructured data storage market, which is already sizable and continues to grow rapidly, according to McDowell. Spinning disk-based systems have dominated the market with products such as Dell PowerScale and NetApp OnTap. The FlashBlade//E adds to the vendor's unstructured data portfolio along with FlashBlade//S.
Bigger, but not faster
The new FlashBlade fits 2 PB in a 5U footprint, with 4 PB being the smallest density sold. Pure has disaggregated the compute from the storage, according to Amy Fowler, vice president of strategy and operations for FlashBlade at Pure Storage. Doing so means customers can expand its storage density without the added expense of more computational power, she said.
This makes the new E model lower performing than the FlashBlade//S. But it also provides customers with a higher performance than hybrid models that combine flash and HDD, such as Dell PowerScale, McDowell said. FlashBlade//E is built for a specific market.
"The target is something like data lake markets, where a lot of data is collected but it is largely read-only," he said.
Pure's //E looks to replace hard drive systems that provide the performance for warm data, which is used enough to keep it in production but not so much that it needs to sit on expensive, high-performance media, according to Chris Evans, an analyst at Architecting IT, an analyst firm based in the United Kingdom.
In a hybrid storage system, HDDs store warm data until needed. The data then moves to flash and back again. With FlashBlade//E, everything sits on one media type, he said.
"This is about operability, making it easy to manage, analyze and move data around," Evans said.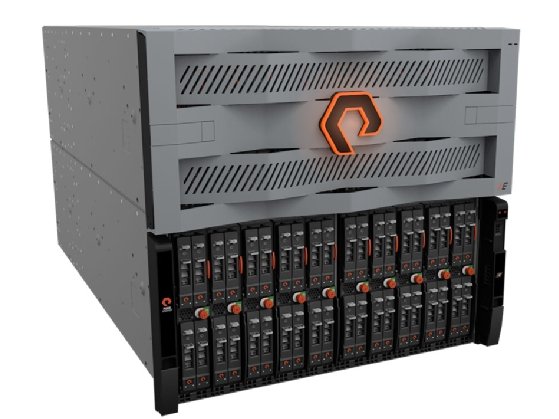 $0.20/GB plus sustainability
Acquisition costs have separated spinning disks and flash, with the former being lower. But Pure claims this is no longer the case. The FlashBlade//E has an acquisition cost of roughly $0.20 per GB and comes with a three-year service plan.
Five years ago, flash storage cost about $1 per GB, which included data deduplication and compression. But typically, unstructured data is either already compressed or not compressible.
[FlashBlade//E] is about operability, making it easy to manage, analyze and move data around.

Chris EvansAnalyst, Architecting IT
"Up until now, everything Pure sold was sold on a price that's dependent on getting good compression and dedupe, which users aren't going to get in an unstructured market," Evans said.
FlashBlade//E offers up flash for pennies on the dollar, although there may be a minimum buy-in to get this price, according to Evans.
But FlashBlade//E also offers storage that costs less to operate, power and cool than a hybrid storage system, ultimately lowering the total cost of ownership, McDowell said.
"It's less expensive to operate because you're getting greater rack density and you're burning less electricity between outlets," he said.
Regarding density, Evans noted that the DirectFlash modules (DFM) -- Pure Storage's version of SSDs that underpin the FlashBlade//E -- are projected to hit 100 TB around the end of the year and several hundred TB per DFM over the next few years, up from its current 48 TB.
"It doesn't seem to me that other vendors have got a scalability story [like this] because they are stuck on scaling with SSDs that are at most 30 TB in size," he said.
Adam Armstrong is a TechTarget Editorial news writer covering file and block storage hardware and private clouds. He previously worked at StorageReview.com.