Acronis is a data protection software vendor that spun off as a separate company from Parallels in Singapore and became an independent company in 2003. Incorporated in Switzerland five years later, the company offers backup, disaster recovery (DR) and file sync-and-share products across virtual, physical, cloud and mobile environments. Operating in more than 145 countries, Acronis claims to have more than 500,000 business customers and 5 million consumer customers.
Acronis' on-premises and cloud backup and recovery software products have the reputation of being user-friendly, stable and innovative. Its software has been designed to use a minimal amount of CPU and memory, and can also be written to up to five different destinations, including storage arrays, the cloud and tape. This gives administrators greater flexibility with regard to mixing and matching media and destination types within their data backups.
In 2012, Acronis bought file-sharing software company GroupLogic, which was known for its mobile file sharing, syncing and collaboration software. In 2014, Acronis acquired nScaled and its disaster recovery as a service (DRaaS) product. NScaled provided a hybrid cloud infrastructure for enterprise data backup and DR. The nScaled platform included software to manage replication and initiate failback and failover.
Acronis AnyData Engine
Acronis offers products for enterprises, SMBs and consumers. The vendor bases many of its products on the Acronis AnyData Engine, which was released in 2014 to handle virtual and physical server protection.
As the name implies, one appeal of the product is that it is compatible with many forms of data. The engine combines many data backup and protection features for use on different types of servers and operating systems (OSes).
The Acronis AnyData Engine runs on Windows and Linux OSes and virtual servers, including Citrix XenServer, KVM, Microsoft Hyper-V, Oracle VM and VMware ESXi. The engine also supports many file types and common applications, including Microsoft Exchange, SQL Server, SharePoint and Active Directory.
Acronis products running on the AnyData Engine include the following features:
Several forms of data migration, including virtual to virtual, virtual to physical, physical to virtual, and physical to physical.
Built-in compression and deduplication to reduce storage space and bandwidth usage.
Built-in AES-256-level encryption that can be applied to data as desired.
Full disk and virtual machine (VM) Using snapshots, an entire disk drive or VM can be stored for backup and recovery; protected systems do not need to be offline during backup.
In addition, Universal Restore, built into Acronis backup and recovery products, enables backups to be restored to a dissimilar system -- for example, from physical to virtual. Like many backup vendors, Acronis also has an instant recovery feature.
Top enterprise offerings
Acronis Backup for business protects data on virtual, physical, cloud and mobile platforms regardless of size or location, according to the vendor. With disk-imaging backup, a business can capture backup images of its entire system, files or data. The business can store backups to storage devices, including local disks, network storage and the cloud.
Acronis Backup provides both agentless and agent-based backup and recovery of VMs and hosts. A business can migrate between different hypervisors, as well as to and from physical machines or the cloud. Workload migration between various clouds, virtual systems and physical machines is also possible.
In 2016, Acronis Backup 12 launched backup for Microsoft Azure VMs and Amazon Elastic Compute Cloud instances. In 2017, Acronis Backup 12 added cloud-to-cloud backup for Microsoft Office 365.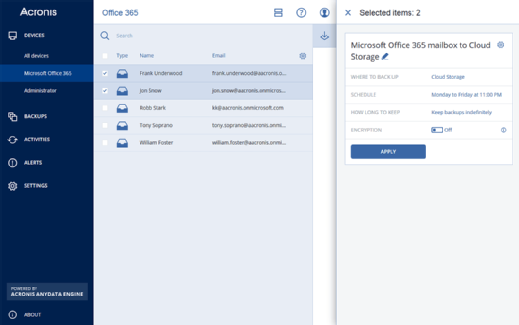 Inline and global deduplication reduce disk storage use and network bandwidth requirements. A centralized web management console is accessible from any device, which helps to reduce recovery time objectives.
Acronis Storage is a scalable, software-defined storage product that combines block, file and object workloads. The product is integrated with the vendor's data protection and management suite.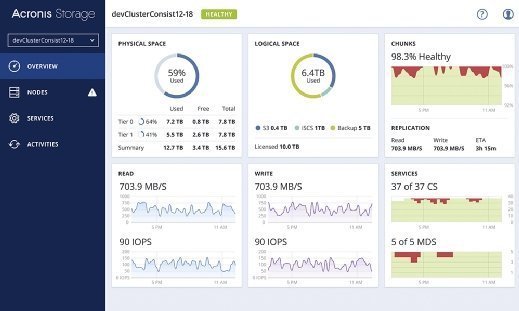 Acronis Cloud Storage provides DR by storing backups in one of Acronis' more than 14 cloud data centers. Acronis Cloud Storage is integrated with Acronis Backup, so a business can perform offsite cloud backup in addition to local backups.
The Acronis Cloud supports the back up of disks, partitions, servers, data and mobile devices. It then provides recovery of files, folders, applications or an entire system.
Top consumer products
Acronis True Image provides full image and mirror image backup, capturing a replica of the system disk or selected partition. Customers can then recover an individual file, folder or the whole system. Individual files and folders can also be selected for backup if a full image copy isn't needed.
Acronis True Image includes Acronis Active Protection and encryption; premium editions feature Acronis ASign and Acronis Notary and provide file sync and share for use on multiple devices. Through Acronis Cloud Storage, True Image provides cloud backup. Continuous cloud backup can capture incremental changes as often as every five minutes.
Acronis Disk Director is a set of tools that optimizes disk usage and protects data, according to the vendor. It features partition management -- the ability to create, customize and organize partitions -- and volume recovery of lost or deleted data partitions. Disk cloning enables a consumer to use a replacement hard disk drive in minutes.
Security
Acronis recovery and data backup software products feature several distinctive security capabilities. For example, Acronis Backup includes Acronis Active Protection, Acronis Notary, Acronis ASign and encryption.
Acronis Active Protection provides ransomware protection, detecting suspicious changes to data, backup files and the backup application. Customers receive an alert and can recover from a point in time before a ransomware attack. The technology incorporates artificial intelligence and machine learning, and it is compatible with antimalware products.
Acronis Notary ensures backup authenticity and integrity with blockchain, which improves regulatory compliance. Blockchain data authentication verifies modifications against the original version of the content. Anyone with access to the underlying blockchain can independently confirm a file's authenticity.
Acronis ASign document certification confirms the authenticity of files with signatures enabled by blockchain technology.
The use of blockchain technology in Acronis products is considered innovative. The vendor describes its Acronis Storage product as the first integration of blockchain into software-defined storage and data protection. Security features in Acronis Storage include encryption, Acronis Notary and Acronis CloudRAID for data integrity.
Acronis vs. competitors
Acronis is in a competitive data protection product market, which includes Unitrends, Veeam Software and Carbonite.
Unitrends offers hardware and software for backup and recovery. The company was founded in 1989 and began selling integrated appliances in 2003, the same year Acronis launched. Unitrends provides business continuity, DR, appliance-based backup, incremental forever backup, bare-metal recovery, instant recovery, DRaaS and backup for Office 365, according to the vendor.
Like Acronis, Unitrends has incorporated ransomware protection into its products, using predictive analytics to detect a ransomware attack.
Founded in 2006, Veeam Software began as purely VM protection, but has since expanded its offerings to physical and cloud protection. Its flagship Veeam Availability Suite provides backup, replication and restore.
In 2017, Veeam acquired N2W Software, which provides Amazon Web Services data protection. The company describes its products as "availability for the always-on enterprise," and has increased its focus on protection for enterprises.
Carbonite, founded in 2005, provides cloud backup, data protection and DR. While initially focusing on consumers, as of 2018, Carbonite now mainly serves businesses. The vendor acquired Double-Take Software for high availability and Datacastle endpoint backup in 2017, and then purchased Mozy online backup in 2018.
This was last updated in
May 2018
Continue Reading About Acronis
Dig Deeper on Data backup and recovery software