Optimize data protection as a service with these tips
A cloud-based data protection platform can make critical tasks easier on your organization. These tips help you make the most of this valuable service.
Think of all the activities associated with creating, processing, securing, managing, storing and backing up data. Now package all or some of these activities into a managed service supported by cloud-based resources -- data protection can become a one-stop shop for IT and business managers.
That's where data protection as a service (DPaaS) comes in.
The diagram below depicts how data protection as a service might look. Customers must identify which components of a DPaaS offering are most appropriate.
DPaaS greatly enhances your ability to protect all kinds of data, with an array of data management and protection services available at the literal touch of a button.
The diagram shows that a single managed service provider (MSP) can offer numerous data protection services.
It can be a challenge for users to identify the data protection options best suited to their organization and its business requirements.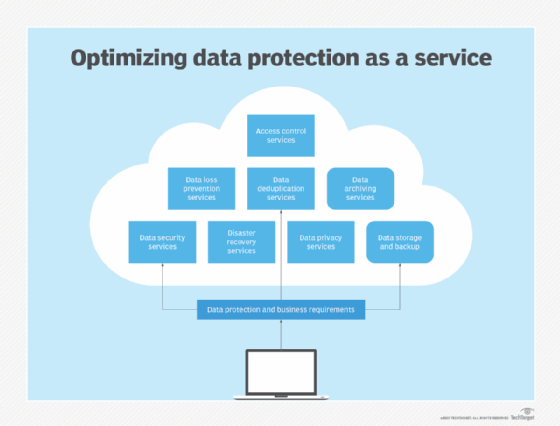 Benefits of using data protection as a service
Regardless of the size or type of organization, each business creates an enormous amount of data and, from that data, it can glean information it uses for management. Smaller organizations might not have the data protection and management requirements of much larger firms. However, they still must ensure their data and information is secure and available when needed.
Data protection as a service provides IT managers and senior leadership with new options to ensure the protection and availability of data and information.
Rather than using a variety of separate applications to address data protection issues, it makes sense to organize all data protection activities under one roof. MSPs that specialize in backup, data management and disaster recovery probably have resources available to address most or all of the data protection activities noted in the diagram.
From an audit perspective, DPaaS also makes sense for managing compliance, especially if the MSP providing DPaaS resources can demonstrate compliance with various data protection requirements. Guidelines include the GDPR, U.K. Data Protection Act, U.S. Consumer Credit Protection Act, U.S. Right to Financial Privacy Act and other state-level data protection laws and regulations. Having a single source for data protection activities can enhance your organization's ability to demonstrate how it protects data.
Consider balancing on-site data storage resources with cloud-based data protection services to increase your security and availability of mission-critical data and information. Such a hybrid arrangement can also provide an opportunity to test MSP offerings before making a greater investment.
10 tips for optimizing data protection as a service
Consider the following when using DPaaS and similar services to obtain the best value for your money:
Understand your business requirements for data protection and determine how to justify such an investment.
Determine what constitutes "data protection" in your organization, such as data backup, archiving or replication.
Examine current data protection activities in light of current and future business requirements and identify how an expanded data protection regimen will help the organization.
Determine governance, risk and compliance needs for data protection as a service, specifically how DPaaS can improve governance, reduce risk of data loss or corruption, and ensure compliance with standards and regulations.
Examine current data backup and recovery capabilities and determine whether DPaaS could enhance your organization's ability to recover from a disruptive event and return to business as usual.
Consider a phased implementation, starting with DPaaS as a secondary data backup resource, and expand its uses in other ways -- such as deduplication -- to enhance overall data protection.
Periodically conduct tests of your DPaaS resource to ensure that the protected data and information remain secure and available.
Review and update data protection policies and procedures based on the increased use of MSP-provided DPaaS capabilities.
Review and update business continuity and technology disaster recovery plans to incorporate the use of DPaaS resources.
Be open to a variety of data protection strategies, including on-site, single-cloud, multi-cloud and hybrid arrangements.
Loss of critical data -- for example, from ransomware attacks -- can seriously impact an organization's reputation as well as its ability to function. Data protection as a service provides IT managers and senior leadership with new options to ensure the protection and availability of data and information.