Anna Khomulo - Fotolia
Top 2019 enterprise storage arrays win Products of the Year
Winners of the 2019 Products of the Year signal a shift from disk to flash storage arrays. Vast Data takes gold, NGD Systems wins silver and DataDirect Networks captures bronze.
Winning products in the Storage magazine and SearchStorage 2019 Products of the Year disk and disk subsystems category exemplify the movement toward flash-based enterprise storage arrays. Since its arrival as a mainstream storage technology, flash has chipped away at disk's market share. And today, data center managers are under pressure to deliver ultrafast storage for emerging AI workloads, with the ability to span from the core to the network edge and connect seamlessly to multiple clouds.
Entrants in this year's category included products that use fixed disk, flash and hybrid systems, multiprotocol systems, converged infrastructure products, SSDs, HDDs, disk controllers and caching appliances. Entries must integrate software management and storage features with the storage media.
One trend illustrated by our 2019 winners is the shift many enterprises are making from Capex to Opex operating models. This change can be seen in the use of ultrafast flash to replace disk arrays and computational storage to serve AI. The top two winners in this category are relative storage newcomers while the third is a high-performance computing vendor moving downstream to mainstream enterprises.
Gold winner: Vast Data Universal Storage V2.0
Flash startup Vast Data Inc. wants to make enterprise storage arrays extinct and advance the notion of shared flash.
The Vast Data Universal Storage product integrates Intel 3D XPoint persistent memory, NVMe and quad-level cell (QLC) NAND flash in one system. The shared-everything architecture disaggregates the control layer from the system state. This approach enables tenant-based pooling of stateless Vast containers used in conjunction with high-availability NVMe enclosures.
Our judges found Vast Data's approach to flash compelling, albeit limited mostly to hyperscale workloads. "The market alone can determine if Vast's vision is the right one, but it is clearly a bold and well-executed conception that will have an impact in the storage market," one judge said.
Vast's clusters connect across Ethernet or InfiniBand fabric, scaling to 1,000 Vast enclosures and 10,000 Vast servers. The result is a system with huge storage density and massive aggregate performance.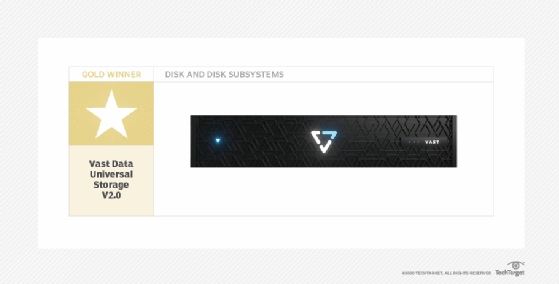 Vast Data's global QLC flash translation layer provides application awareness. The vendor said a global Intel 3D XPoint buffer is designed to increase the longevity of low-endurance QLC by as much as 10 years.
Vast Data employs locally decodable erasure codes for data protection, claiming it can reduce overhead to as low as 2% with high levels of data resilience. The vendor uses similarity-based data reduction to combine global deduplication with fine-grained pattern matching to scale storage for backup and structured and unstructured data.
Our Products of the Year judges noted that the vendor still has work to do to add functionality such as replication to go with the snapshots added in version 2.0.
Silver winner: NGD Systems 32 TB Newport U.2 NVMe computational storage drive
The NGD Systems computational storage drive competes in a market with few rivals. While computational storage isn't ready for prime time, it does hold promise for processing data where it's created, at a network's edge.
The 32 TB Newport computational storage drive is the third product in the Newport family and doubles the capacity of its previous high-capacity model. The drives are designed with application-specific integrated circuits, which NGD Systems said makes them less prone to performance hits from power throttling.
Newport computational devices run compute tasks inside SSDs, which means data doesn't need to be moved to main memory to be processed. Computational storage has emerged as SSDs matured, providing intelligent processing that enterprise storage arrays could not.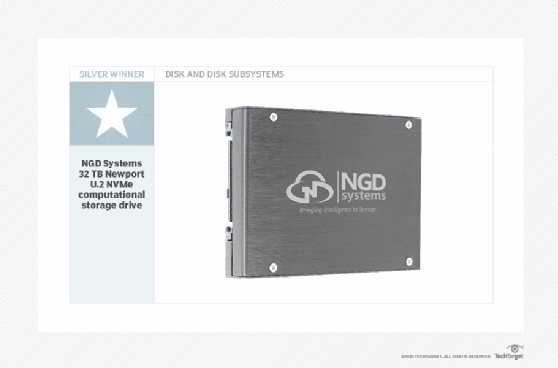 The Newport 32 TB NVMe SSD combines high storage density with the ability to process huge AI data sets in near real time without having to buy additional hardware. NGD Systems said Newport drives enable hyperscale edge computing at greater efficiency and lower costs.
Judges found NGD Systems' entry intriguing, while noting the market for computational storage remains unproven.
"The idea of computational storage is yet to be proved out, and there aren't enough management and functionality pieces to [Newport] yet. However, this could be a very interesting new architecture," one judge said.
Once an application is recompiled for the Newport environment, "the payback and scale of performance [will be] tremendous," another judge noted.
Bronze winner: DataDirect Networks DDN AI400
DataDirect Networks (DDN) has established itself in the area of enterprise storage arrays for high-performance computing. The vendor went on a buying spree last year to shore up its presence in flash and software-defined storage. The DDN AI400 NVMe all-flash appliance is a response to data science teams' growing use of AI across a range of industries.
The array packs as much as 240 TB of NVMe flash in a 2U enclosure, with a starting price of $36,000. DDN boasts fast performance at scale for the AI400. The highly parallel system is equipped with dual active controllers. DDN rated the AI400 to deliver 49 GBps and 1.5 million IOPS to clients via eight Enhanced Data Rate InfiniBand or 100 Gb Ethernet ports. The single namespace scales horizontally, and the vendor recently added the ability to migrate data to disk tiers to control costs as volumes expand.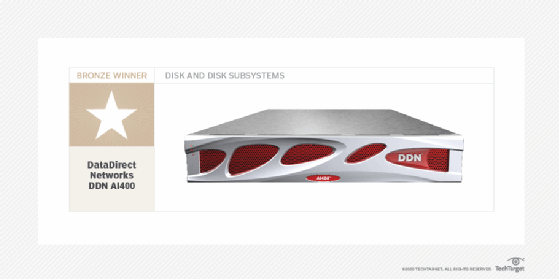 Data center administrators can set up the DDN AI400 on a per-tenant basis to ensure applications access only permitted data. The AI400's advanced quota controls provide a way to manage file system consumption at group, project and user levels.
Like other storage vendors, DDN integrated Nvidia DGX GPUs in the AI400, enabling the array to take advantage of the native performance of PCIe-enabled NVMe flash.
According to one judge, DDN has created a "solid NVMe array, but the integration [of Nvidia GPUs] addresses a key need for modern workloads."
Read more about the 2019 gold, silver and bronze winners in each of our five Products of the Year categories.