James Thew - Fotolia
Vast Data wows investors with 'flash everywhere' design
In the throes of economic uncertainty caused by a global pandemic, investors pour $100 million into startup that sells a million-dollar storage system, Vast Data Universal Storage.
Talk of an all-flash data center has persisted for years, and Vast Data said it wants to help finally make the concept a reality.
Vast Data's Universal Storage launched in 2019 to consolidate all workloads on flash media, including archive and backup data. The all-flash startup received a huge boost this week with $100 million in funding despite an expected decrease in storage spending in 2020 due to fallout from a global pandemic.
New investors include Next47, the institutional investment arm of Siemens, along with Commonfund Capital and Mellanox Capital. Participating existing investors include 83North, Dell Technologies Capital, Goldman Sachs, Greenfield Partners and Norwest Venture Partners.
Vast Data CEO Renen Hallak said the startup hasn't burned through its initial cash but was approached by investors interested in its "flash everywhere" approach. He said the Series C round brings its total funding haul to $180 million and will help it expand geographies and IT staff.
"We did not go out looking for new funding, but especially as we saw a downturn approaching, we thought it was a good time to have this war chest," Hallak said.
Fast revenue growth
The Vast Data Universal Storage system is used by several dozen customers with petabyte-scale storage needs, Hallak said. Vast claims its average selling price is more than $1 million per customer. Hallak helped to engineer XtremIO, a scale-out storage product now part of the Dell EMC portfolio.
Vast requires a minimum purchase of 1 PB. The Universal Storage product includes a 1U flash chassis and four controller heads, with Intel Optane persistent memory and quad-level cell (QLC) NAND chips in an NVMe-oF architecture. Data is presented within a single namespace with compression applied natively for low overhead.
Vast Data does not disclose revenue, but claims its revenue grew about two times faster during its first year in business than that of Nutanix and Pure Storage, two high-flying startups that evolved into publicly traded companies. Vast said the funding brings its valuation to $1.2 billion.
Eric Burgener, an IDC research vice president for storage, said Vast Data has carved out a unique spot in the all-flash sector.
"They've got an excellent value proposition and right now their market is wide open," Burgener said. "The general idea of Vast's architecture is to put in a little bit of storage class memory [to] run some pretty latency-sensitive workloads and get very good performance with their caching approach. But mostly it's based on super-dense QLC storage media on the back end."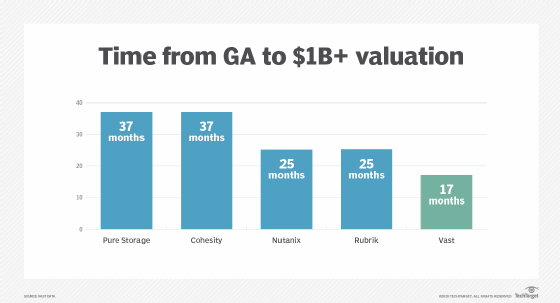 Pure and other flash vendors are also angling to sell multi-petabyte storage for file and object data. Pure Storage FlashBlade NAS targets similar file and object data sets, but it isn't designed exclusively for ultrahigh performance.
Vast claims early customers span financial services, government, healthcare, media and autonomous-vehicle design. Vast Data does not base its selling on reducing total cost of ownership, said Jeff Denworth, a Vast Data founder and vice president of products. Still, he said, Vast can actually reduce an organization's storage costs.
We did not go out looking for new funding, but especially as we saw a downturn approaching, we thought it was a good time to have this war chest.

Renen HallakCEO, Vast Data
"We think in raw dollars, and typically we're coming in anywhere between one-fifth to one-twentieth of what [competing] enterprise flash products cost," Denworth said.
Most storage funding lately has been going to backup and cloud software vendors, as investors shy away from infrastructure hardware. Data protection company Cohesity pulled in $250 million this week in the largest storage funding round this year.
Other funding rounds have been far smaller. Cloud orchestration startup Alluxio this week closed a $15.5 million round, boosting its total to $23 million. Cloud data management company SoftNAS changed its business model this week and changed its corporate name to Buurst. The vendor said it received $5 million, bringing its total funding to $35 million.