Ronald Hudson - Fotolia
Investments in data storage vendors topped $2B in 2019
Six data storage vendors closed six-figure funding rounds in 2019. Backup, data protection and newer flash technologies generated the most attention from investors.
Data storage vendors received $2.1 billion in private funding in 2019, according to SearchStorage.com analysis of data from websites that track venture funding. Not surprisingly, startups in cloud backup, data management and ultrafast scale-out flash continue to attract the greater interest from private investors.
Six private data storage vendors closed funding rounds over more than $100 million in 2019, all in the backup/cloud sector. It's a stretch to call most of these startups -- all but one of the companies have been selling products for years.
A few vendors with disruptive storage hardware also got decent chunks of money to build out arrays and storage systems, although these rounds were much smaller than the data protection vendors received.
According to a recent report by PwC/ CB Insights MoneyTree, 213 U.S.-based companies closed funding rounds of at least $100 million last year. The report pegged overall funding for U.S. companies at nearly $108 billion, down 9% year on year but well above the $79 billion total from 2017.
Despite talk of a slowing global economy, data growth is expected to accelerate for years to come. And as companies mine new intelligence from older data, data centers need more storage and better management than ever. The funding is flowing more to vendors that manage that data than to systems that store it.
"Investors don't lead innovation; they follow innovation. They see a hot area that looks like it's taking off, and that's when they pour money into it," said Marc Staimer, president of Dragon Slayer Consulting in Beaverton, Ore.
Here is a glance at the largest funding rounds by storage companies in 2019, starting with software vendors:
Kaseya Limited, $500 million: Investment firm TPG will help Kaseya further diversify the IT services it can offer to manage cloud providers. Kaseya has expanded into backup in recent years, adding web-monitoring software ID Agent last year. That deal followed earlier pickups of Cloud Spanning Apps and Unitrends.
Veeam Software, $500 million: Veeam pioneered backup of virtual machines and serves many Fortune 500 companies. Insight Partners invested half of a billion dollars in Veeam in January 2019, and followed up by buying Veeam outright in January 2020 for a $5 billion valuation. That may lead to an IPO. Veeam headquarters are shifting to the U.S. from Switzerland, and Insight plans to focus on landing more U.S. customers.
Rubrik, $261 million: The converged storage vendor has amassed $553 million since launching in 2014. The latest round of Bain Capital investment reportedly pushed Rubrik's valuation north of $3 billion. Flush with investment, Rubrik said it's not for sale -- but is shopping to acquire hot technologies, including AI, data analytics and machine learning.
Clumio, $175 million: Sutter Hill Ventures provided $40 million in April, on top of an $11 million 2017 round. It then came back for another $135 million bite in November, joined by Altimeter Capital. Clumio is using the money to add cybersecurity to its backup as a service in Amazon Web Services.
Acronis, $147 million: Acronis was founded in 2003, so it's halfway into its second decade. But the veteran data storage vendor has a new focus of backup blended with cybersecurity and privacy, similar to Clumio. The Goldman Sachs-led funding helped Acronis acquire 5nine to manage data across hybrid Microsoft clouds.
Druva, $130 million: Viking Global Investors led a six-participant round that brought Druva money to expand its AWS-native backup and disaster recovery beyond North America to international markets. Druva since has added low-cost tiering to Amazon Glacier, and CEO Jaspreet Singh has hinted Druva may pursue an IPO.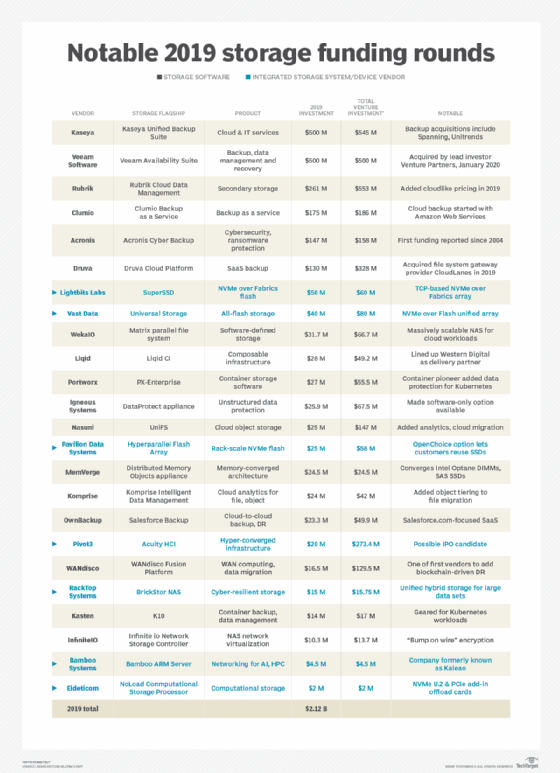 Data storage startups in hardware
Innovations in storage hardware underscore the ascendance of flash in enterprise data centers. Although fewer in number, the following storage startups are advancing fabrics-connected devices for high-performance workloads.
Over time, these data storage startups may mature to be able to deliver hardware that blends low latency, high IOPS and manageable cost, emerging as competitors to leading array vendors. For now, these products will have limited market to companies that needs petabytes (PB) (or more) of storage, but the technologies bear watching due to their speed, density and performance potential.
Lightbits Labs, $50 million: The Israel-based startup created the SuperSSD array for NVMe flash. The Lightbits software stack converts generic in-the-box TCP/IP into a switched Ethernet fabric, presenting all storage as a single giant SSD. SuperSSD starts at 64 PB before data reduction. Dell EMC led Lightbits' funding, with contributions from Cisco and Micron Technology.
Vast Data, $40 million: Vast's Universal Storage platform is not for everyone. Minimum configuration starts at 1 PB. Storage class memory and low-cost NAND are combined for unified block, file and object storage. Norwest Venture Partners led the round, with participation from Dell Technologies Capital and Goldman Sachs.
Honorable mentions in hardware include Pavilion Data Systems and Liqid. Pavilion is one of the last remaining NVMe all-flash startups, picking up $25 million in a round led by Taiwania Capital and RPS Ventures to flesh out its Hyperparallel Flash Array.
Liqid is trying to break into composable infrastructure, a term coined by Hewlett Packard Enterprise to signify the ability for data centers to temporarily lease capacity and hardware by the rack. Panorama Point Partners provided $28 million to help the startup flesh out its Liqid CI software platform.