Kalawin - stock.adobe.com
Druva CEO talks about cloud migration, Kubernetes and IoT
Helping customers overcome the hurdle of cloud migration is just the first step, Jaspreet Singh says. Companies must be ready for the next step: monetizing the data.
Cloud migration continues to be a major hurdle for enterprise customers, according to Druva CEO Jaspreet Singh.
Even though many businesses understand the benefits of moving workloads out of their data centers, Singh explained, the actual steps to getting it done can prove challenging. Rather than simply lifting and shifting everything to a cloud destination, there are many steps along the way, and each one calls for new considerations on cloud security and infrastructure.
Although Druva helps customers with their cloud migration by helping them establish a solid data foundation on the cloud, Singh said the next step is also crucial: monetizing that data and turning it into a business asset. The future isn't so focused on managing or protecting data, as much as using it to further business goals.
Singh also discussed growth in Kubernetes and industrial IoT, what Druva has been doing with its CloudLanes acquisition and the benefits of remaining a private company. He also said enterprise backup is more than just on-premises data center resiliency, and should include the whole package of edge, cloud and data center.
What do you see as the biggest challenge customers are facing right now?
Jaspreet Singh: Even outside the scope of Druva, the biggest hurdle customers are trying to cross today is cloud. How do I deal with this whole new dimension of technology called public cloud? You're thinking about application security, infrastructure and there are multiple stages.
Some customers are still in the foundation stage, some are in what's called a migration stage. Some are more in the reinvention or optimization stage.
With each stage, they are learning new things about security, resiliency and cost savings -- and all those things are completely new to them. That's the customer sentiment.
The next three to four years is predominantly about helping customers build a solid foundation for data. As they make this transition to cloud, how's their data architecture? Is it foundationally strong enough and can support this transition? Just data protection -- making sure data is there and available -- is incredibly hard.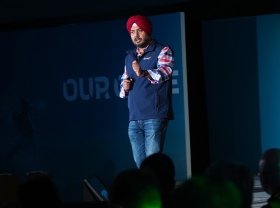 Three years out, people will have figured out that cloud actually gives them a lot better agility, and they don't have to be the ones doing the plumbing. They can start building business supporting applications on cloud.
In that world, the nature of data will again change. It will go from building a foundation for data to actually starting to mine this data. It is not a liability anymore; it becomes an asset.
So how to mine this asset? How do you start to monetize it? How do you start to build a differentiating advantage from your competitors? Does it change your business completely? Those questions will become more mainstream.
What can we expect from Druva in the coming months?
Singh: In terms of what's ahead of us, there are many opportunities in terms of workload coverage. What are the critical enterprise workloads, which are the long-run, cloud-oriented and cloud-bound ones which we could help customers protect and manage data for? That's one direction we're headed in.
The second dimension to our growth is what value can we add to data we've been collecting all along. And we're launching a whole new set of capabilities, almost a new product line based on the value of data more toward Q1 next year. So, there's lots happening in the product front.
In the market expansion front, we published the numbers some time ago; about 50 of the Fortune 500 companies now use Druva, and we're growing aggressively. We are opening new geographies and establishing new partnerships.
Are there specific growth areas in the market that Druva is expanding into?
Singh: Industrial IoT is picking up quite a lot. We see a lot of customers building giant data repositories, either on-premises file-based networks or in the cloud. They're struggling to understand data tiering, hierarchical storage, data processing and how all those can be managed.
We are extremely well-positioned to help the industrial IoT space, so that's one area we are actively investigating.
Second is Kubernetes, both stateful and stateless. With stateful, there's robust support for APIs now. With stateless, we can do snapshot management of the vast amount of microservices on AWS, as we're supporting RDS, DynamoDB and S3.
That's the general direction Druva wants to grow. Any modern, cloud-based workload, we should be the first one and best stack to support it. Our competition is looking at AIX, DB2 and Unix, or going deeper into Oracle and those areas, which is great. There's a big market for them to solve that. But we want to be known as the guys who solve for new-age workloads and cloud.
How is the CloudLanes acquisition coming along?
Singh: Still working on it. There are many, many, many variables. The CloudLanes acquisition opened new possibilities for us. We have to build custom agents in sensors, for example, to actually transact with our cloud in order to support application backup and DR. We put all our effort and money into managing the cloud experience and a third party that can indirectly write to it.
And that's important because in many edge computing use cases, in many custom workload use cases, it's very hard to manage an agent which could be customized to customers' need. So, we are still integrating.
Is Druva looking at other acquisitions at this time?
Singh: We don't look for acquisitions. Around this time frame every year, we look at our roadmap, and then we look at gaps. What skill set gaps, what capabilities gap do we have, and can we build them fast enough or do we have to acquire?
An acquisition is a complex investment. It's impossible to map a need to a match 100%.
We have to think of the value proposition. Is there a particular technology of a startup which supports a particular customer need or workload exceptionally well? That's one area. There are always new players coming into market. Does it support Kubernetes better? Does it support new-age SaaS applications better?
The newer capabilities of data handling, data matching, deep learning or AI -- those are areas of looking at how data can be manipulated, managed and mined. That's interesting tech, and we are constantly looking at what can we build versus what we can acquire.
From a business standpoint, are you planning on another funding round or going public?
Singh: Because the business is not very Capex bound, we don't have a lot of capital needs. In most of the storage industry, the money is spent to buy and stock a lot of hardware. We don't have that problem. We only pay Amazon monthly and have very healthy gross margins. So, there's not an immediate pressure to raise any money.
IPO markets are up and down. We would be ready as a company to have the right revenue, right scale, right metrics to think about public markets next year. When the markets open up, the right timing is going to be key.
Second, staying private is now more and more lucrative. If you look at Airbnb and Uber, they predominantly had their IPOs privately. The IPO listing of Slack was mostly secondary offering. The company did not raise any money in IPO.
Private markets are getting more and more interesting. Their three last investors are all mega-billion-dollar hedge funds. And those hedge funds never had historically put money into private markets.
So, I think all we can do is wait and watch, focus on the customer and execute. Just keep our revenue healthy and growth rate healthy.
Who are your competitors?
Singh: There are a lot of players. Our No. 1 job is to convince the customer to look at cloud as a viable option. If they do, then we don't see any competition. There are recent announcements by Commvault and Clumio, but they're still very, very recent products and not very mature.
So far, our only competition is convincing the customer to make an infrastructure shift to cloud. If it happens, we win by leaps and bounds -- there's pretty much no competition. We go up against the classic IBM, Commvault and Veritas, but they have a built-in strategy to sell more hardware, and we want to transform the job. That's the big difference.
This is the first year Druva appeared on the Forrester Wave, but it's still not on Gartner's Magic Quadrant. What do you think of these evaluations?
Singh: Gartner calls it the Magic Quadrant, Data Center Backup and Recovery. It is still not focused beyond the data center, but in our business, there's no central data center anymore.
Their [criterion] is that your predominant method of deployment more than 50% of the time should be an on-premises, physical space deployment. And we don't have any on-premises-based deployment.
We've been trying to pitch to them that there's no point looking at data center resilience, as it's only one part of the puzzle. You look at the holistic solution of edge, cloud and data center, and data center has less than 50% data left in it now.
But they were hesitant to look anywhere beyond data center backup and recovery. We are hopeful next year they change their stance and broaden their view. Perhaps not call it data center backup and recovery, but enterprise backup and recovery or enterprise resiliency.