Helder Almeida - Fotolia
Why cloud migration failures happen and how to prevent them
Companies are moving more applications than ever to the cloud, but many of these initiatives fail. Learn how to avoid making your own cloud migration mistakes.
The use of cloud computing for enterprise apps continues to grow, as organizations put more of their workloads in public clouds and pursue multi-cloud strategies to generate lower costs, increased agility and greater flexibility.
Not all cloud deployments, however, deliver those benefits -- or any benefits at all. Many IT leaders face failed cloud migration projects projects because they move apps into the cloud only to find that they don't work as well there as they did on premises, which forces a reverse migration.
A recent study from security provider Fortinet, conducted by IHS Markit, found that most companies have moved a cloud-based app back on premises after they failed to see anticipated returns. In the survey of 350 global IT decision makers, 74% reported they had moved an application back to their own infrastructure.
"When companies repatriate workloads, it's often an indication that something has gone wrong," said Yugal Joshi, vice president of information technology services at Everest Group, a management consulting company.
That's far from ideal. Moving workloads is costly and often disruptive, according to experts. There could be performance issues, additional security exposure and work interruptions as well as a drain on IT and business resources. As Joshi noted, "Changing the location of a workload isn't easy, and there is a lot of risk in moving workloads around."
Cloud migration faces challenges
That level of failed cloud migrations doesn't surprise Asif Malik, senior vice president and CIO of SilkRoad Technology. He has been in that situation in the past at a prior company, he said.
We thought we could save a lot of money and get rid of managing infrastructure. But we were wrong.

Asif MalikSenior vice president and CIO, SilkRoad Technology
Malik detailed one particular case to illustrate the problems he faced with a move to the cloud. He and his team moved a data analytics application from the company's data center to a public cloud offering, opting to have the application hosted by Microsoft Azure so they could more easily scale up or down as needed at a lower cost.
"We thought it was Capex versus Opex. We thought we could save a lot of money and get rid of managing infrastructure," Malik explained. "But we were wrong."
There were problems from the start. His IT workers noticed latency issues right away, and they identified limitations within their networking equipment that further hindered the app's performance.
"We kept throwing compute resources and storage resources at it," Malik said, and that drove up costs.
Given such problems and no financial benefits, Malik opted to move the app out of the cloud and back on premises. This process presented its own challenges and took about eight months of his team's time to complete.
Why migrations fail
Before you move a workload or full application to the cloud, take stock of the challenges you'll likely encounter that could hamper a smooth cloud migration.
Underestimated performance problems and costs. Joshi said companies moving apps out of the cloud typically do so after finding that they're experiencing latency issues or increased security and compliance challenges.
Those observations track with the results of the Fortinet survey. According to the report, 52% of those who moved workloads from the cloud back on premises said either performance or security issues were the primary reasons for their decision. An additional 21% cited regulatory issues as the driving factor.
"If I think about the times that I've seen people move to the cloud and then move backward, it's been a combination of things," said Scott Buchholz, a managing director with Deloitte Consulting LLP who serves as the government and public services chief technology officer and the national emerging technologies research director.
Some companies see higher costs than they expected. Some find they're not getting the uptime they expected from the cloud vendor. Still others hit complexities that slow down their systems.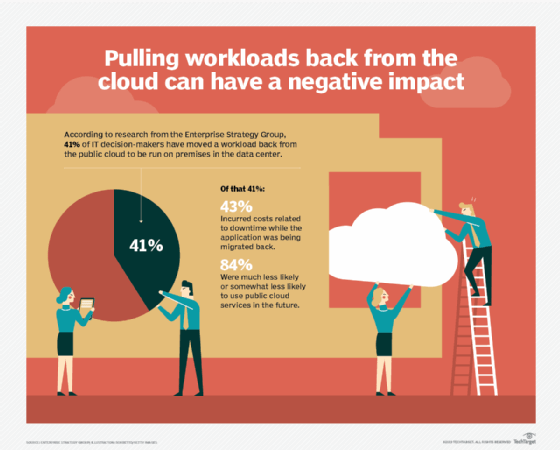 Misunderstood applications and operations. Some very high-volume systems that have particular technical requirements, such as high-volume transactional databases, don't work well in the cloud, Buchholz said. "And there are some apps that we don't think are really connected to other things and they have more connectivity and talk to more things than was realized. So by the time you go through all the hops and links and security, things are much slower in the cloud than you thought it would be," he added.
Know what should go, and what should stay. Malik said that his cloud migration misstep gave him deeper insights into migration best practices. It drove home one point in particular, he said: "Not every application belongs in the cloud."
That, indeed, was what he determined was the main cause of failure with the data analytics app he moved to the cloud -- it wasn't ready to make the move. According to Malik, the problem started with the decision to simply move the app as it was to the cloud -- a straight lift-and-shift project.
"The application wasn't a multi-tenant application, it wasn't an elastic application, and it did not use a virtualized environment very well," he said. Also, the app relied on data that resided within the data center, a factor that contributed to the app's poor performance in the cloud.
Experts said that's a typical scenario for IT departments. "They treat the cloud like a virtual data center and they don't change their operations or procedures when they move to the cloud," Buchholz added.
Application evaluation is crucial
That is changing, though, as more organizations gain experience with cloud migration projects. IT advisors and researchers said they're seeing more CIOs doing a better job evaluating their on-premises applications to determine which can move as they are into the cloud and run successfully, which ones should be modernized and moved to the cloud, and which ones should stay put.
James Fairweather, chief innovation officer at Pitney Bowes, a global technology company offering customer information management, location intelligence, customer engagement, shipping and mailing, and global ecommerce products, said the company embarked on a transformation initiative about five years ago. Part of that involved moving workloads as well as individual capabilities and services into the cloud.
To help smooth those moves to the cloud, Fairweather said the company rigorously evaluated applications to determine which could be shifted as-is to the cloud and which needed to be optimized for the cloud in order to deliver returns.
"In all these workload migrations, we've been very planful (sic) about them," he said, explaining that staff conducts security reviews, code testing and other analyses on applications before mapping out the best path forward.
The company also invested in new technologies, such as automation tools and API management from Apigee, to ensure successful cloud migrations.