What is the future of hybrid cloud for businesses?
Many organizations today are still having difficulty moving their entire workloads off premises and into the cloud. Here, we examine how they can benefit from a hybrid environment.
Troy Gibson, CTO at NetJets, is aiming the company straight toward the cloud, but he knows it is going to be a long journey to get everything out of the data center. For now, Gibson's strategy calls for a hybrid approach: a computing environment with a mix of on-premises and cloud offerings.
Gibson said NetJets first developed a cloud migration strategy several years ago, having already invested in some SaaS offerings. The company now has about 45% of its software in the cloud and aims to drive that figure higher in 2020. But while NetJets has a cloud-first mentality, Gibson said he expects the company will need three more years before he can close the data center.
Most organizations are in the same position of having a future with hybrid cloud. "Hybrid is the prevailing strategy at this point," said Brendan Caulfield, co-founder and chief revenue officer at the consultancy ServerCentral Turing Group.
More than a decade into the cloud computing revolution, organizations are reporting that they're still not able to move everything to the cloud and are, thus, formulating a strategy around the future of hybrid cloud.
"All the clients I work with are hybrid and they'll be hybrid for some time. They can still be cloud-first, but they're realistic that not everything is a good candidate for the cloud today," said Carmen Fontana, a member with the technical professional organization IEEE and lead for the modern software delivery service at Centric Consulting.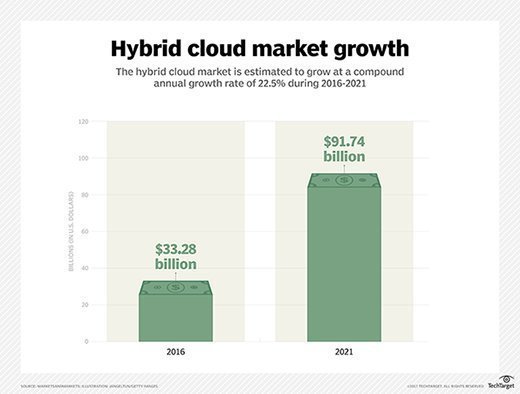 Hybrid by choice and by necessity
The 2019 Voice of the Enterprise: Cloud Hosting and Managed Services, Budgets and Outlook survey, from 451 Research for tech company Bitnami, asked 644 enterprise IT decision-makers about their strategy and found that 58% are pursuing a hybrid approach that integrates on-premises systems and off-premises cloud/hosted resources.
Meanwhile, the 2019 Enterprise Cloud Index survey and research report found that 73% of the 2,650 IT decision-makers surveyed said their enterprises are migrating applications away from the public cloud back to on-premise infrastructures.
There are various and compelling reasons for organizations to have a mix of on premises and cloud, Fontana said. Some organizations want the benefits of the cloud, such as the ability to scale up and down as required for some applications but want on premises because it enables an organization to meet regulatory requirements.
Other organizations have a hybrid environment because, like NetJets, they have some applications that can more easily reside in the cloud -- because it's a SaaS offering or one that could be migrated from a data center to a cloud provider -- but others that need to stay on premises because the cost and complexity of reengineering them for cloud deployment are too high.
"It will take a while for many organizations to refactor their applications or retire them. And most organizations don't have the bandwidth or budget to move everything in a big bang approach to the cloud," Fontana added. "No one is saying our goal is to be hybrid, and so while there may be things that make sense to stay [on premises], we believe in [a] cloud first-approach."
Building a strategy for the future of hybrid cloud
Although many CIOs and other IT executives are still aiming to be 100% cloud and are moving in that direction, advisers say many organizations need to build a strategy that reflects their needs to retain some applications on premises.
"There was an initial rush to the cloud and people felt like that was where they wanted to be, but while the cloud has tons of promise, it's for the right workload, but not every workload," Caulfield said.
Randy Armknecht, managing director and emerging technologies and global cloud practice leader at the consulting firm Protiviti, said he works with only a few organizations that have their entire technology stack in the cloud and are pursuing a multi-cloud strategy to spread their workloads across different providers.
Others, he said, still have private data centers or private clouds where they keep some workloads both by choice -- often for security, cost, control and latency issues -- or by default since moving to the cloud isn't easy or cost effective at the moment.
Whatever the mix, Armknecht and other IT advisers said organizations should be clear about what should be on premises, what should be in the cloud and what should move from one to the other by using a cloud decision framework to determine whether to replace, rebuild, refactor, rehost, retain or retire applications.